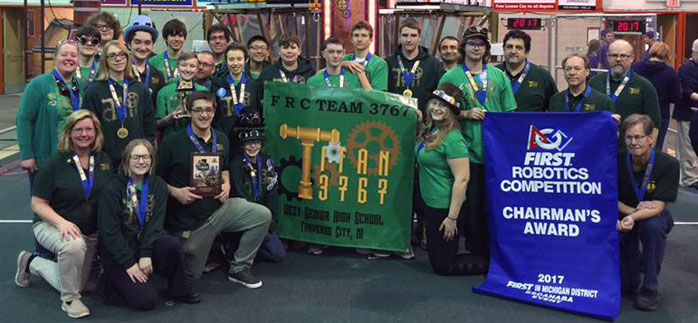 TCAPS Student Programs
Traverse City Area Public Schools is committed to preparing students with the skills and knowledge needed to thrive in the 21st century world economy through its strong PreK-12 curriculum. TCAPS' curriculum aligns with Michigan Department of Education standards at every grade level. The elementary curriculum focuses on achieving core content expectations and balanced literacy. The secondary curriculum aligns with the new Michigan Merit Curriculum graduation guidelines. District-wide goals stress increasing student achievement annually in the core content areas of language arts, math, science and social studies while also engaging students, staff, parents and community in the process. TCAPS has been a leader in incorporating "best practices" in the classroom and throughout all district initiatives. Following is an overview of (and links to) the many programs that complement student achievement:
Elementary Programs
Child care programs operate in elementary schools for school age children.
TCAPS' Montessori program provides an environment that encourages independent, engaged learners.
Early childhood developmentally disabled program for preschool age children needing special education services is available half-days at several elementary schools.
A reading teacher is available in most schools for low-performing first grade students to increase literacy achievement.
The Talented & Gifted (TAG) magnet program provides services to 4th and 5th grade identified gifted and talented students.
Shared time programs are offered through many of TCAPS' community partners.
All schools have quality art, music, and physical education programs taught by a certified staff.
Secondary Programs
TCAPS' One2World Program provides all middle and high school students with a laptop computer to enhance classroom learning.
TCAPS Online Academy options are available to all students who reside in the TCAPS attendance area.
Students may begin to earn high school credit in middle school.
Honors and Academically Talented (AT) courses are available in language arts, math, science, and government.
An Early College program is available to help students earn up to two years of college credit before high school graduation.
Dual Enrollment at Northwestern Michigan College is available to student who meet the criteria.
Advanced Placement (AP) courses are available to students in a variety of curricular areas.
Online and blended online courses are available to all students.
Small learning communities such as neighborhoods, academies, advisories, and SCI-MA-TECH provide unique learning experiences to high school students.
Academic assistance is available to students who need additional support within their school. Tutoring is available for those students at risk of failure.
The Transition Program provides support for students who have academic and/or attendance problems.
Traverse City High School is an alternative high school available for students who may have difficulty with traditional time structures, lecture formats for learning, or social issues that occupy a large portion of their energies. Additional programs located at Traverse City High School include the infant/toddler child care program for student parents, indian education program, homeless student program services, and drug free schools and prevention services.
Noon Activities Program (NAP) provides optional activities for students during the lunch period and is available is some schools.
Aleks is a math intervention support program available at all middle schools.
Summer school is available to all high school students for remedial course work or to get ahead in the coming year.