Transportation Department
TCAPS Transportation Services
Bus service is provided to approximately 70% of TCAPS students and local private and parochial school students. Routes include more than 3,000 bus stops in a 300-square-mile area and drivers travel more than 7,000 miles per day.
District Boundary Map – view boundary areas for all TCAPS schools
Bus Routes Available for Viewing Beginning Saturday, August 26, 2023
More information about how to view your child's busing information can be found below in the section titled "Viewing Your Student's Bus Route Online via Traversa Ride 360.
Inclement Weather Announcements
Safety is of concern to all our bus drivers and transportation staff. Michigan weather can cause school closings, especially in winter. On days when weather may make traveling difficult, a decision on whether to cancel school is made by 4:30 a.m., if possible, and by 6:00 a.m. at the latest. School cancelations are broadcast on all local television and radio stations, and a special "hotline" at 231.933.1955.


View Snow Day FAQs
School Year Bus Hotline: 231.933.1955
For school closings, late bus notifications, etc.
Driving Concerns/Routing Questions: 231.933.1933
School Start & Dismissal Times
Viewing Your Student's Bus Route Online via Traversa Ride 360
Viewing Your Student's Bus Route via Traversa Ride 360
Beginning with the 2023-24 school year, Traverse City Area Public Schools will be utilizing a new transportation routing software system, known as Traversa. Busing information will no longer be available via the PowerSchool Parent Portal, but through the

Traversa Ride 360 website or app which allows parents to easily access their child's routing information, view transportation alerts, and send messages to the dispatch office.
To access your child's bus route information through Traversa Ride 360, you will first need to create a Ride 360 account.
Getting Started With Traversa Ride 360



Have your student's TCAPS ID number readily available. This number can be found on your student's ID badge, from your PowerSchool Parent Portal, or by contacting your school office. The district will also be sending an email home to parents with their student's ID information on Friday, August 25, 2023.

Read the Traversa Ride 360 instructions to set up your account via website (https://MITraverseCityAPS.myridek12.tylerapp.com/) or by downloading the Traversa Ride 360 app.

School District = Traverse City Area Public Schools




Student Information Needed = Student ID Number, Student First Name




2023-2024 routing information will be viewable in your Ride 360 account starting Saturday, August 26, 2023. Please plan to check specific routing information frequently (especially before the first day of school) as bus stop pick up and drop off times may change as we continue to route new students.
For More Information
For more information or assistance with your child's busing or setting up your Traversa Ride 360 account, please contact the transportation department at 231.933.1933.
Check Your Routing Information Frequently
Please note that bus stops and/or pick up/drop off times may change throughout the school year should new students need to be added to existing routes. Although we will do our best to keep you informed, it may not always be possible for us to let you know of time/stop changes in advance. We recommend that you check this information frequently throughout the school year, especially during the first few weeks of the school year.
Transportation Request Procedure & Forms, Transportation & Bus Discipline Policies
Transportation Request Procedure
In an effort to provide the most efficient transportation services possible and enhance communications, TCAPS requires eligible students to sign up for transportation services each school year.
Shuttle Schedule & Bus AM/PM Parking Maps
Shuttle Schedule
Bus Parking Maps
School Bus Safety Tips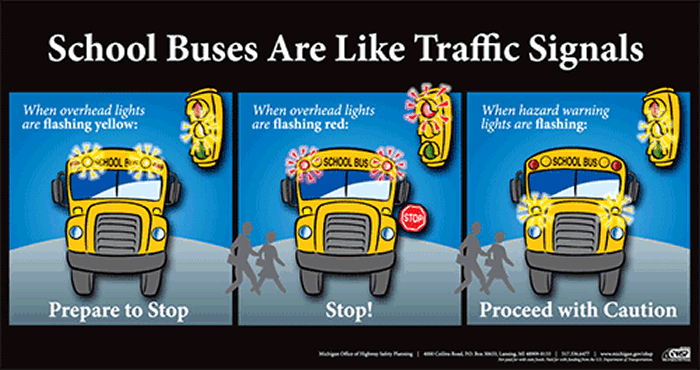 School Bus Safety Tips
A trusted adult should be at your child's bus stop every morning and every evening.
Children should be cautioned about the danger of strangers.
Be at least five minutes early to catch the bus.
School Bus Danger Zones
Did you know there are areas to stay clear of when getting on and off the bus? Because school buses are so large, there are blind spots around the bus where it can be hard to see small children as they are preparing to board or after exiting a bus. Parents can help bus drivers keep children safe by discussing the danger zones shown in the photo on the left.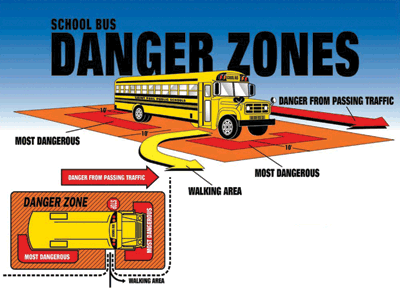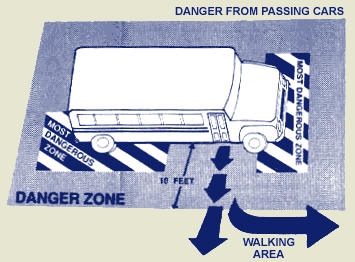 There are blind spots where the bus driver can lose sight of a child:
Front Danger Zone: It is never safe to walk close to the front of the bus. Children should walk five giant steps ahead of the bus before crossing in front of it.
Side Danger Zone: Children should always stay three giant steps away from the side of the bus.
Rear Danger Zone: Never walk behind the school bus.
Rear Danger Zone: Walk (don't run) three giant steps away from the bus when exiting the bus. When the bus approaches, step back from the curb at least three giant steps.
Getting On and Off the Bus
Never run to catch the bus.
If you have to walk on roads where there is no sidewalk, walk against traffic and out of the road.
Stay out of the road and wait for the bus to stop before you walk to it.
Make sure you can see the bus driver's eyes when boarding or crossing in front of the bus.
If you must cross the street to get to the bus, always look left, then right, then left again.
Use the handrail when you exit the bus.
Make sure there are no dangling pieces of clothing, drawstrings on hoods, untied shoestrings, key chains or backpack straps that could get caught on the handrail or in the bus door.
If you drop something under or near the bus, don't pick it up until you tell the bus driver. Otherwise, the driver may not see you.
If you leave something on the bus, don't run after the bus to get it.