TCAPS Food & Nutrition Services

Visit the

Michigan Department of Education's Summer Food Service Program (SFSP) site locator to find the nearest Meet Up & Eat Up location. The SFSP was created to ensure that children in lower-income areas could continue to receive nutritious meals during long school vacations, when they do not have access to the National School Lunch or School Breakfast Programs.
Food & Nutrition Services
Welcome to the Food & Nutrition Services department of the Traverse City Area Public Schools district. We are very proud of our operations and take pride in offering nutritious and delicious meals every day. We encourage input from all of our customers, so feel free to contact TCAPS Food & Nutrition Services Director Tom Freitas at 231.933.1911 with any ideas, suggestions or comments. We look forward to making your dining experience enjoyable.
Our Mission
The mission of TCAPS' Food and Nutrition Services is to improve the health of students by providing flavorful and nutritious meals at an affordable cost. Our goals are to provide service to the school, to enhance the educational environment, and have a positive impact on the community.
TCAPS Wellness Policy
2017-2018 School Year News
Blair Elementary School has received the Silver School Wellness Award!
On Thursday, May 10th, 2018 Blair Elementary School, along with 40 other schools throughout Michigan, was recognized at the Michigan State Capitol building for excellence in creating a culture of wellness in their school. The elementary received a Silver Award for their healthy school endeavors! The School Wellness Award recognizes schools that are making significant policy and environmental improvements in their environment related to healthy eating, physical activity, and tobacco-free lifestyles. During the ceremony, held in the Michigan State Capitol rotunda, representatives from Blair met with and were congratulated by Larry Inman, Representative of the 104th District. Blair Elementary School has had a Healthy School Team since 2016. This team includes staff, students, food service, health instructors, and community organizations. They meet regularly to discuss and implement new programs, activities, and opportunities for students and staff to enjoy creating healthy habits. Among other health initiatives, Blair is an active participant in Fuel Up to Play 60 and the Smarter Lunchrooms Movement.
The School Wellness Award is sponsored by the Michigan Department of Health and Human Services, in partnership with the Michigan Department of Education, United Dairy Industry of Michigan, Blue Cross Blue Shield of Michigan, Michigan Action for Healthy Kids, and Michigan's Health and Wellness Education Workgroup. These partners want to honor schools that are working hard to create healthier school environments.
Traverse Heights Students Are Eco-Friendly Eaters - 9 & 10 News Story, March 18, 2018
Traverse Heights Elementary School was featured in a 9 & 10 news story about the school's efforts to reduce more than 100 pounds of waste during its lunch time.

Watch News Story
Fuel Up to Play 60 - 9 & 10 News Story, March 7, 2018

This March 9 & 10 News story about the Fuel Up to Play 60 program features students at Blair Elementary School about how the program helps them develop healthy lifestyles.
Half Day Bag Lunches
Bag lunches will be available for purchase to elementary school students on all half day school days.
Other Announcements
TCAPS has been approved for the State's 10 cent reimbursement for purchasing local produce pilot again this year. We have been awarded $24,400 for this school year.
​This year we will be transitioning all elementary buildings to the cafeteria ID cards to ensure that customers get through the food lines as quickly as possible to give them more time to enjoy the delicious and nutritious food. By keeping the ID cards in the cafeteria we will reduce loss and damage to the cards.
We have reversed the lines in some of our elementary buildings so that our customers are going through both sides of the salad bars first. This allows for two lines instead of one line which allows customers to get to the food quicker and get through the line sooner. It also encourages our children to eat more fruits and vegetables since that is the first thing they are putting on their trays.
​We will continue to look for new and nutritious foods and innovative ways to enhance our customer's dining experience.
Local Harvest of the Month
May: Radishes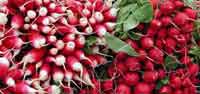 Radishes are members of the mustard family. They are a great northern Michigan crop to plant in early spring, with many varieties growing in as few as three weeks. To learn more about the different types of radishes and different ways to cook and eat them at the

Kids Cooking Activities website.
June: Asparagus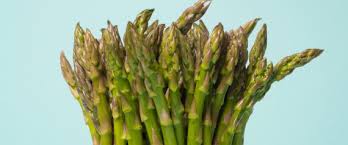 In northern Michigan, asparagus is an early spring vegetable--meaning it is usually ready to pick anytime from early May through mid-June. This year, it was ready mid-May and is being served at lunch throughout the district, grown by Norconk Farms in Empire, MI.

Learn more about asparagus.
New Vending Machines Offer Healthy Alternatives
Having access to healthy food items and meals outside of the normal cafeteria operating hours just got a little bit easier. TCAPS has installed two new vending machines in the cafeteria at both Central High School and West Senior High School as part of a pilot program. The vending machines contain healthy food items that meet the same federal nutrition regulations as all other food sold in the school cafeteria. Sample items include: salads, yogurt, sandwiches, fruit, granola bars, etc.
Students and staff can purchase snack items as well as meals qualifying under the Federal Free and Reduced Price School Meals Program using either cash or their meal accounts. For students who qualify for free/reduced meals, the purchase would count towards their daily meal allowance.
Food & Nutrition Services – Green Efforts
TCAPS Food & Nutrition Services takes great pride in minimizing our environmental footprint in Traverse City. In our buildings using disposables, 95% of the plates and bowls are biodegradable. We will continue to strive for 100% biodegradable product usage. All of our buildings are contracted with a waste management company who sorts and recycles all of our waste. We are committed to the continuous greening of our schools.
Bringing Local Foods to Our Schools
TCAPS participates in the "

Cultivate Michigan" program, an effort to bring more local foods to institutions. Our goal is to purchase 20% of our food products from the state of Michigan by 2020. We are currently partnering with Cherry Capital Foods, Gordon Food Service, and individual growers to achieve this goal.
Gordon Food Service also has a program focusing on local food purchases, called "

Near Buy". View listings of Michigan produced foods and products purchased by TCAPS:
Local Food Partners
TCAPS Food & Nutrition Services is proud to be working with local food vendors this year. We would like to recognize these area businesses and look forward to future partnerships.
Aunt Millie's Bakery
Cherry Capital Foods
Farm to Freezer Northwest Michigan
Food Rescue
Louie's Meats, Inc.
MI Farm Coop
Pepsi
Prairie Farms
Stone House Bread
Anti-Discrimination Statement
In accordance with Federal civil rights law and U.S. Department of Agriculture (USDA) civil rights regulations and policies, the USDA, its agencies, offices, and employees, and institutions participating in or administering USDA programs are prohibited from discriminating based on race, color, national origin, sex, disability, age, or reprisal or retaliation for prior civil rights activity in any program or activity conducted or funded by USDA.
Persons with disabilities who require alternative means of communication for program information (e.g. Braille, large print, audiotape, American Sign Language, etc.), should contact the Agency (State or local) where they applied for benefits. Individuals who are deaf, hard of hearing or have speech disabilities may contact USDA through the Federal Relay Service at (800) 877-8339. Additionally, program information may be made available in languages other than English.
To file a program complaint of discrimination, complete the USDA Program Discrimination Complaint Form, (AD-3027) found online at:

www.ascr.usda.gov/complaint_filing_cust.html, and at any USDA office, or write a letter addressed to USDA and provide in the letter all of the information requested in the form. To request a copy of the complaint form, call (866) 632-9992. Submit your completed form or letter to USDA by:
Mail: U.S. Department of Agriculture
Office of the Assistant Secretary for Civil Rights
1400 Independence Avenue, SW
Washington, D.C. 20250-9410;
Fax: (202) 690-7442; or
Email: program.intake@usda.gov
This institution is an equal opportunity provider.