TCAPS Food & Nutrition Services
Welcome to the Food & Nutrition Services department of the Traverse City Area Public Schools district. We are very proud of our operations and take pride in offering nutritious and delicious meals every day. We encourage input from all of our customers, so feel free to contact TCAPS Food & Nutrition Services Director Tom Freitas at 231.933.1911 with any ideas, suggestions or comments. We look forward to making your dining experience enjoyable.
Our Mission
The mission of TCAPS' Food and Nutrition Services is to improve the health of students by providing flavorful and nutritious meals at an affordable cost. Our goals are to provide service to the school, to enhance the educational environment, and have a positive impact on the community.
TCAPS Wellness Policy
Meal Programs
Important Reminder:
Congress has chosen not to extend free meals for all students for the 2022-23 school year. Due to this decision, we are asking all TCAPS families to complete a free and reduced application so that if your child is eligible they can receive a free or reduced meal this coming school year. We ask all TCAPS families to complete an application whether your child would be eligible or not. All application information input is used to determine eligibility for many grants and other money that TCAPS receives.
Complete the Free and Reduced Meal Application at:
www.traversecity.familyportal.cloud/. Families can also get a copy of the application in their school's main office. Please complete one form per family
Food Services Online Platform Update
TCAPS Food Service has switched their online platform from Send Money to School to Family Portal, for adding money to your children's food service accounts. If you have any questions please click on the tutorials link when you enter the Family Portals link.
Important Message from Food Services
Food service will begin posting the menus online to try and give families more information on what we are planning to serve. Please be aware that due to supply chain disruptions and food shortages we may have to unexpectedly substitute food items that are posted on the menu. These substitutions could change the allergies listed on the online menu. We recommend that parents or the students with allergies check with the kitchen staff daily. Changes will occasionally occur and we want to ensure that all students with allergies are kept safe. Our staff will also continue to monitor all students known to have allergies.
2022-23 Food Service News & Updates:
TCAPS Food Service will be offering meatless meal options everyday in all of our buildings. Due to supply chain disruptions this could change on some days if we are shorted any food supplies.
TCAPS Food Service is rolling back prices to the meal prices from the 2019-20 School year. So please join us for nutritious, delicious meals at a great price!
Meal Prices:
Breakfast:
Lunch:
A food service fact for all of our families:
TCAPS Food Service offers Michigan produce in our meals, somewhere in our district, nearly every school day of every school year.
Thank You R&K Farms
10/25/22
TCAPS would like to thank R&K Farms, a local farm in Beulah, Michigan, for their generous donation of 20+ bushels of beautiful Michigan apples. TCAPS Food Service continuously works to find ways to serve our students Michigan produce and truly appreciates when local farmers are able to help us with that goal. Thank you R&K Farms!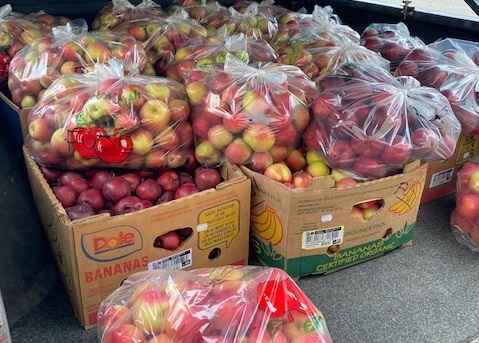 MDHHS & MDE Pandemic EBT (P-EBT) Program
Apply Today for Free & Reduced Meals
Applications should be completed each year; these applications are also used for several other grant programs in TCAPS. In addition, students who qualify for free and reduced meals also qualify for college application fee waivers and SAT/ACT fee waivers. So please submit your Free & Reduced Meals Application here.
Vending Machines Offer Healthy Alternatives
Having access to healthy food items and meals outside of the normal cafeteria operating hours just got a little bit easier. TCAPS has installed two new vending machines in the cafeteria at both Central High School and West Senior High School as part of a pilot program. The vending machines contain healthy food items that meet the same federal nutrition regulations as all other food sold in the school cafeteria. Sample items include: salads, yogurt, sandwiches, fruit, granola bars, etc.
Students and staff can purchase snack items as well as meals qualifying under the Federal Free and Reduced Price School Meals Program using either cash or their meal accounts. For students who qualify for free/reduced meals, the purchase would count towards their daily meal allowance.
Food & Nutrition Services – Green Efforts
TCAPS Food & Nutrition Services takes great pride in minimizing our environmental footprint in Traverse City. In our buildings using disposables, 95% of the plates and bowls are biodegradable. We will continue to strive for 100% biodegradable product usage.
TCAPS elementary schools are moving to all online production sheets that will greatly reduce the amount of paper we use over the course of a year.
TCAPS Food & Nutrition Services is proud to be working with local food vendors this year. We would like to recognize these Michigan businesses and look forward to future partnerships with other Michigan businesses.
Farm to Freezer Michigan
Gordon Food Service
Louie's Meats, Inc.
MI Farm Coop
Norconk Farms
Warren Orchards
Pepsi - Traverse City Distributorship
Prairie Farms
Anti-Discrimination Statement
In accordance with federal civil rights law and U.S. Department of Agriculture (USDA) civil rights regulations and policies, this institution is prohibited from discriminating on the basis of race, color, national origin, sex (including gender identity and sexual orientation), disability, age, or reprisal or retaliation for prior civil rights activity.
Program information may be made available in languages other than English. Persons with disabilities who require alternative means of communication to obtain program information (e.g., Braille, large print, audiotape, American Sign Language), should contact the responsible state or local agency that administers the program or USDA's TARGET Center at (202) 720-2600 (voice and TTY) or contact USDA through the Federal Relay Service at (800) 877-8339.
To file a program discrimination complaint, a Complainant should complete a Form AD-3027, USDA Program Discrimination Complaint Form which can be obtained online at: USDA Program Discrimination Complaint Form, from any USDA office, by calling (866) 632-9992, or by writing a letter addressed to USDA. The letter must contain the complainant's name, address, telephone number, and a written description of the alleged discriminatory action in sufficient detail to inform the Assistant Secretary for Civil Rights (ASCR) about the nature and date of an alleged civil rights violation. The completed AD-3027 form or letter must be submitted to USDA by:
mail: U.S. Department of Agriculture Office of the Assistant Secretary for Civil Rights 1400 Independence Avenue, SW Washington, D.C. 20250-9410; or
fax: (833) 256-1665 or (202) 690-7442; or
email: program.intake@usda.gov
This institution is an equal opportunity provider.