TCAPS Board Vision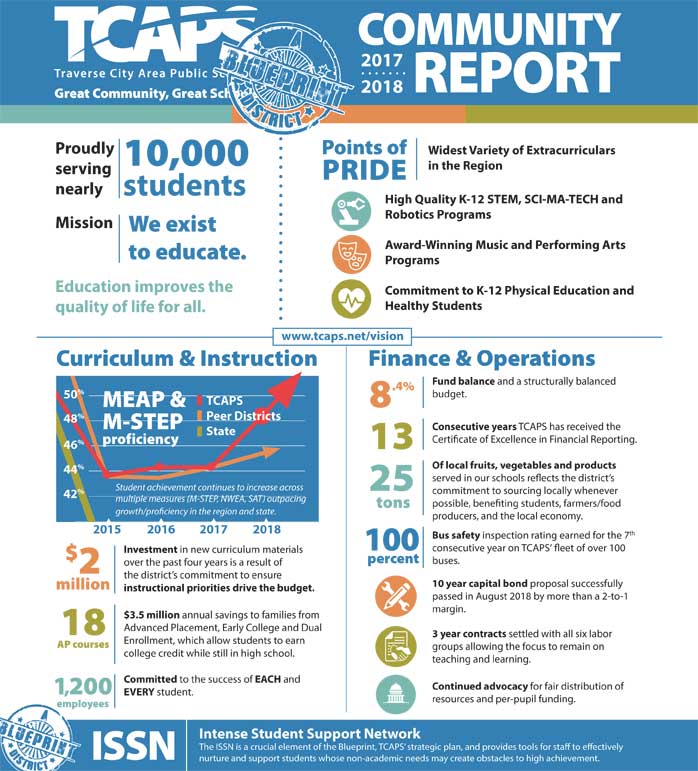 Community Report (in Written Text)
2017-2018 Community Report
Proudly serving nearly 10,000 students
Mission
We exist to educate. Education improves the quality of life for all.
Points of Pride
Widest Variety of Extracurriculars in the Region
High Quality K-12 STEM, SCI-MA-TECH and Robotics Programs
Award-Winning Music and Performing Arts Programs
Commitment to K-12 Physical Education and Healthy Students
Curriculum & Instruction
Student achievement continues to increase across multiple measures (M-STEP, NWEA, SAT) outpacing growth/proficiency in the region and state.
$2 million investment in new curriculum materials over the past four years is a result of the district's commitment to ensure instructional priorities drive the budget.
18 Advanced Placement course offerings.
$3.5 million annual savings to families from Advanced Placement, Early College and Dual Enrollment, which allow students to earn college credit while still in high school.
1,200 employees committed to the success of EACH and EVERY student.
Finance & Operations
8.4% fund balance and a structurally balanced budget.
13 consecutive years TCAPS has received the Certificate of Excellence in Financial Reporting.
25 tons of local fruits, vegetables and products served in our schools reflects the district's commitment to sourcing locally whenever possible, benefiting students, farmers/food producers, and the local economy.
100% bus safety inspection rating earned for the 7th consecutive year on TCAPS' fleet of over 100 buses.
10 year capital bond proposal successfully passed in August 2018 by more than a 2-to-1 margin.
3 year contracts settled with all six labor groups allowing the focus to remain on teaching and learning.
Continued advocacy for fair distribution of resources and per-pupil funding.
Intense Student Support Network (ISSN)
The ISSN is a crucial element of the Blueprint, TCAPS' strategic plan, and provides tools for staff to effectively nurture and support students whose non-academic needs may create obstacles to high achievement.
Download Community Reports
Download Community Reports
Our Mission
We exist to educate. Education improves the quality of life for all.
Our Goals
Curriculum
TCAPS delivers a rigorous and relevant education for every student with a strong foundation and cutting edge opportunities.
All students graduate and are prepared for a successful and productive life.
Improved performance for all students.
Finance & Operations
Educational priorities drive resource decisions.
Operations are efficient and effective.
TCAPS is fiscally responsible.
Communication
Develop broad community connections, specifically with those who have no direct connection to our schools.
Reinforce and strengthen TCAPS' reputation as a quality school system and a great choice for families.
Our Strategic Plan
The Blueprint: Committed to the Success of EACH Student
Dramatic improvement in student, teacher and leader performance in a short amount of time. Grounded in a safe, orderly and respectful environment for students.
Quick Overview of Being a Blueprint District
What the Blueprint Means for Teachers
The Blueprint: How We Get There
What Systemic Reconfiguration Looks Like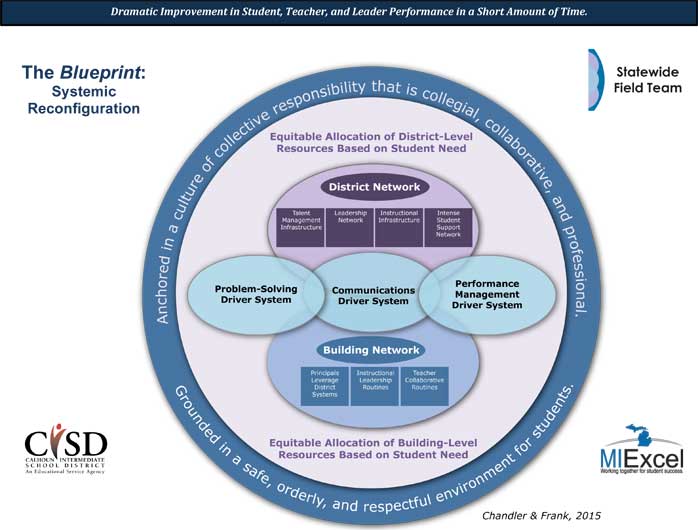 Listen to an inspiring Blueprint overview that was shared via TCAPS Loop, a weekly podcast hosted by Larry Burden and Danelle Brostrom.

Episode 63 features Dr. Grant Chandler, Blueprint Author/Project Director at MI Excel who does an excellent job of explaining what the Blueprint is, how it is different from all the "shiny balls" that come and go in education, and why it is so important.