TCAPS Board Vision & Strategic Plan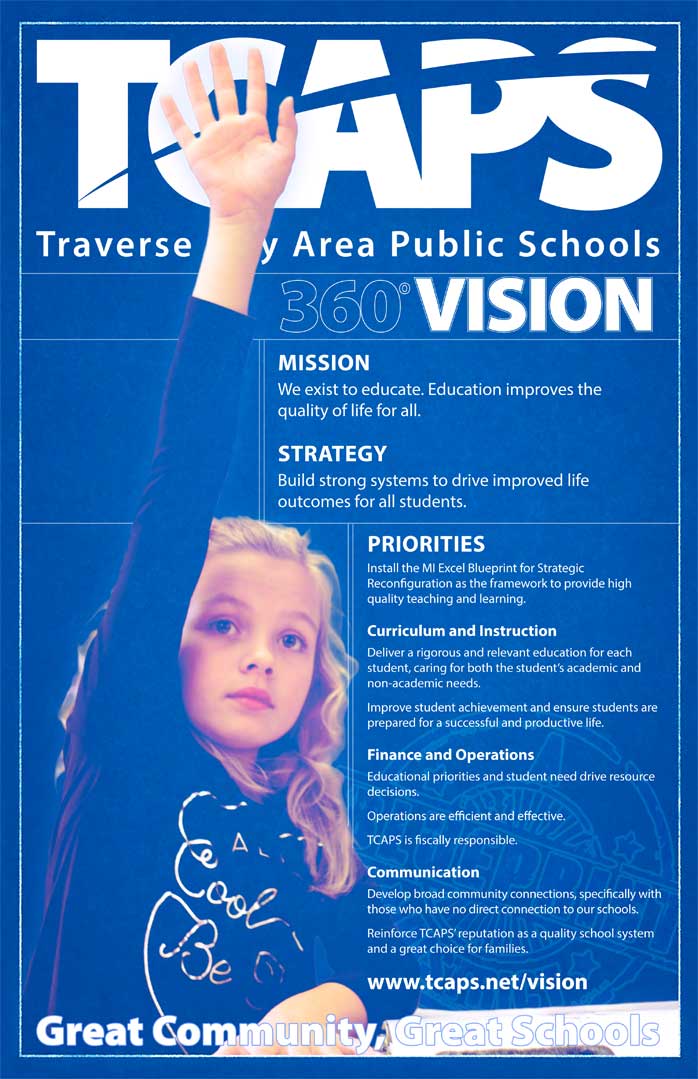 Vision (in written text)
TCAPS 360° Vision
Our Mission
We exist to educate. Education improves the quality of life for all.
Our Strategy
Build strong systems to drive improved life outcomes for all students.
Our Priorities
Install the MI Excel Blueprint for Strategic Reconfiguration as the framework to provide high quality teaching and learning.
Curriculum and Instruction
Deliver a rigorous and relevant education for each student, caring for both the students' academic and non-academic needs.
Improve student achievement and ensure students are prepared for a successful and productive life.
Finance and Operations
Educational priorities and student need drive resource decisions
Operations are efficient and effective
TCAPS is fiscally responsible
Communication
Develop broad community connections, specifically with those who have no direct connection to our schools.
Reinforce TCAPS' reputation as a quality school system and a great choice for families.
Installation of the Blueprint
The Blueprint: Committed to the Success of EACH Student
Dramatic improvement in student, teacher and leader performance in a short amount of time. Grounded in a safe, orderly and respectful environment for students.
What Systemic Reconfiguration Looks Like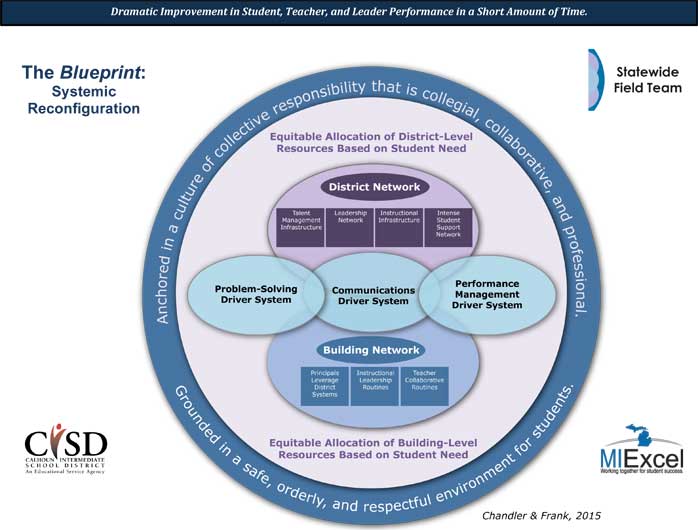 Blueprint Installation Timeline
Videos & Podcasts About The Blueprint
What Does the Blueprint Mean?
Dr. Grant Chandler Discusses The Blueprint & Its Purpose
Watch these shorter videos to learn more about the Blueprint:
Quick Overview of Being a Blueprint District
What the Blueprint Means for Teachers
The Blueprint: How We Get There
Podcasts About the Blueprint
Listen to an inspiring Blueprint overview that was shared via TCAPS Loop, a weekly podcast hosted by Larry Burden and Danelle Brostrom.

Episode 63 features Dr. Grant Chandler, Blueprint Author/Project Director at MI Excel who does an excellent job of explaining what the Blueprint is, how it is different from all the "shiny balls" that come and go in education, and why it is so important.
TCAPS Capital Plan
Three Year Timeline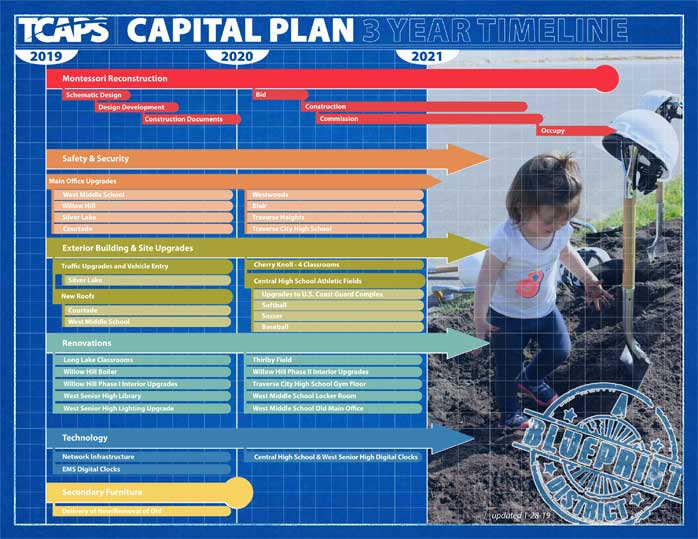 TCAPS Capital Plan (in written text)
TCAPS Capital Plan
Projects & Three Year Timeline
Years noted below are anticipated start times for each project. Completion times will vary.
Montessori Reconstruction
Schematic Design (2019)
Design Development (2019)
Construction Documents (2019)
Bid (2020)
Construction (2020-2021)
Commission (2020-2021)
Occupy (2021)
Safety & Security
Main Office Upgrades

West Middle School (2019)
Willow Hill Elementary School (2019)
Silver Lake Elementary School (2019)
Courtade Elementary School (2019)
Westwoods Elementary School (2020)
Blair Elementary School (2020)
Traverse Heights Elementary School (2020)
TC High School (2020)

Exterior Building & Site Upgrades

Traffic Upgrades & Vehicle Entry - Silver Lake (2019)
New Roofs - Courtade & West Middle (2019)
4 Classrooms - Cherry Knoll (2020)
Central High School Athletic Fields (2020)

Upgrades to U.S. Coast Guard Complex
Softball
Soccer
Baseball
Renovations
Long Lake Classrooms (2019)
Willow Hill Boiler (2019)
Willow Hill Phase I Interior Upgrades (2019)
West Senior High Library (2019)
West Senior High Lighting Upgrades (2019)
Thirlby Field (2020)
Willow Hill Phase II Interior Upgrades (2020)
TC High School Gym Floor (2020)
West Middle School Locker Room (2020)
West Middle School Old Main Office (2020)
Technology
Network Infrastructure (2019)
EMS Digital Clocks (2019)
Central High School Digital Clocks (2020)
West Senior High School Digital Clocks (2020)
Secondary Furniture
Delivery of New/Removal of Old (2019)
Updated 1-28-19