Community Reports
2019-2020 Community Report (in written text)
2019-2020 Community Report in Written Text
We exist to educate. Education improves the quality of life for all.
Curriculum & Instruction
Best High Schools Recognition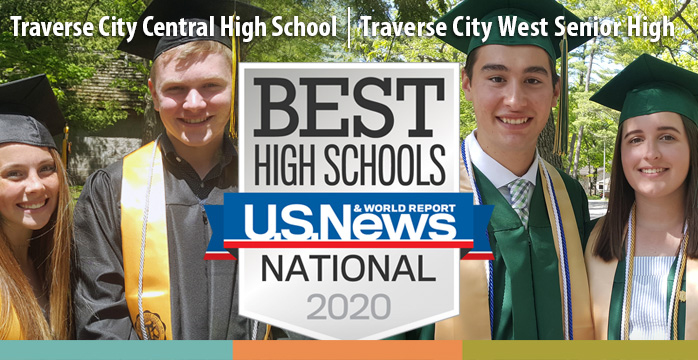 TC Central High School and TC West Senior High School ranked among the nation's Best High Schools by U.S. News & World Report. Learn more about the Best High Schools recognition.
Teacher Collaborative Routines established for shared planning time, enhancing academic results
Teaching and support staff quickly adjusted to state-mandated closure: transitioned to online learning platforms, printed curriculum packets, provided enrichment opportunities
Continued investment in elementary science curriculum
Finance & Operations
Structurally balanced budget (7.12% fund balance)
Certificate of Excellence in Financial Reporting (15th consecutive year)
100% bus safety inspection rating (9th consecutive year)
Completed Capital Projects include:
Main office reconstruction and security additions; Courtade, Silver lake, Willow Hill, West Middle School
Roof renovation; Courtade, West Middle School
Digital clocks installation; East Middle School
Vehicle/bus loop projects; Silver Lake, West Middle School
Library and auditorium lighting upgrades; West Senior High School
COVID-19 Response and Coordination
Building strong systems to drive improved life outcomes for ALL students.
March 2020 - All classes moved to remote learning
10,000+ Chromebooks and 200 hotspots provided to support remote learning
213,947 free meals distributed at four sites/meal delivery (Mar.-June)
Virtual counseling services provided by school social workers
$21,073 Intense Student Support Network donations received to support students in need
3,000 enrichment items with curriculum activity sheets distributed
1,000+ books provided to students through community partnerships
$14,000 worth of hand-selected items donated by DDA Buy Local, Give Local Campaign
A Look at 2020-2021
TCAPS Safe Start Plan developed and implemented, Extended COVID-19 Learning Plan reviewed and updated monthly
Developed three learning options to accommodate each student's unique needs (Face-to-Face, UpNorth Virtual Live, and On Demand)
School safety, diversity, equity, and inclusion work underway
2020 Non-Homestead (Operating) Millage
Continued participation on GT County Joint Operations Committee
Ongoing TCAPS COVID-19 Communications and Case Reporting (www.tcaps.net/safestart)
Download Community Reports
Download Community Reports