Students in Transition Empowerment Program
About STEP
Students in Transition Empowerment Program (STEP) is a program administered by Traverse City Area Public Schools that provides free supportive, education-related services to students, ages 3-20, who lack fixed, regular and adequate housing. STEP ensures the educational rights of families and youth as required by the McKinney-Vento Homeless Assistance Act. The STEP program works with eligible students who have lost permanent housing due to foreclosure, eviction, or reasons related to economic hardship to locate and coordinate available services based on each student's individual needs. The goal of the program is to ensure school stability, remove barriers to full participation in their education, and support academic achievement while children are in residential transition.
Student Testimonial
"It helps a lot to be able to leave class and go somewhere calm and quiet. I feel a lot safer knowing that there are people aside from my family who want to make sure my needs are being met. People in this program actually understand me and the way I learn, react, feel, etc. I really, really appreciate everything STEP does to help kids like me."–Student Testimonial

9&10 News Story: Traverse City Rivalry Hockey Game Gives Back to the Community
STEP Services & Eligibility

Who is Eligible for STEP Services?
STEP serves students ages 3 – 20 in all schools throughout the school district. The STEP program works behind the scenes helping students to remain in their current school, maintaining school stability, as often as possible and when it is in the best interest of the child.
Any student who lacks a fixed, regular, and adequate overnight residence (at anytime during the school year) is eligible to receive STEP services. Students may be found living in the following situations:
In a shelter, motel, vehicle, camper, or campground
Temporarily sharing the housing of friends or family ("doubled-up") due to economic hardship
Unaccompanied youth living on their own, without a parent or guardian
Inadequate accommodations (lack of electricity, heat, plumbing, or overcrowding)
Abandoned buildings, or on the street
Students who are couch surfing, staying with friends
Displaced due to natural disaster or fire
School staff involved in identifying students in transition include the on site STEP specialist, bus drivers, food service staff, counselors, school social workers, teachers, secretaries, administrators, parents, students, or by word of mouth. Once identified, students can begin receiving the services they need in order to stay in school and obtain the education they need.
STEP Services Available
TCAPS Students in Transition Empowerment Program services include:
Support with school choice option
School supplies and/or backpacks
School transportation via school bus, BATA or gas card
School breakfast and lunch at no charge
Before and after school program assistance
Academic support and tutoring
Assistance in obtaining school records, including birth certificates and immunization records
College admissions support, registration, FAFSA, scholarships, etc.
Clothing for school purposes
Personal hygiene products
Assistance with obtaining a driver's license (Roadmap to Success Program)
General funds for extracurricular activities or interests
Referrals for housing, mental health, counseling, medical, transitional living, resources, job training, work programs, post-secondary education counseling, and training, etc.
Students Share What They Need
"Thank you for all the help you have given me. My life is finally getting back on track slowly but surely. I will still probably need help with bathroom supplies."

"In my current situation, I need help with financial education, as well as help with college applications. Thank you for checking in with me."

"I need support. I need someone who won't give up on me. I need extra help with classes and solid transportation to school."

"I just need to make money and get my stuff done. I want to say thank you for letting me know where I can go when I need assistance."

"What I need to be successful is what you do best—helping people out with personal situations."
Students' Educational Rights


School Rights You May Not Know You Have
If you live in any of the following situations:
In a shelter or on the street
In a motel or campground
In a car, park, abandoned building, bus or train station
Couch surfing/doubled up with other due to loss of housing, foreclosure, eviction or economic hardship
Inadequate living accommodations (i.e. overcrowding, lack of plumbing, heating, or electricity)
Youth living on their own, without parent or legal guardian
You may be eligible for services, including:
Transportation to school
School breakfast or lunch at no charge
Free school supplies
Academic support and tutoring
Help getting school records, including birth certificates and immunization records
Referrals for housing, health care and food
Referrals for other services
You also have the right to:
Enroll in and attend school, no matter where you live or how long you have lived there
Continue attending the same school after experiencing loss of housing, or transfer to a new school
Receive transportation assistance, if possible
Receive school meal programs
Receive Title I services
School Rights Posters
Contact Information
Local Contact: 231.933.5901
State Coordinator: 517.373.6066
National Center for Homeless Education: 800.308.2145
Statistics - National, State & Local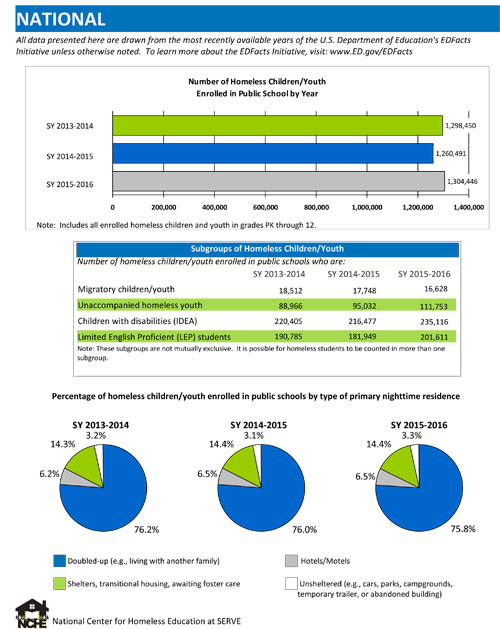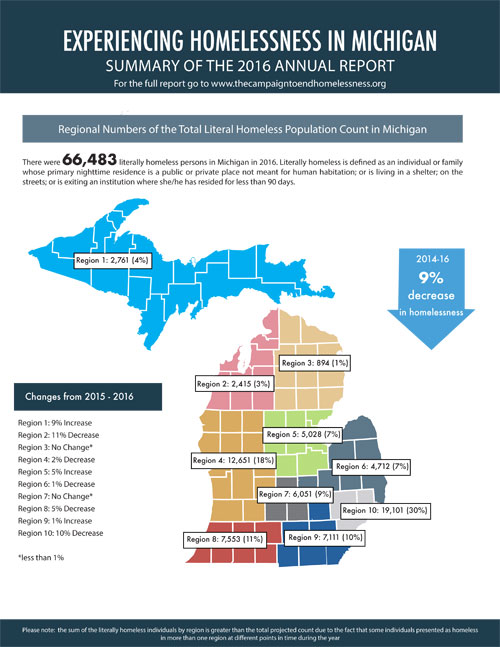 Michigan's Regional Numbers
There were 66,483 literally homeless persons in Michigan in 2016. Literally homeless is defined as an individual or family whose primary nighttime residence is a public or private place not meant for human habitation; or is living in a shelter; on the streets; or is exiting an institution where she/he has resided for less than 90 days.
2016: Key Facts about Homelessness in Michigan
Michigan homeless service agencies provided care to a total of 57, 028 people based on data from the Michigan Homeless Management Information System. The care included prevention services, sheltering and permanent housing placements.
22,211 people secured permanent housing after transitioning from living on the streets or in shelters.
The majority of the homeless population had health insurance, with Medicaid being the primary source.
- 85% of the total homeless population were covered by health insurance.
Families with children made up nearly half of the homeless population.
- 24,766 people (43%) were families that included at least one child.
Homelessness disproportionately affected African Americans.
- 53% of the homeless population were African American yet African Americans are only 14% of Michigan's total population.
70% of the single homeless adults reported having a mental health condition.
The number of homeless seniors (aged 55+) increased 9% from 7,207 in 2014 to 7,919 in 2016.
- 73% had a long term disability.
- 84% were between the ages of 55 to 64.
Between 2014-2016 there was a 16% decrease in the number of homeless veterans
According to the Michigan Department of Education, there was a 4% decrease in the number of homeless children/youth enrolled in public school between the 2015-16 and 2016-17 school years.
Our Five County Regional Statistics
As of March 2, 2018, the following regional data was reported for the 2017-2018 school year. (This is not a complete compilation of data at this time.)
Percentage of Homeless in the Region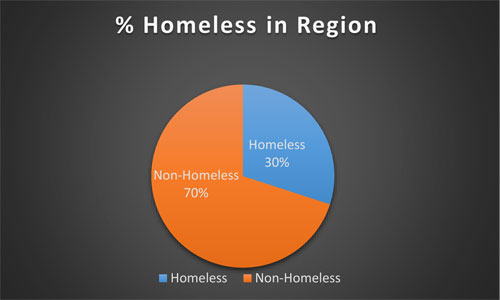 Nighttime Residence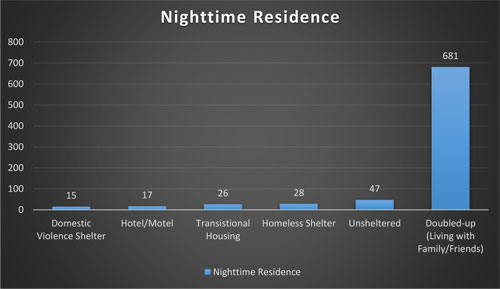 15 Domestic Violence Shelter
17 Hotel/Motel
26 Transitional Housing
28 Homeless Shelter
47 Unsheltered
681 Doubled up (living with family/friends)
Grade Level of Homeless Youth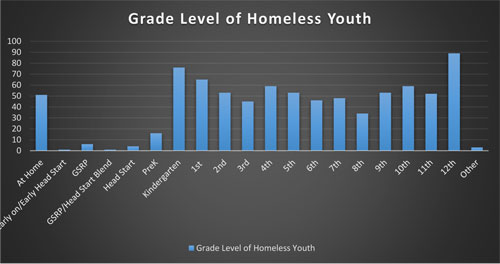 Unaccompanied Youth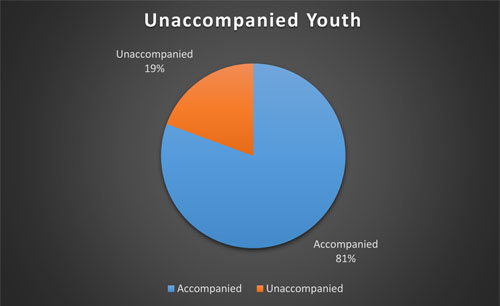 Accompanied Students: 656 or 80.625%
Unaccompanied Students: 158 or 19.375%
TCAPS School District Statistics
As of March 7, 2018, the following data was reported for TCAPS 2017-2018 school year. (This is not a complete compilation of data at this time.)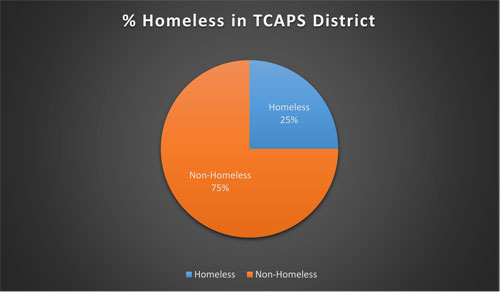 Students Surveyed on Reasons, Barriers and Living Situations
In February 2015, 108 students were surveyed from the TCAPS district to determine what ways the STEP program could better serve students. The following data was collected during this research study:
Top Five Reasons Students Say They Are In Transition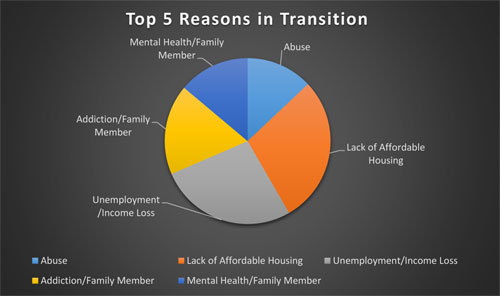 Unemployment / Income Loss
Lack of Affordable Housing
Addiction/Family Member
Mental Health/Family Member
Abuse
Top Five Current Living Situations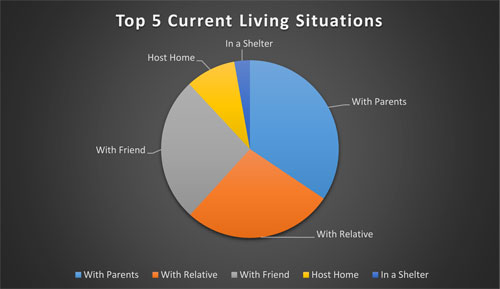 With Parents
With Friend
With Relative
Host Home
In a Shelter
Top Three Barriers to Graduating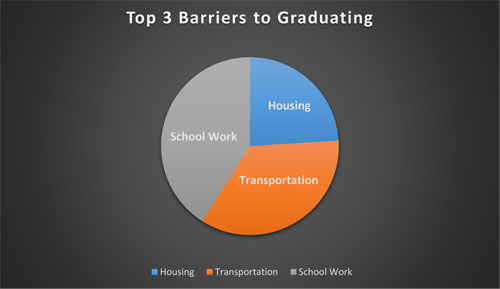 School Work
Transportation
Housing
What Students Say They Need Help With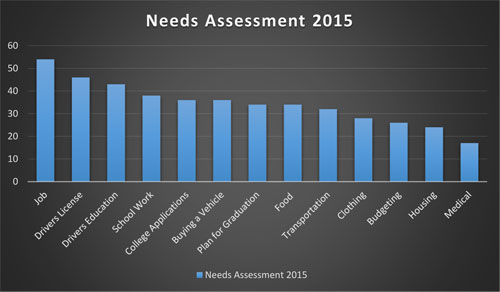 Job
Obtaining a Driver's License
School Work
College Applications
Buying a Vehicle
Planning for Graduation
Food
Transportation
Clothing
Budgeting
Housing
Medical
Students' Goals After High School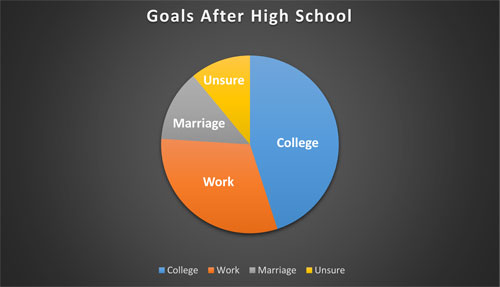 Go to College
Work
Marriage
Unsure
Common Signs of Homelessness
Some possible signs that a student may be experiencing homelessness are:
Irregular attendance and frequent tardiness
History of attending many different schools
Consistent lack of preparation for class
Sleeping in class
Hostility and anger or extremes in behavior
(e.g., shyness, withdrawal, nervousness, depression)
Needy behavior (seeking attention or withdrawn behavior)
Poor health/nutrition
Inadequate seasonal clothing
Poor hygiene and grooming
Resistance to parting with personal possessions
(e.g., leaving a favorite toy/item unattended or putting a coat in a locker)
Multiple families at the same address
Difficulty in reaching a parent by phone
In Michigan, adults and children in families account for 52% of the total homeless population. This number may be under reported and not include families who are doubled up or living with friends and relatives due to economic hardship.

Homeless Children & Youth: Causes and Consequences
Students' Stories
Through the Cracks
When I first talk about STEP and the mandates of the McKinney-Vento law, people sometimes respond, "You are talking about the kids who fall through the cracks." I respond yes, that's our job, to go into the cracks, find the kids, and bring them out." Almost 10 years into this, this is what it sounds like inside the cracks.
"The park is a good place to sleep." This is a voice of an 18 year old senior. He didn't (although he had tried it) want to go to shelter because he didn't like the noises-and didn't' necessarily feel safe there from past experiences. He says, "It is quiet in the park and no one bothers me."
Between the cracks you hear things like the voice of a parent looking desperately for housing in the area. "I work two part jobs, but I don't know how to get my kids to their school. We have to move again to my sister's house.
Sometimes you see students who made it out of this place between the cracks, and then they fall back in. You can hear the student say," I've moved schools so many times and I am not sure if I will be here for very long."
Some students want to stay between the cracks because the world up above has become too frightening and cannot be trusted. "They are living with another family for now. It's definitely better there for them than at home."
This area between the cracks doesn't work like the world above. Gravity doesn't work, Things don't trickle down here. I was taught if you work hard, you will get ahead, have a good job, a house, and good life. This belief also suggests that if you do not have a good home, family and job, then you must not have worked hard enough. These rules don't work down here in the cracks. Sometimes the park is better than a shelter and a different home is better than their own.
Some things down here are the same as above. Life isn't fair. There are floods, fires, hurricanes and illness and there is nothing fair about how they move and who they devour. That is all the more reason why kindness matters. It matters between the cracks where people have been abandoned and abused. Kindness still matters even if people are afraid to offer it or afraid to give it. Kindness always matter above and below.
If there is a ladder out of the cracks, it has to be education. We are standing right next to the ladder, holding it still and encouraging kids to climb, even if it feels really shaky. We are holding it still, for all we are worth, down here between the cracks.
Excerpts taken from "Through the Cracks" written by Beth McCullough
Students' Personal Stories
"Every day I think about where I would be if I didn't meet Andrea and STEP, and receive all the help that I did. I am incredibly thankful for everything she has done for me. The days and days she spent tutoring me and helping me with everything that I needed were not overlooked. One thing I will say is thank you so much, Andrea, for everything you have done for me. That doesn't repay her for all of the help I received, but that's the first thing she deserves; a huge thank you. Because of her and the STEP program, I learned many great lessons about hard work and perseverance, graduated on time and successfully began my first semester of college." –Recent TCAPS graduate

"I need help to figure out how to manage time between work, school work, and the things I love to do. In addition, I would appreciate help in finding ways to return to my previously fixed home and conflict resolution to heal the pain caused by the transition." –Heather 18

"Talk to me, give me time, help me learn, slowly. Don't underestimate me, trust me, be there." –Tess 16

"It would really help to have a job so I could have money to better support myself and I could get a place to live." –Haley 18
​
"I am not sure you can help me. I am not sure I am worth helping. I am still trying to figure that out." –No Name 17
Community Partners
Working together to reduce poverty and end homelessness through education.
We would like to pay special attention and give our heartfelt thanks to the following supporters of the STEP program and also to many other working partnerships that we have throughout the greater Grand Traverse Area:
Thank You to Our Community Collaborative Partner Agencies:
Thank You to Our 2018-2019 Donors:
| | |
| --- | --- |
| Adele & Kristen | Conrad |
| Andy | Cook |
| Casey & Dana | Cowell |
| Monica | Cronin |
| Steve & Kathy | Davis |
| Paul & Christine | Deyo |
| Denine | DIngeman |
| Rick & Doris | Ellery |
| Marlene | Flannery |
| Dan & Susan | Fleckenstein |
| Kim | Fleming |
| Gary & LouAnne | Ford |
| Misty | Franklin |
| Judy | Franz |
| Mary | Friar |
| Marla | Gerber |
| The | Gignilliant's |
| Robyn | Gillow |
| Michelle | Goetz Grahl |
| Leanne | Gorbutt |
| Jack & Marlene | Gossett |
| Jami | Grant |
| Anne | Grolean |
| Eric & Dolores | Grost |
| Amy | Harper |
| Becky | Harvey |
| David & Leslie | Heimburger |
| Margo | Hellem |
| Emily | Howard |
| Jean | Howard |
| Liz | Hunt |
| Theresa | Hunt |
| Richard & Becky | Hutchinson |
| Kathy | Jordan |
| Anna | Kane |
| Nan | Katzenberger |
| Sarah | Kebler |
| Brenda | Kelly |
| Noah & Emily | Kolassa |
| Erin | Kosch |
| Katie | Kubesh |
| Kristin | Laing |
| Frank | Leonard |
| Ward & Christina | Lewis |
| Diane | Lowes |
| Mark & Karen | Ludmark |
| Matt & Jody | Madion |
| Sara | McNamara |
| Lindsey | McNeil |
| Brenda | Meindertsma |
| Kathy | Navin |
| Patrick | Nicholas |
| Eddie & Allison | O'Keefe |
| The | O'Keefe Family |
| Jeane | Peltola |
| F. Verne | Powell |
| Robert & Shelly | Robertson |
| Jeanine | Rossbach |
| Ron & Mary | Sanders |
| Jamie | Sandy |
| Kathleen | Scheider |
| Robin | Smilie |
| Katelyn | Stark |
| Hilary | Strickland |
| Steve & Lori | Thomas |
| Barbie | Veldez |
| Betsy | Wells |
| Linda | Willette |
| Sheila | Wojciechowski |
| William | Zinser |
About Time Transportation
AECOM - Jill Aylsworth
BATA – Pat Reeser
Bayside Allergy
Celtic Five Highland Dancers - Lee Gwyn
Child & Family Services – Michelle Goetz
CHS & WSH Hockey Team – Jennifer VanderRoest & Amy Rickenberg
CHS Kitchen – Donna & Susan
CHS Music Department
CHS Student Senate
Copper Ridge Dental – Derek J. Rice DDS
Costco
Down to Earth Outdoor Services
Dr. Mack DDS
Eastern Elementary PTO – Stacy O'Keefe & Kara Madion
Garden Goods
Grand Traverse Construction
Independent Bank – Nadine Vipond
Jimmy John's
Lucky's Market
Macy's Staff
Mari Vineyards
Mary's Kitchen Port
Masters Cleaners
Maxbauer
Northern Lakes Community Church - Barb Cain
Oleson Foundation – John Tobin
Oryana
P.E.O. Chapter E.V. – Linda Goode
Precision Plumbing & Heating - Cheryl McGure
Quota International of TC - Merri Lee Stetson
Red Cross – Cathy Anthofer-Fialon
Resurrection Life Church
RM Young Company - Viola Sherman
Schmuckal Oil
Shift Chiropractic – Sheena Konas
Siebenthaler Foundation
Socks of Love – Crystal Gober
St. Vincent DePaul – Nancy Larsen
Step Up Northern Michigan – Cathy O'Connor & Jennifer McDowell
TCAPS Music Department - Eileen Mikulski
Team Elmer's
The Beverage Company
The Walk In Clinic
Tom's Food Market
Trattoria Stella
United Charitable - Magagna Family Foundation
VFW Auxiliary
West Shore Bank – Karie Lambert & Holly Fouch
Thank You to Our Funding Streams:
Cherryland Electric Cooperative
Grand Traverse Band of Ottawa and Chippewa Indians, 2% Grant
Michigan Department of Education
Rotary Charities of Traverse City
U.S. Department of Education, McKinney-Vento Homeless Children and Youth Program Grant
Northwest Michigan STEP Program Contact Information
The Northwest Michigan Students in Transition Empowerment Program (NWM STEP), a consortium of 20 public school districts within the five-county Grand Traverse area, will address the complex needs of students who have been identified as "homeless." District liaisons improve accountability of eligible students and provide specialized support and advocacy to ensure academic success and a successful transition to adulthood. Contact your local district liaison if you should lose your housing due to foreclosure, eviction, economic hardship, or similar reason or if you know someone who may need assistance. [

STEP / McKinney-Vento District Liaisons Contact Information]
STEP Liaison Tools & Forms
STEP Brochures
STEP Information & Presentations
STEP Forms