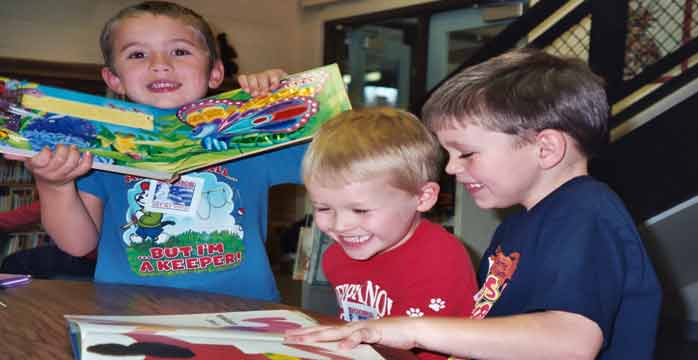 TCAPS Preschool Programs
About TCAPS Preschools
Licensed all day and half-day programs for children ages 3 to 5 years of age are provided in a safe, nurturing environment. Our facilities include a school library, gymnasium, playground, and cafeteria.
Activities in the preschool programs address each child's individual developmental needs, with the emphasis on literacy and language development. Children will engage in music instruction, arts and crafts, creative games, science and nature projects, computers, productive play, and rest. Children will also receive social, physical, emotional, and intellectual stimulation throughout their day.
All TCAPS Preschools Offer:
Creative Curriculum, with a focus on literacy and language development
Personalized learning unique to each child's developmental abilities
Qualified, caring, and experienced staff
Full and half day options
TCAPS preschool programs operate the same calendar and hours as the regular school program.
2019-2020 Preschool Registration Information Coming Soon!
For new students interested in enrolling in preschool for the current school year, please contact the school directly for more information. View school contact information here.
Scholarships and Reduced Tuition Options
Scholarships and Reduced Tuition Options
One-time, partial scholarships are available to qualifying families. Eligible families must complete a

scholarship application and qualify for free or reduced lunch. Families who qualify for free preschool programs through Head Start or the Northwest Michigan Community Action Agency (NMCAA) will not be eligible for scholarships.
A reduced tuition option is available to those families who enroll their child five full days per week and who are eligible for the free or reduced lunch program. Eligible families must complete a

reduced tuition application and can submit it at any time. Reduced tuition status is not available retro-actively and will be applied at time of eligibility determination.
DHS childcare reimbursements are also accepted, however, families are required to pay tuition in advance and keep their childcare account paid in full at all times. As DHS reimbursements are received by TCAPS, credits to the childcare account will occur and later appear on the monthly statement families receive at the end of each month.
Please contact the TCAPS Early Childhood Office at 231.933.1759 for questions regarding scholarships and reduced tuition.
Paying Online Through e-Funds
The online extended day registration process is completed through the

PowerSchool (Parent) Public Portal. Before starting the registration process, you will need to have your child's unique PIN number which can be obtained from your child's school office.
PowerSchool Public Portal Information
E-Funds Information
For additional registration information contact the Early Childhood office at 231.933.1759 or gignillike@tcaps.net.
Preschool Locations & Contact Information
Central Grade School
301 W. Seventh Street
Sarah Hartwig, Manager
231.933.5931
Diane Dillon, Manager
231.933.5930

Cherry Knoll Elementary School
1800 Three Mile Road
Carrie Donovan, Manager
231.933.8958
Lucy Bryce, Manager
231.933.8977


Courtade Elementary School
1111 Rasho Road
Catherine Rossan, Manager
231.933.5827

Eastern Elementary School
1600 Eastern Avenue
Deb Feaster, Manager
231.933.5641
Julie Brott, Manager
231.933.5640

Long Lake Elementary School
7600 N. Long Lake Road
Megan Niezgoda, Manager
231.933.7839

Oak Park
301 S. Garfield
Kelly BeVier, Manager
231.933.8665

Silver Lake Elementary School


5858 Culver Drive


Shawna Walter, Manager


231.933.3598



TCAPS Montessori
at Glenn Loomis


1009 Oak St.


Liz Sievers, School Admin. Asst.


231.933.5860

Westwoods Elementary School
1500 Fisher Road
Paula Sandtveit, Manager
231.933.7911
Gina McPherson, Manager
231.933.7910
Willow Hill Elementary School
1250 Hill Street
Mary Kolle, Manager
231.933.8561
Diane Rizor, Manager
231.933.8583
For More Information
For more information on program locations, fees, or to enroll, please call the Early Childhood Department at 231.933.1759.
Additional Preschool Options
Montessori Toddler & Primary Programs
Toddler Program
TCAPS' Toddler Montessori program is for children, age 18 – 36 months, and is available at TCAPS Montessori at Glenn Loomis. The Montessori methods of education are used with the goal of helping children to develop character, skills, and education. Activities in the toddler program are designed to nurture and empower each individual child. The program promotes development of social skills, emotional growth, and physical coordination as well as cognitive preparation. The holistic curriculum allows the child to experience the joy of learning from a very young age. Visit the Toddler Montessori webpage to learn more.
Primary Program
TCAPS' Primary Montessori program, designed for children 3 – 5 years of age, is an exciting preschool/kindergarten program that provides children with an integrated Montessori curriculum. The major areas of learning in the Primary Montessori classroom are: Practical Life, Sensorial, Language, Math, and Cultural Studies which encompasses science, art and geography. Visit the Primary Montessori webpage to learn more.