Information for Staff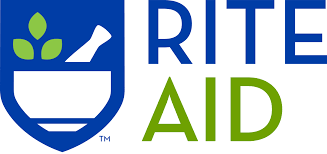 Looking for a new pharmacy? RXfundraising and Rite Aid are offering TCAPS a fundraising program that earns funds every time a registered participant fills a prescription or shops at their local Rite Aid using their wellness+ rewards number.* The program is free to use and TCAPS Student Support Network will receive funds at the end of each quarter based on the number of prescriptions filled and qualifying purchases that its registered participants make.
To get started, just follow these three easy steps:
1. Support TCAPS by completing the registration form at

https://support.rxfundraising.com/TCAPS.
2. Register for a Rite Aid wellness+ rewards number (if you don't already have one).
3. Transfer your existing prescriptions to Rite Aid and start using your Rite Aid wellness+ rewards number to accrue funds for us on prescriptions and qualifying purchases. RXfundraising will automatically give funds to TCAPS for 36 months if you continue to fill prescriptions and shop at Rite Aid using your wellness+ rewards number.
*Only new Rite Aid customers and any existing Rite Aid customers who do not fall within the specified cure periods for qualifying prescriptions can participate in the RXfundraising program. Qualified prescriptions include maintenance medication and acute medication Prescriptions. Any potential supporter who has bought a maintenance medication Prescription from Rite Aid during the prior 365 days will be excluded from this program. Any potential supporter who has bought an acute medication Prescription from Rite Aid during the prior three years will also be excluded from this program. Qualified in-store purchases include Front End Products (products and services provided in a Rite Aid store other than Prescriptions) except for tobacco products, alcohol products, lottery tickets, gift cards, licenses, money orders, money transfers, newspapers, other mail services and dairy products.
Discounts & Special Offers for TCAPS Staff
Many local businesses offer discounts and/or special offers to employees of Traverse City Area Public Schools.
The inclusion of advertisements in School District publications, in School District facilities, or on School District property does not constitute or imply approval and/or endorsement of any product, service, organization, or activity.
Updated 12/21
Free 7 day trial, 75% off enrollment fee, and a 10% discount on monthly fee. Entry tag good at both Traverse City locations. 4000 Eastern Sky Drive, Suite 2, Traverse City, MI 49684, 231.922.7700
Big Beautiful Life offers gentle chiropractic care, nutrition counseling, massage therapy, detox/cleansing programs and Nutrition Response Testing. Care and programs are always thorough and specific to the individual. Clients specifically seek out Dr. Jena for her adjusting style and integrated approach to the body. Nutrition Response Testing is proven to help people with chronic problems that mainstream approaches have been unsuccessful in resolving. Big Beautiful Life is offering TCAPS employees a 50 % discount on the initial chiropractic or Nutrition Response Testing evaluation. (a $100 savings). Contact Big Beautiful Life directly at 231.421.9189. Conveniently located in Old Town, 515 ½ Union Street. Certified Massage Therapists on site.
TCAPS employees receive discounted rates, including no enrollment fee, month-to-month memberships for $25 or $19 for family members. Basic group classes are included, free of charge, with purchase of month-to-month membership.
We also provide a series of free educationally based

work shops and clinics for members instructed by a Lichened Athletic Trainer. We can do them at the (workplace as well if needed).
The Social media Instagram and FB links provide program updates.
Face Book:

https://www.facebook.com/centreicefitness/
Instagram:

https://www.instagram.com/centreicefitness/
We are located at 1600 Chartwell, Traverse City, MI 49686, 231.932.8340,

www.centreicefitness.com
Join us for Middle Eastern dance fitness (a.k.a. bellydancing) on Wednesday nights at 5:45 p.m.! Any age, size and fitness level welcome. We meet at First Christian Church next to Best Buy, and all classes are by donation, which benefit ministries such as the church's giveaway pantry.
We are a women owned and operated yoga studio. Our story is rooted in a desire to share the beautiful benefits of Yoga + Mindfulness. We offer a sacred space for everyone to feel welcome. From the moment you first visit Dharamsala TC, you will sense the genuine warmth and vibrant energy. It is a collective passion for yoga and well-being shared by amazing teachers students practicing here. Our founding principles are based on our trust in the benefits of yoga. We have deepest respect for the long line of teachers who brought forth the traditions of yoga. The word Dharamasala means rest house or shelter. And that's just what we offer to all who enter our doors. Our yoga studio is a place to spend time together soaking up the beautiful benefits of this practice.
We'd love to offer TCAPS staff 10% off adult class packages. Visit our website to book now!
TCAPS employees receive a 15% discount for training.
You're on your way to being stronger and more fit. So... what's the best way to begin a fitness journey or program? Do it smart and with support. We make starting a workout program easy with the help of local personal trainers who follow a precise program. A program that gives your muscles exactly the right dosage of exercise and rest.
Here's what you can expect at our fitness studio:
Your own personal trainer
Science-based training method
Private and clean studio
Begin your fitness transformation with a Free Introductory Training!


Show your TCAPS ID and receive 15% off of spa treatments, every day of the week. Your spa experience also includes access to the 100,000 sq. ft. world-class spa complex for the day (includes workout facilities, pools, hot tubs and tennis center). For reservations and more information: 231.534.6750 |

grandtraverseresort.com
Now offering a special discount for staff to try out this meal delivery service that makes eating healthy easier. Get $30 off when using the code TCAPS30 during checkout.

You can also access the discount through this link

https://www.mosaicfoods.com/?discount_code=TCAPS30
10% off any massage service Monday – Thursday. Cannot be combined with any other offers or be used for gift card purchases. Valid Mon-Thurs only. 134 W. State Street, Suite 100, Traverse City, MI 49684, 231.995.9697
The Seung-Ni Academy of Traverse City offers martial arts instruction. Programs include Tae-kwon-do, Brazilian Jiu-Jitsu, Mixed Martial Arts, Bully Prevention and Women's Self-Defense. The Seung-Ni Fit Club offers group fitness classes including Aerobic Kickboxing, Body Sculpt, Bootcamp and the 28 Day Seung-Ni Body Challenge. Exclusive TCAPS offer: 10% off classes for TCAPS employees. Call for details. 965 Industrial Cir., Traverse City, MI 49686, 231.932.4300

Serenity Spa
For the best waxing and facials in Traverse City, please try Serenity Spa! Enjoy 20% off your first visit with Cristy or Tonya. We look forward to meeting you. 231.668.6925 Please mention you are a TCAPS employee at the time of booking. If you use our online booking at

www.SerenitySpaTC.com please mention it in the comments.
TCAPS employees and families are invited to try a free one week trial membership, which includes three days of high intensity, targeted training both indoor and out. Tri Again is a unique training facility for anybody interested in beginning or improving their fitness and triathlon mission! Tri Again offers modern, up to date computerized training methods for biking, running, and swimming. Contact Rebecca at rebeccaventicinque@gmail.com or Tony at TonyV@gtbayymca.org to learn more.
TCAPS employees receive 20% off 5, 10, or 20 class package rates. See website for further pricing details. 332 E Front St, Traverse City, MI 49684, 231.421.5496
Wellness program includes:
Full access to all 3 Grand Traverse Bay YMCA locations
Away privileges at Ys across the nation
$0 joiner fee (the first time you join)
Over 100 FREE group exercise classes
Child Watch for kids up to 7 years old
3 pools, including a family-friendly therapy pool; plus sauna and hot tub
Discounts on Y programs (i.e. youth sports, summer camp, swim lessons, tennis and more)
Two free SMART Start coaching sessions with a wellness coach
Access to 10 indoor basketball hoops, 4 tennis courts, 6 pickleball courts
South YMCA - 3000 Racquet Club Drive, Traverse City, MI 49684, 231.933.9622
West YMCA - 3700 Silver Lake Road, Traverse City, MI 49684, 231.486.6357
Central YMCA - 1213 W. Civic Center Dr, Traverse City, MI 49686, 231.922.4814

Special employee pricing of up to 40% off select hotels worldwide on Booking.com.

https://rentalperks.com/discounts/booking-com
Meg Zammit will donate 10% of her commission to the school of your choice when you buy and or sell your home with her through 12/31/18. For inquiries or appointments call 231.360.4382 or email meg.zammit@c21northland.com.
House guest perks include complimentary use of the Peak indoor pool and fitness center, fitness classes, yoga, water aerobics, tennis courts, tennis equipment rental, Park at Waters Edge outdoor pool, outdoor hot tub, field games, Michigan Legacy Art Park and Summer Sounds Concert admission and more. 10% discounts are available Sunday through Thursday for spa services, golf, restaurants and at retail stores. TCAPS ID required at check-in. (posted 11/21/14)
Employees can save 8% OFF select hotels at Expedia.com.

https://rentalperks.com/discounts/expedia
Hannah Matthews and Kelley Simonis of Keller Williams – GGT are offering a 25% rebate of their gross commission to be given to you at closing from Homes for Heroes Real Estate Agents. Their mission is to provide extraordinary services to the community every day. (posted 5/16/16)

Hotelogical is a network of over 400,000 hotels and resorts all around the world which we have negotiated "members-only" or unpublished room rates. These rates are significantly lower than corporate-rates, negotiated rates and corporate discounts off "BAR" Best Available rates. Traverse City Area Public Schools employees are eligible to join absolutely FREE. ($99 value - non-organization subscribers pay $99 to join). Members can access exclusive discounts up to 70% off regular rates, as well as other special offers.
How to Receive Discounts:
 Go to:

https://tcaps.hotelogical.com/welcome
 Register as a member using a valid email address
 Check your email for validation and to set up your password
 Head back to the Hotelogical site to shop, book and save!
For More Information:
 If you have any questions, please contact us any time by calling +1.855.422.2992 or
emailing info@hotelogical.com.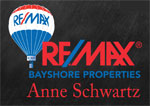 RE/MAX Bayshore Properties – Anne Schwartz
Buy or sell your home with local realtor Anne Schwartz and she will give back 10% of her commission split to any TCAPS school of your choice. For more information:

www.anneschwartztc.com | anne@anneschwartztc.com |
231.409.2464 (posted 5/18/15)
Ridge 45 Apartment Community
Ridge45, a beautiful, newer apartment community on the East side of Traverse City is offering a move-in discount to TCAPS employees. This TCAPS Preferred Employer Program would provide a $150 discount on move-in fees. Contact Jodi Green, Assistant Manager, at 231-7784500 or jgreen@beechtreepartners.biz for more information.
Restaurant & Entertainment
HelloFresh
HelloFresh is celebrating all educators and school employees with a private offer for 10 free meals! Available to new members only. If you haven't yet tried HelloFresh, now is the perfect opportunity to de-stress your evenings with fewer trips to the grocery store, pre-planned meals, and little cleanup. Simply visit their website to select your meal plan according to your family size, recipe preferences and budget. HelloFresh will deliver the ingredients straight to your door. Each weekly box includes:
- Easy-to-follow recipes with clear nutritional info
- High-quality ingredients sourced straight from the farm
- Convenient meal kits that fit perfectly in the fridge
- A fun cooking experience that makes you feel like a chef
- No strings attached – skip a week or cancel at any time
Get your 10 free meals at

hellofresh.com/landing/myeducation

P.S. If you've tried HelloFresh before and cancelled, use code K5-WOS1T60J8.
The Parallel 45 Theatre Summer Company wants to extend our deepest gratitude for your continued support of our mission and for helping us create beautiful theatre right here in Northern Michigan. As a thank you, we are offering a 20% off promotional code to attend any of our three shows.
A Pup Above

20% off first order
Avis Car Rental
Employees can save UP TO 25% OFF Base Rates at Avis. Click on the link below or call 800-331-1212 and use discount code AWD#: D134100.


https://www.avis.com/en/association/D134100
Get your

Educator Discount Card which saves you 20% on all purchases and free shipping on most online items. Simply go to the store and they will get you a card at the counter.

BUDGET Car Rental
Employees can save Up to 25% OFF Base Rates at Budget. Click on the link below or call 800-455-2848 and use discount code BCD#: Z408900.


https://www.budget.com/en/association/Z408900
To view all current Budget Bonus Offers go to:

https://rentalperks.com/discounts/budget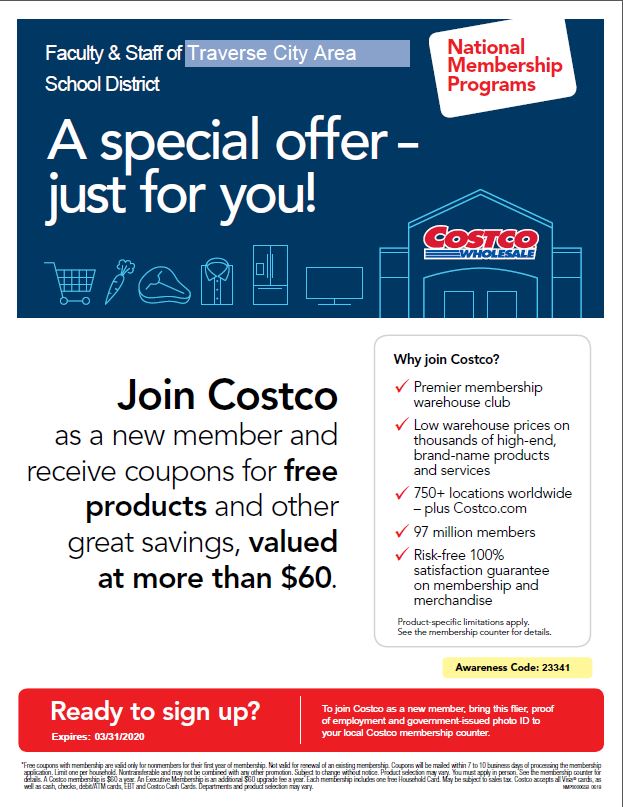 As a participant in

Costco's National Membership Programs, TCAPS faculty and staff are entitled to the exclusive offer detailed below. With a Costco membership, TCAPS employees can enjoy great savings on thousands of high-end, brand-name products and services at more than 750 locations worldwide. New Costco members will receive coupons for FREE products and other great savings valued at more than $60, including FREE Kirkland SignatureTM Bath Tissue, FREE Kirkland Signature Liquid Fabric Softener, and FREE Kirkland Signature Organic Tortilla Chips.*

A Costco Gold Star Membership is $60 a year. An Executive Membership is an additional $60 upgrade fee a year. Each membership includes one free Household Card. Executive Members receive an annual 2% Reward (up to $1,000)** on qualified Costco purchases. Members also receive additional benefits and greater discounts on many Costco Services. Costco stands behind what it sells, subject to certain product-specific limitations, with a 100% satisfaction guarantee on merchandise and membership fees. We are confident our satisfaction guarantee is one of the best in the retail industry.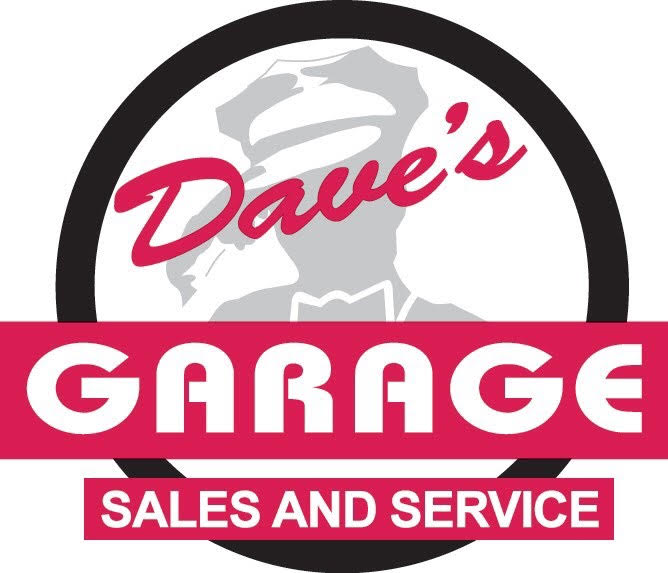 Dave's Garage
Dave's Garage offers all TCAPS employees 10% off any service performed over $100 (excludes tires and oil changes). Just show your TCAPS badge to receive this benefit. This offer is also valid at our new location in Empire! Visit

www.davesgaragetc.com for more information.
Please click the .pdf above to access Dunham's Discount Card directly to your mobile wallet on your smartphone! The flyer above contains a QR code that you can scan to download the Discount Card to your mobile device. It's a much easier way to save money at any of the 250+ locations.

Or, here are instructions for a new digital card:

1. Send a text message with the keyword TCAPS to phone number 78557. You'll receive a text reply with a link to click on.

2. Once clicked, press the "Add" button in the top right corner for Apple Wallet on iPhones, or the "Add to Google Pay" in the middle of the page for Google Pay on Android phones. This stores the discount card in the Apple Wallet or Google Pay, depending on the device.

3. To access the new digital card, click on your Apple Wallet or Google Pay app and pull it up at the register to have the cashier scan for the discount.


Enterprise Rent-A-Car
Employees can save 5% OFF at Enterprise. Click on the link below and discount will automatically be applied at checkout.


https://rentalperks.com
To view all current Enterprise Bonus Offers go to:

https://rentalperks.com/discounts/enterprise
Grand Canyon University
Earning your degree from Grand Canyon University (GCU) represents a positive next step in achieving your career goals. Founded in 1949, GCU offers a wide variety of bachelor's, master's and doctoral degree programs in business, education, Christian studies, liberal arts, fine arts and production, science, technology, engineering and math (STEM), and nursing and health sciences. Classes can be taken at our Phoenix campus or online. Whether you're a community college transfer student or working adult, GCU has degree programs and student resources to help you be successful on your academic journey. Visit

https://www.gcu.edu/c/brandee.hutchinson/step-1/ to connect with Brandee today!
Hertz Car Rental
Employees can save up to 25% off base rates at Hertz.

Click here for Hertz discount or call 800-654-2210 and use discount code CDP#: 1742729.
To view all current Hertz Bonus Offers, go to:

https://rentalperks.com/discounts/hertz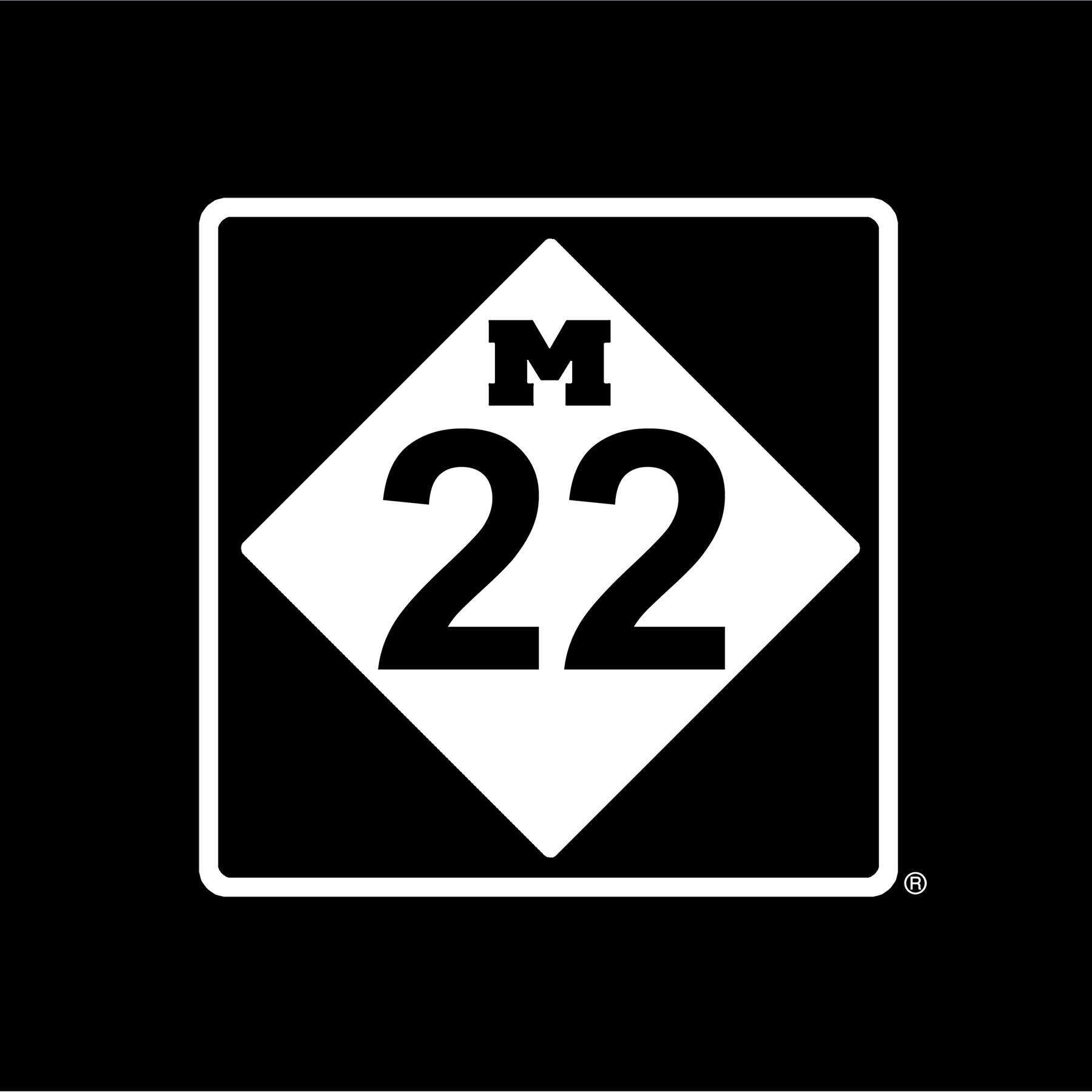 TCAPS staff can enjoy 10% off the M22 online and retail store. The online discount code is"teachersarerad". For the in-store discount simply show your TCAPS identification badge.
10% off parts and accessories on non-sale items (with TCAPS ID). Join their rewards program and receive a 3% in-store credit twice a year. Buy a new bike from McLain Cycle and receive free tune ups for life. Purchase a kid's bike and receive 100% trade-in value on the next size kid's bike. 2786 Garfield Rd. N, Traverse City, MI 49686, 231.941.8855 (posted 12/20/14)
Northwest Oil Express
Northwest Oil Express is giving 15% OFF your total purchase each time you get your vehicle serviced. Every oil change includes a FREE car wash that is valid for 30 days. This offer is good at both Traverse City locations. (posted 1/9/17)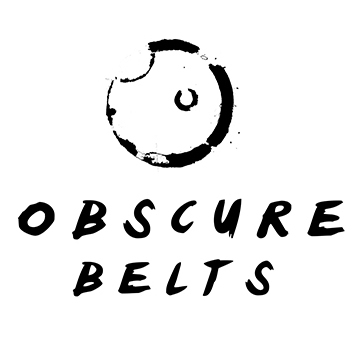 Obscure Belts
​Obscure Belts has been creating one of kind leather belts since 2005. We can make most belts in any size and color you need. Simply go to

https://www.obscurebelts.com/ and enter code TCAPS10 to receive 10% off a leather belt. Questions or more information email Bryan Schultz at info@obscurebelts.com.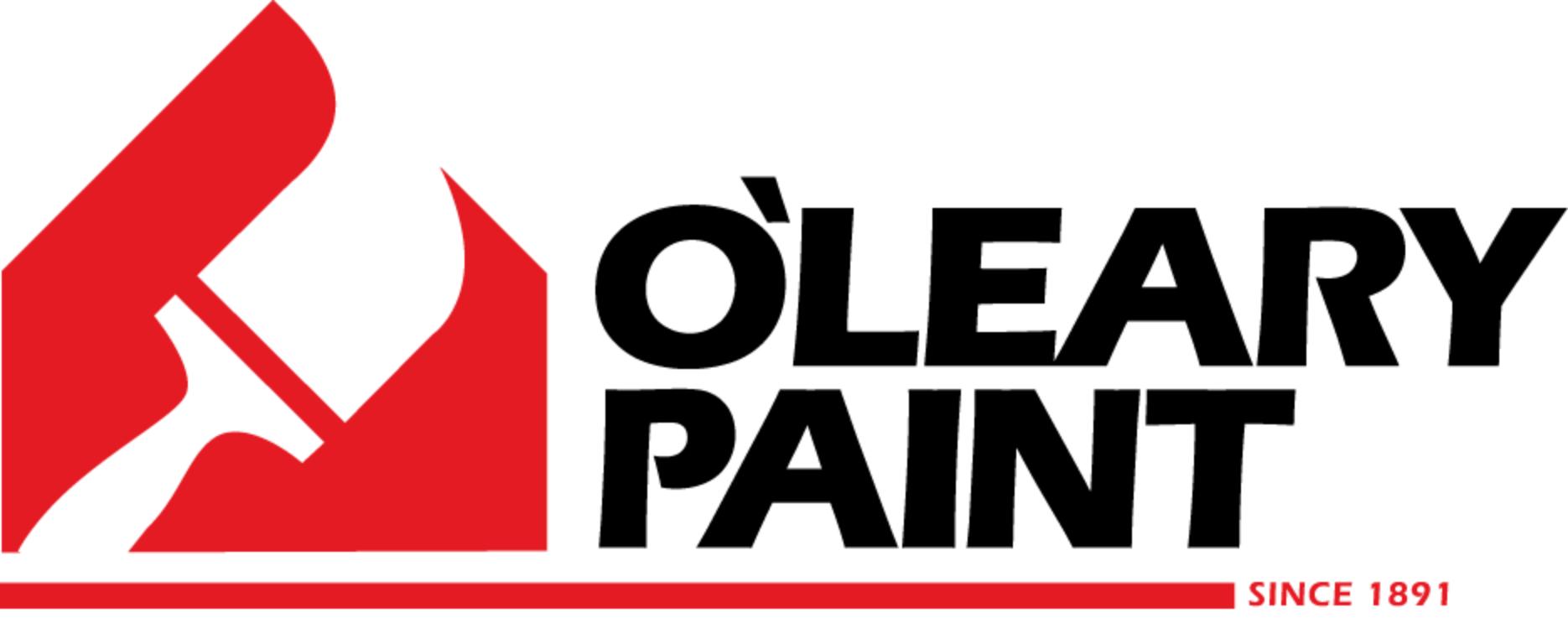 TCAPS employees receive a substantial discount off retail prices on all O'Leary paint products and painting sundries. Please present your TCAPS ID at time of purchase. Valid at all O'Leary retail store locations.
Press On Juice offers a 10% discount to all TCAPS employees! The juices are 100% raw fruits and vegetables cold-pressed into juice. Each bottle contains over two pounds of fruits and veggies, so they are great in supporting healthy eating and overall wellness. 2748 North Garfield Road #14, Traverse City, MI 49686, 231.409.9325,

www.pressonjuice.com (posted 1/20/15)
ProBuild is offering 10% off for all first time purchased building materials if you ask for "Don" at both the U.S. 31, Traverse City and North Silver Lake Road, Grawn locations. For more information contact Don Sattler or call 231.943.7000. (posted 11/7/16)
RentalPerks.com provides car rental discounts at all major providers including: Avis, Budget, Hertz, Enterprise, Alamo, National, Thrifty, Dollar, Europcar and more. Click on the link below to register for instant access.

https://rentalperks.com
Rothy's
Rothy's, the company creating chic, comfortable shoes from recycled plastic water bottles, is offering a discount for all staff. After verification through SheerID staff will receive 20% off select Rothy's styles that are perfect for the classroom. Simply go to Rothy's at

https://rothys.com/womens/teacher and receive 20% off the chic and comfortable shoes made from recycled plastic water bottles.
Screen & Roll is a locally owned and operated screen printing business. They are a small local business with the capability to do small orders. As a benefit to TCAPS all orders will be hand delivered to any TCAPS school with no extra charge. For any order of 24 or more screen printed items, they will donate one free item for your coach or staff (or whoever) with the order. Simply mention your TCAPS affiliation and the discounts will apply. Contact Information: Screen and Roll | Rick and Deanna Sayer (TC WSH parents) | 860 Reads Run Traverse City, MI 49685 | screenandroll@gmail.com |

screenandroll.net (posted 11/6/14)
YummyBazaar
Offers a special discount for staff to try out selected food products from across the globe. You get 10% off when using the code TCAPS10 during checkout. Here's the shop:

https://yummybazaar.com/
Banking, College Planning and Miscellaneous
Michigan College Planning (MCP) is a TCAPS Partner In Education. They offer a free workshop that provides a great deal of information about college planning and then a complimentary initial private consultation. During this meeting, MCP determines your Expected Family Contribution (EFC) to college, develops a scholarship search and provides some other individual information. For those that want to continue to have MCP become their College Planners and dig into the process in a much deeper manner they offer the

Michigan College Planning Solution. New clients pay a one-time $500 fee for their service but MCP is waiving this fee for all TCAPS employees. It is a their way of giving back to those who are instrumental in preparing the next generation for college. Their hope is that the staff will think of them when students and parents are looking for help with the very overwhelming and confusing college planning process. Learn more:

www.michigancollegeplanning.com (posted 11/6/14)
You are eligible for Membership Advantage because of the relationship your company has with Fifth Third Bank. With Membership Advantage, you have the opportunity to select a
personalized checking package and receive exclusive banking benefits designed to save
you time and money. Two Easy Ways to Enroll:
1. Visit a Fifth Third Banking Center
2. Contact your Fifth Third Representative
Jackie Knowlton, jackie.knowlton@53.com, 231-733-5011
A unique membership package designed specifically for school employees.

View Educator's Choice program information. (posted 2/19/15)
Telephone, TV & Insurance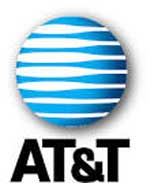 AT&T now offers 25% off new and existing cellular service to say thank you. Please contact: Kyle Compagnari 231.360.3783 for more information.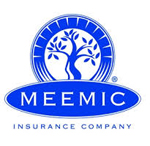 MEEMIC Insurance
Coverage options and savings for the educator's specific needs.

Learn more about coverage options and discount program. (posted 2/19/15)
Please visit https://now.t-mobile.com/education-employee-discounts.html to see discounts available to educators.
Additional Offers/Opportunities
Skiing can be used by educators to enhance learning topics such as: Math, Science, Weather, Geography, Fitness and Healthy Lifestyles. Available field trip days start in January. To reserve your date, call Rick VanTongeren at 800.678.4111 ext. 3668. (posted 10/14/16)
Grand Canyon University
We are offering a master's level scholarship cohort for teachers and para professionals.
This is an opportunity for teachers to advance on the pay scale or others to get a teaching license at the most affordable prices in Michigan.
There are five programs included in this cohort:
Reading with an emphasis in Elementary or Secondary Education
TESOL
Special Education
Secondary STEM
Secondary Humanities
Elementary Education
All of our programs are 100% online and fully accredited here in Michigan.
These program combine TEACH grant and a GCU scholarship to significantly reduce the cost of the program. Loan forgiveness options will also be shared. The programs need at least 10 participants in order to launch the cohort. Final counts need to be by the 8th of November. The programs start on December 16th. Anyone interested in more information, or if they have questions, they can contact Brandee Hutchinson, your Northern Michigan GCU representative at brandee.hutchinson@gcu.edu or call/text me on my cell at (231) 590-7489.
DO NOT INQUIRE ON THE GCU WEBSITE. This offer doesn't exist outside this invitation.
University of Phoenix
TCAPS staff are eligible for a 10% tuition reduction for all courses, certifications and programs. The tuition reduction applies to all programs, courses and certifications. Anyone interested in getting the 10% tuition reduction must email Regional Development Specialist Amanda Fineberg at amanda.fineberg@phoenix.edu or call her at 317.441.4419 prior to enrolling in any course.
Continuing Education Courses for Teachers


http://www.phoenix.edu/programs/continuing-education/education.html
Summer Employment Opportunities

Wind Dance Sailing Tours- Summer Guides; email jolynn@winddancertc.com

Cherry Hill Boutique:
Summer part-time position available!
Downtown boutique looking for 15-20 hour a week position.
Competitive pay, fun working environment.
Stop in 224 E. Front Street or call Annie 231 929-3940