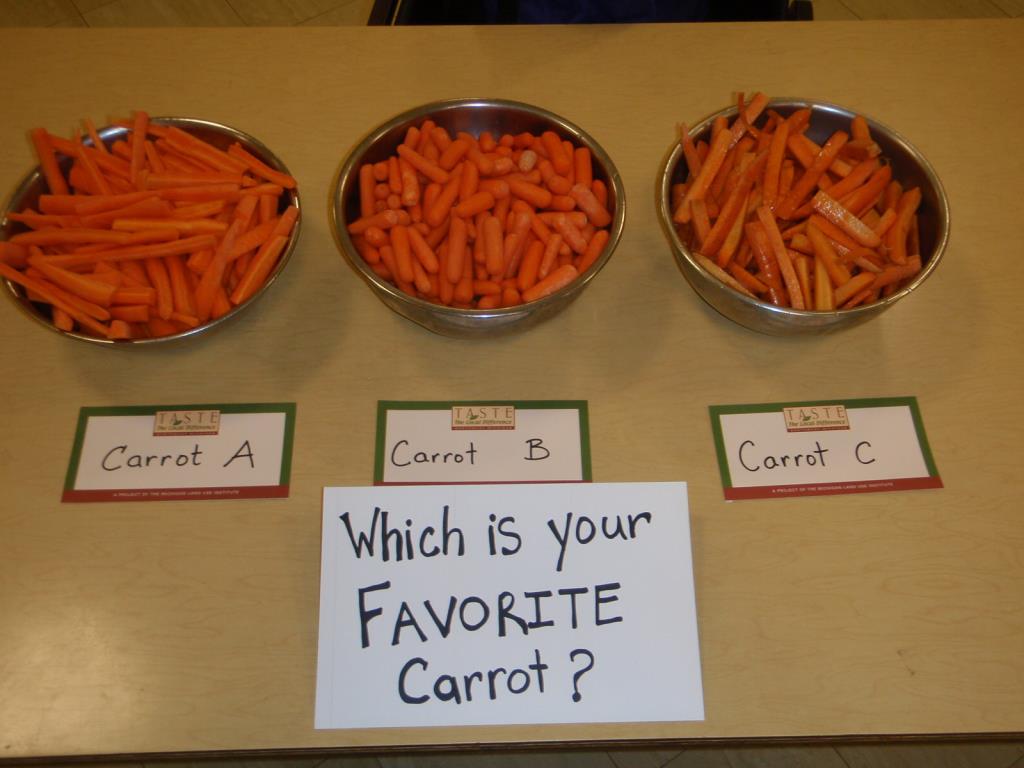 FoodCorps & Farm to School
FoodCorps & Farm to School
in Northwest Michigan
In addition to foods served, for the past four years, the

Groundwork Center (formerly the Michigan Land Use Institute) has worked with TCAPS and other area school districts to offer resources for locally-based food fundraisers, classroom-to-cafeteria educational curriculum, and classroom education through

FoodCorps.
On September 1, 2015,

MSU Extension in Grand Traverse County (MSU-E) began hosting one of the Traverse City based FoodCorps service members. Groundwork and MSU-E are developing a team approach to support farm to school programming in the northwestern MI region, with service members bringing nutrition, garden and culinary education to Traverse Heights Elementary School. Together with the Traverse Bay Area Intermediate School District (TBAISD), this team will continue to build community partnerships to strengthen connections between the community, classroom, and cafeteria.
For more information about these efforts,

visit the TBAISD's Farm to School website, or contact Meghan McDermott or Sarah Eichberger.
Monthly Taste Tests a Favorite With Students
In partnership with FoodCorps, TCAPS Food & Nutrition Services conducts monthly taste test activities for students featuring local, nutrient-rich foods. Past taste-testings have including recipes such as the white bean ranch dip, apple carrot slaw, kale chips, and the Moroccan carrot salad, which has since been added to the regular lunch menu. Many of these taste-testings have had a great response from the participating students and will be a continuing emphasis by TCAPS.
This Month's Taste Test
Eastern Elementary Students Try a Spin on a Classic

Students at Eastern Elementary School were excited to participate in their first-ever taste test! After tasting "Butternut Squash Mac & Cheese," the students placed a sticker on the board, indicating if they tried it, liked it, or loved it. Of the 151 students that participated, 55 tried it, 55 liked it, and 41 loved it! While this dish received some mixed reviews, most of the students were surprised with how much they enjoyed this nutritious treat. This cheese-less 'mac & cheese' is made only from butternut squash, onion, garlic, chicken stock, vegetable oil, and pasta! The components are cooked, blended, and combined with pasta to create the classic macaroni and cheese look!
Butternut Squash Mac & Cheese (Squash-tastic Pasta)
Ingredients:
2 tablespoons olive oil
2 pounds of butternut squash cut into small cubes (about 3 cups)
1 medium yellow onion, chopped
2 garlic cloves, chopped
Salt and pepper
1/8 teaspoon red pepper flakes (optional)
2 cups vegetable broth
12 ounces whole grain pasta
Serves 4-6
Directions:
Warm the oil in a large pot, with the stove set to medium.
Add the cubed squash, onion, garlic, and red pepper flakes (if using) to the pot. Cook for 8-10 minutes, until the onion is translucent.
Add the vegetable broth, and bring everything to a boil.
Cook for 15-20 minutes.
While the squash is cooking, cook the pasta in a big pot according to the package directions.
Once the squash is done cooking, remove it from the heat, and let it cool for ten minutes.
Use a blender or food processor to blend the squash until smooth. Then sprinkle salt and pepper to your preference.
Pour the squash sauce over the pasta and mix together.
Squash-tastic Pasta A Hit With Traverse Heights Students

Students at Traverse Heights Elementary School were treated to a special taste test this November. The Squash-tastic Pasta that they sampled featured squash grown at the Traverse Heights Elementary school garden. Of the 108 students that gave it a try, 26 (24%) Tried it, 17 (15%) Liked it, and 65 (60%) LOVED IT. Many wanted to have seconds, or requested the

squash-tastic recipe.
Oct. 2018: Swapples Taste Test
Long Lake Students Get a Taste of Superb Swapples

October is farm to table month and the kids at Long Lake Elementary School are taste testing local apples and honey! Of the 244 kids that took the sample, 56 kids tried it, 44 liked it, and 144 loved it! Great feedback was given by the students about the cinnamon smell and yummy taste of the swapples. Swapples are diced sweet potatoes and local Michigan apples, with local Michigan honey, orange juice, cinnamon, canola oil and salt.
Students Pleasantly Surprised by the Sweet Taste of Swapples

Cherry Knoll students lined up to give this month's taste test of "Swapples" a try. After tasting, students placed stickers on a voting poster to signify their opinions on the recipe. Overall, the dish was a huge success with even a few students who thought they would hate it being pleasantly surprised by enjoying it. Of the 295 students that participated 44 (15%) Tried it, 62 (21%) Liked it, and 189 (64%) Loved it.
Superb Swapples: Great Name, Great Taste
October's taste test of "Superb Swapples" was a winner among Traverse Heights students. Of the 115 students who voted, 64 loved it, 26 liked it and 25 tried it. Swapples is a mix of sweet potatoes and apples, spiced with honey, cinnamon, salt, orange juice and oil, then baked to perfection.

Superb Swapples Recipe
Sept. 2018: Cauliflower Taste Test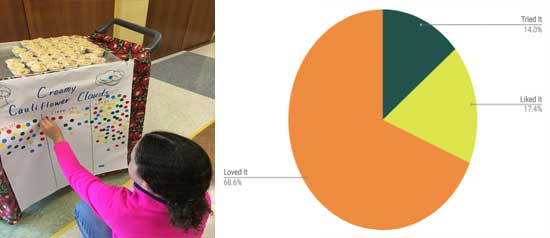 Traverse Heights Elementary School Students Give Creamy Cauliflower Clouds a Taste
The first taste test of the year at Traverse Heights was a big hit! Students tried Creamy Cauliflower Clouds (steamed cauliflower with garlic powder and a bit of salt and pepper).
Students then got the opportunity to vote on if they "tried it", "liked it", or "loved it". Fourteen percent of the students "tried it", 14% "liked it", and 68% "loved it".

Traverse Heights Greenhouse Project
This past spring, the Michigan State University Extension Grand Traverse County FoodCorps service member Sarah Perez-Sanz taught Traverse Heights Elementary School students how to prepare soil for vegetables plants in the school greenhouse. Sarah coordinated members from the school community to tend to the plants throughout the summer months. Kudos to FoodCorps service member Sarah Perez-Sanz and the Traverse Heights community for bringing this outdoor learning opportunity to life!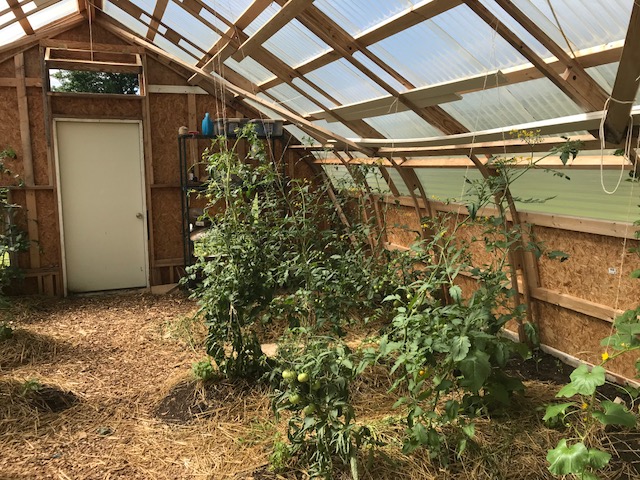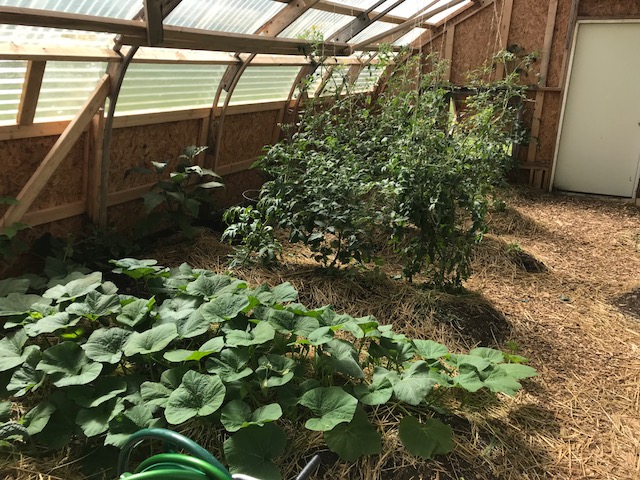 Taste Tests from Past School Years
June 2018: Roasted Asparagus Taste Test
Roasted Asparagus Taste Test
On June 7, 2018, 115 students at Traverse Heights Elementary School participated in a roasted asparagus taste test with the majority of the students loving the recipe. Results show 22% tried it, 10% liked it, and 68% loved it.
May 2018: Pickled Radish Taste Test
Radish Taste Tests

Over 130 Long Lake Elementary School students gave pickled radishes a try during their May taste testing with 31 liking them and 89 loving the radishes.

View the recipe and fun facts about radishes. For this taste test recipe, maple syrup was used in place of sugar because it is a more natural sweetener and could be purchased locally. For each cup of sugar called for in the recipe, substitute 3/4 cup maple syrup. Apple cider vinegar was also used instead of white vinegar because it could also be purchased locally.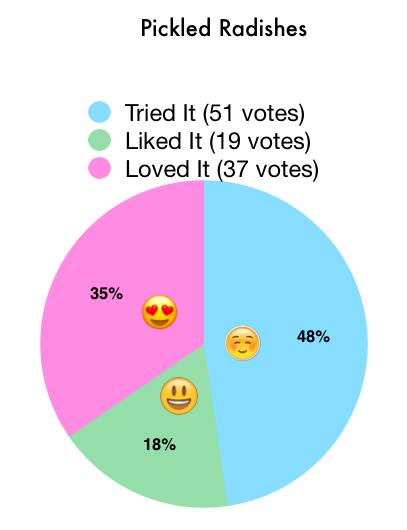 Traverse Heights students had the opportunity to try pickled radishes. Fifty-three percent either liked them or loved them.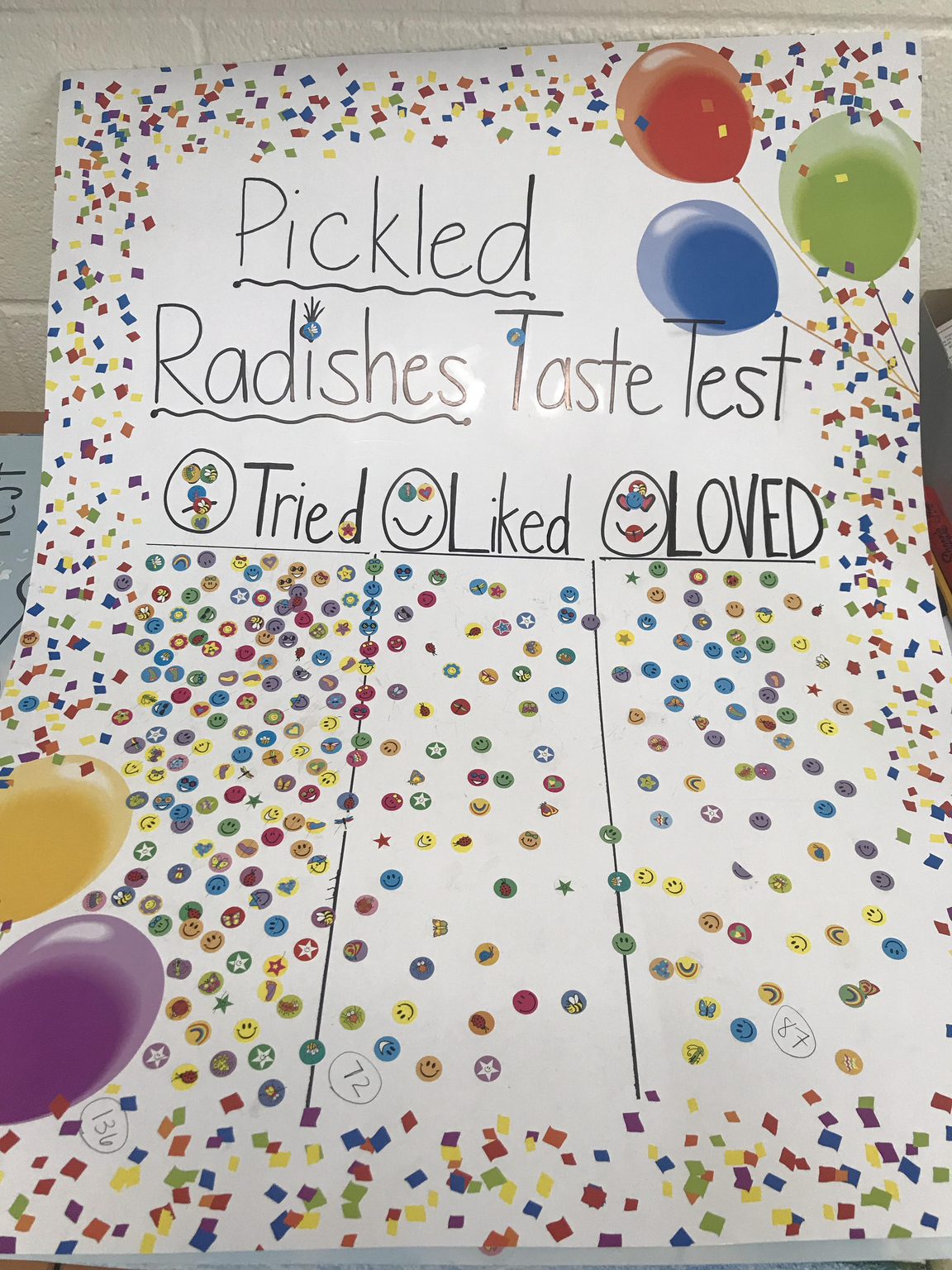 Willow Hill Elementary School students had their pickled radish taste test on June 1, 208. Of the 295 students who participated, 136 tried it, 72 liked it and 87 students loved it.
April 2018: Cherry Knoll Family Night
Tasting Healthy Snack Options
Cherry Knoll families, students and staff who participated in the school's annual Family Night were able to sample healthy snack options.
Apr. 2018: Black Bean and Corn Party Salad
Black Bean and Corn Party Salad

Feb. 2018: Baked Parsnip Chips
Baked Parsnip Chips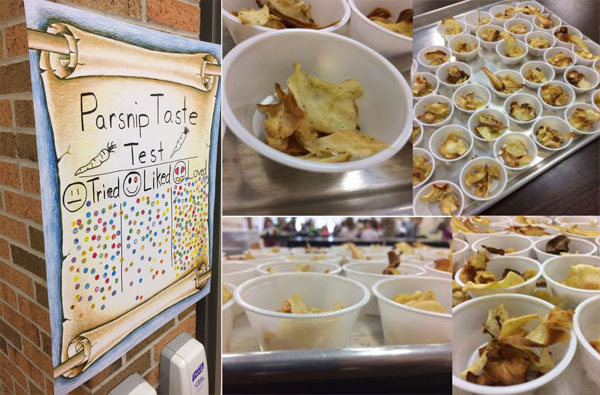 February 2, 2018: Approximately 293 students from Cherry Knoll Elementary School participated in the voting for the taste test. Of those 293 students, 24% (71 students) voted "Tried," 24% (69 students) voted "Liked," and 52% (153 students) voted "Loved" on the taste test sticker poll. The chips were lightly coated with olive oil and seasoned with fresh rosemary, garlic, salt, pepper and ground cumin.
Feb. 2018 Roasted Beets W/Balsamic Glaze
Roasted Beets with Balsamic Glaze Taste Test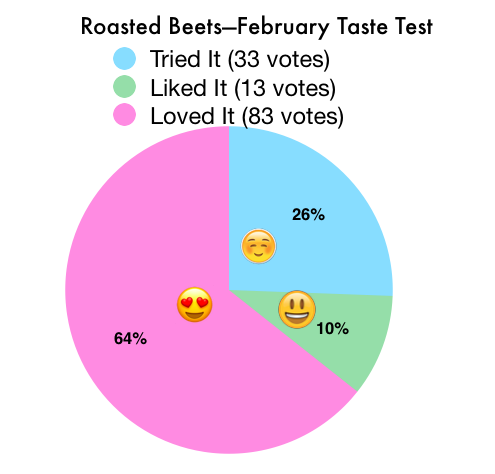 Students really enjoyed the roasted beets with balsamic glaze. Seventy-four percent of those who tried it, liked it or loved it.

Roasted Beets Recipe
Dec. 2017: Moroccan Carrot Salad
Nov. 2017 - White Bean Ranch Dip
Blair Elementary School students were able to participate in a veggie dip taste test through the Fuel Up to Play 60 program in November. The favorite recipe of the day was the

White Bean Ranch Dip .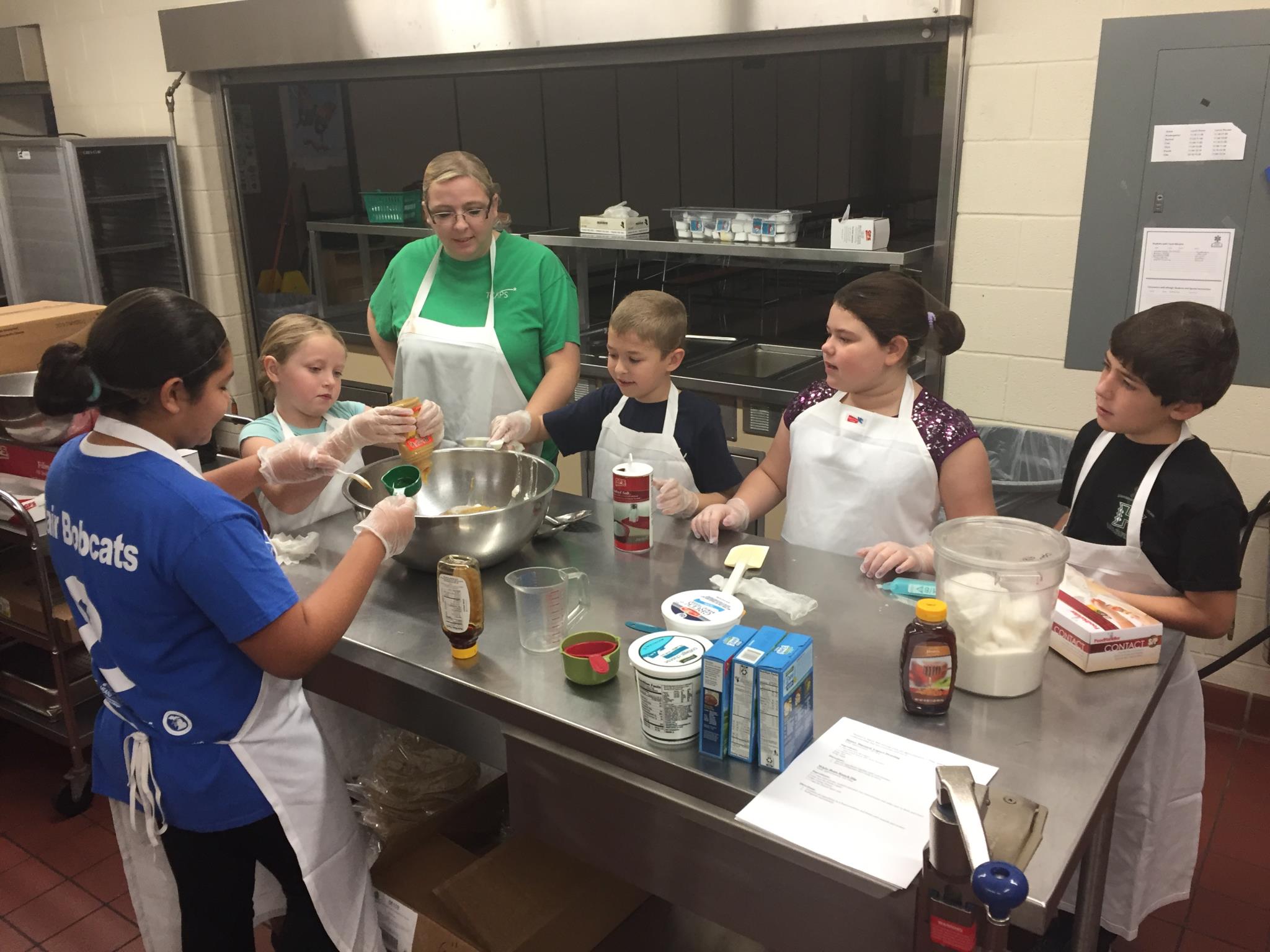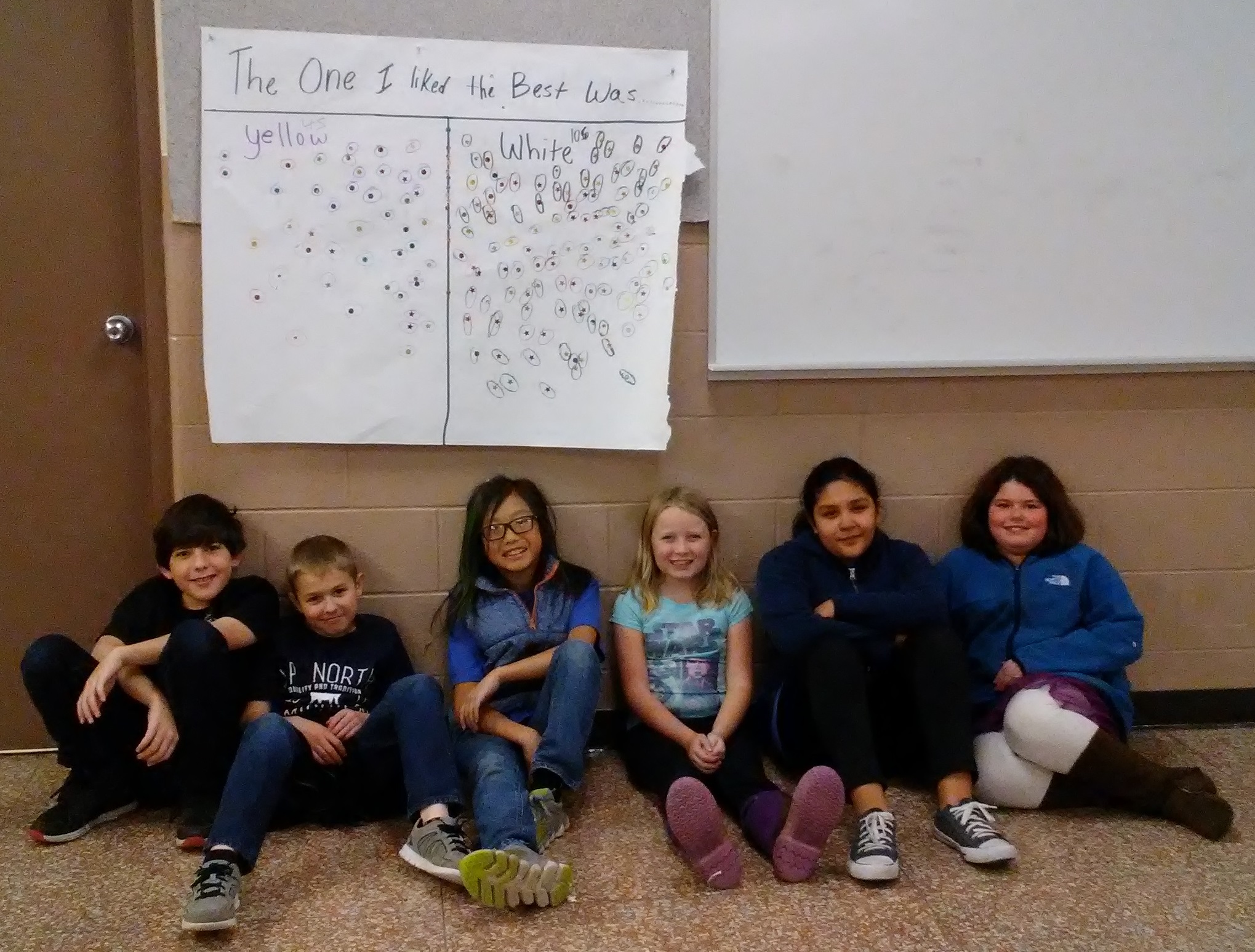 Oct. 2017: Apple Carrot Slaw Taste Test
On October 19, students taste tested Apple Carrot Extravagan-slaw!
The results were clear: they LOVED IT!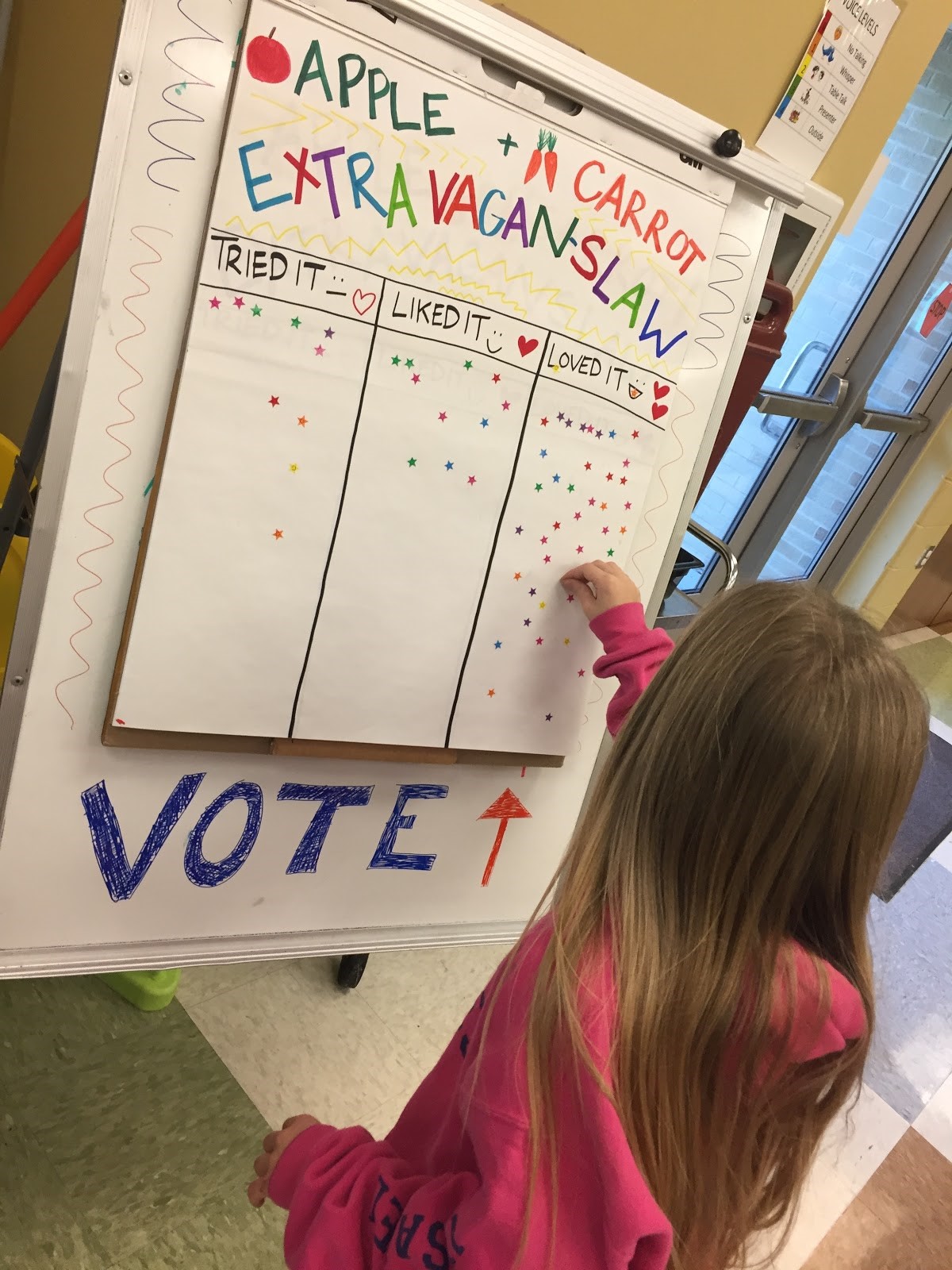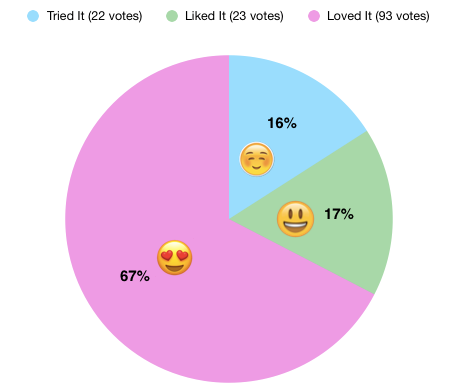 Here's the recipe:
Carrot & Apple Extravagan-slaw
Prep time: 10 min
Serves: 4
5 big carrots, peeled
4 big tart apples (or 5 small), cored
3 tablespoons of apple cider vinegar
¼ teaspoon sea salt
¼ teaspoon black pepper
Grate the carrots and apples using a grater or food processor grating attachment.
Mix grated carrots and apples in a large bowl.
Stir in apple cider vinegar, salt, and pepper.
Optional: top with a handful of chopped cilantro or parsley and ¼ cup toasted sunflower seeds
Enjoy!
Sept. 2017: Cauliflower Taste Test
Roasted Cauliflower Taste Test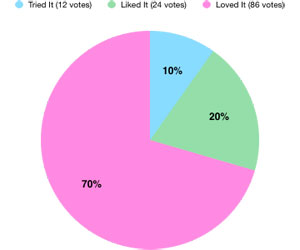 Traverse Heights Elementary is hosting a FoodCorps Service Member this year! Sarah will be joining the school community to connect students to food in school. She will be teaching hands-on lessons in some classrooms and the garden, and leading monthly taste tests in the cafeteria.
The first taste test of the year was on September 30th! Students tried

roasted cauliflower and then voted on whether they tried it, liked it, or loved it. Ten percent of the students tried it, 20% liked it and 70% or 86 of the 122 students who participated LOVED it!
April 2017: Three Bean Salad Taste Test
The focus of the April FoodCorps taste test was Three Bean Salad. Over 65% of the 140 students who participated said they liked or loved the salad.

Download the Three Bean Salad Recipe.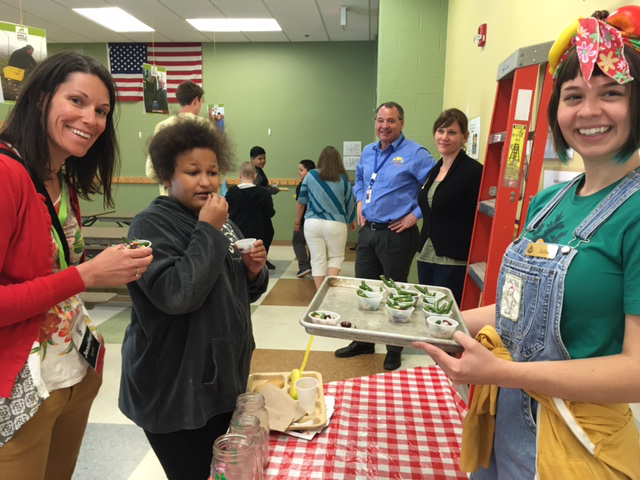 Feb. 2017: Taste Test Recipe Gets Used in TCAPS High Schools
FoodCorps has long been hosting taste tests for TCAPS' elementary students. One of those taste test was such a hit that the recipe is now being used at TCAPS high schools.

Apple Ginger Slaw was used as a topping for fish tacos at TC West Senior High School. FoodCorps member Julia Page and TCAPS Food & Nutrition Services Director Tom Freitas stopped by the school to enjoy a few tacos as well.

Read this FoodCorps blog post to learn more.
Jan. 2017: Learning About Seeds, Where Food Comes From & Root Veggie Taste Tests
FoodCorps Updates for January:
Cindy Andersen-Schwartz and Jessica Owen's classes learned about the marvels of seeds. Students dissected seeds to look for its parts, explored different types of seeds, and made bean seed necklaces so they could see seeds in action. After the lesson, several students have shown FoodCorps Service Member Julia Paige the seed coat and cotyledon of their chickpeas off the salad bar in the lunchroom!
At January's Enrichment Friday, the 3rd and 4th graders learned where common foods come from and the process that foods go through to get to the plate. Many kids had no idea that chocolate came from beans or that there was sugar in ketchup!
Students also participated in a taste test of roasted root veggies in the cafeteria, which included beets and parsnips from local farms. Many kids had never seen a beet or a parsnip before, and they enjoyed touching and smelling the whole root. Over two hundred kids participated in the taste test, and about 71% said they either liked or loved it.
Apple Ginger Delight Taste Test

Traverse Heights students' October 2016 taste test was "Apple Ginger Delight" (a slaw/salad with carrots, apples, and kohlrabi). Of the students that tried it, ninety-eight kids LOVED the Apple Ginger Delight, 27 said they liked it, and 46 tried it. That means over 171 kids tried it and about 73% of them either liked or loved it! In November, the kids will have an opportunity to try out winter squash.
Italian Bean Pasta is a Hit with Students
In April, Interlochen Community School students taste tested an Italian Bean Pasta. Nearly 93% of the students loved or liked the pasta! Out of the 143 students who voted, 96 (67.13%) said they loved it, 36 (25.17% said they liked it, and only 11 (7.69%) tried it but said it wasn't their favorite. View the

Italian Bean Pasta recipe. Traverse Heights Elementary School students tried

pasta salad with navy beans. Nearly 85% of students voted that they liked or loved the bean pasta salad and many were asking when they would be able to eat it again. Next month is pickled radishes!
Roasted Beets & Pink Pasta

February's harvest of the month is beets! Traverse Heights students taste tested roasted beets (from Farm-to-Freezer) seasoned with salt and pepper. Out of the 154 students who cast votes, over 80% said that they liked or loved the beets. Pink pasta (with beets from Second Spring Farm) was tested at Interlochen Community School with over 80% of the 127 students who participated declaring that they liked or loved the beets. Seems like beets are a hit with these TCAPS students!

View fun facts, recipes and crafts using beets.
Students Taste Test Kohlrabi Roasted, Steamed and Blanched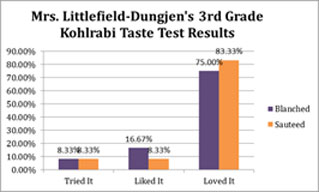 During their January taste test, nearly 70% of Traverse Heights Elementary School students voted that they loved or liked roasted kohlrabi fries. Some of the feedback received from students was that it was "too spicy," causing them to vote "tried it." Thus, we would recommend cooking the kohlrabi fries with little to no pepper in the future. On February 15th, Interlochen students also had the opportunity to taste test the kohlrabi fries (sourced from Farm-to-Freezer) seasoned with salt. Sixty-five percent of the 125 students who participated said they liked or loved the kohlrabi.
In December, Mark Coe taught 24 third graders about the vegetable kohlrabi (pictured below). Students were able to taste test both blanched and sauteed kohlrabi. Seventy-five percent of the students loved the blanched kohlrabi, 16.7% liked it and an additional 8.3% tried it! For the sauteed kohlrabi, 83.3% of students loved it, 8.3% liked it and 8.3% tried it.
The graph on the right shows a great response from Mrs. Littlefield-Dungjen's third grade class with 91% voting that they loved or liked the kohlrabi both sautéed and blanched.

Students Taste Test Winter Squash

In November, 99 students at Interlochen Community School tasted and voted on the "Lean Mean Squash and Bean Quesadillas." With mixed reviews, 38 (38.4%) said they tried it, but it wasn't their favorite; 22 (22.2%) liked it; and 39 (39.4%) loved it. Ninety-five students at Traverse Heights Elementary School tasted and voted on the "Delicata Smiles" as a part of their delicious thanksgiving lunch. Eighteen (19.0%) said they tried it, but it wasn't their favorite; 25 (26.3%) said they liked it; and 52 (54.7%) loved it. See graphs above displaying these results.
Baked Apples Taste Testing

Eighty-two percent of Interlochen Community School students said they either loved or liked the baked apples they tried during the FoodCorps taste test.
Want your kids to eat more fruit? Try this

baked apple recipe that scored very well with Interlochen Community School students. Eighty-eight percent of the students said they either LOVED or LIKED the baked apples they tried during a recent FoodCorps taste test. In fact, they liked it so much,

several students wrote a letter to TCAPS Food & Nutrition Services Director Tom Freitas asking that the baked apples be added to the lunch menu.
Making Connections
"I have to tell you about a boy who dragged his mother over to our market stand, proclaiming. "Oooooh, PARSNIPS!" He asked his mom if he could buy one, the biggest one, of course! His was pretty insistent. I made the comment that I thought that was really cool…great actually that he a.) Knew what a parsnip was and b.) Wanted his mom to buy him one! She told me that her son's school gets all the credit. That there's a program at school where the kids learn about healthy eating and vegetables." – Andrea Romeyn, Providence Organic Farm

From the mother of a 4th grade student at Old Mission Peninsula School who has gone through great lengths to change her daughter's diet to improve her health. Recently, she decided to make kale chips at home, and was explaining what they were and how they were made. The response, "Yeah mom, I eat these at school all the time." Mom, "about fell out of her chair."