District Newsletters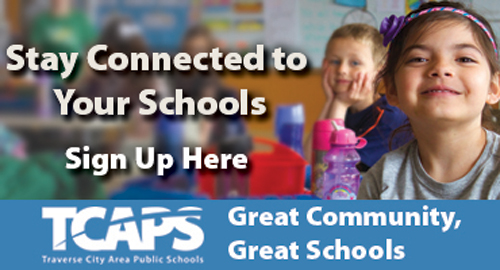 Sign Up to Receive TCAPS News
Want to know more about what's happening at TCAPS? Stay connected to your community schools by signing up to receive the Traverse City Area Public Schools monthly electronic newsletter as well as periodic updates from the district. You will receive an email confirmation after your submission request.
Our Community, TCAPS District Newsletters

View Archives
April 18, 2019
April 2019 District Newsletter Released
View the April 2019 edition of

Our Community, TCAPS' district newsletter. Watch Superintendent Soma's short video as he speaks with fifth and sixth graders at TCAPS Montessori at Glenn Loomis about the World Peace Game and what they are learning in their efforts to solve real life issues. Other highlights include an update from Governor Whitmer's visit, upcoming events and more.
March 20, 2019
March 2019 District Newsletter Released
View

Our Community, TCAPS' March 2019 district newsletter for this month's video featuring middle school students sharing their thoughts with Mr. Soma about their journalism and digital media classes. Read about upcoming events, student achievement, early childhood registration, summer programs and so much more.
February 21, 2019
February 2019 District Newsletter Released
Read

Our Community, TCAPS' February 2019, district newsletter to watch a video of Superintendent Soma as he visits with SCI-MA-TECH students from Central High School. Also included in this edition: snow day information, student recognitions, and shout outs to many of our community partners who have made contributions in support of the district's Intense Student Support Network (ISSN), which is designed to provide tools and resources for staff to effectively nurture and support students whose non-academic needs may create obstacles to high achievement.