District Newsletters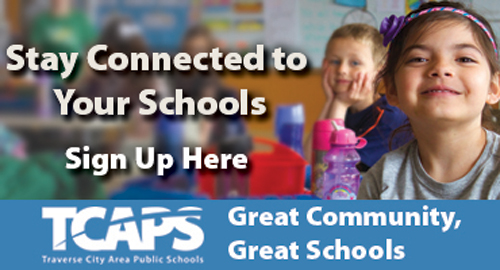 Sign Up to Receive TCAPS News
Want to know more about what's happening at TCAPS? Stay connected to your community schools by signing up to receive the Traverse City Area Public Schools monthly electronic newsletter as well as periodic updates from the district. You will receive an email confirmation after your submission request.
Our Community, TCAPS District Newsletters

View Archives
December 19, 2018
December 2018 District Newsletter Released
Read

Our Community, TCAPS' December 2018 district newsletter to watch a short video highlighting TCAPS' music programs, and to learn about the many ways are schools are giving back to the community this holiday season.
November 20, 2018
November 2018 District Newsletter Released
View

Our Community, TCAPS' November 2018 district newsletter for a special video of Silver Lake Elementary School students and staff sharing what they are thankful for this season. Learn more about upcoming events, student achievements, and the many wonderful ways our students and community are giving back. Wishing everyone a wonderful Thanksgiving holiday.
October 24, 2018
October 2018 District Newsletter Released
View

Our Community, TCAPS' October 2018 district newsletter for information on the state of the district, job opportunities, upcoming events and a great video featuring staff and students at Traverse City High School.