District Newsletters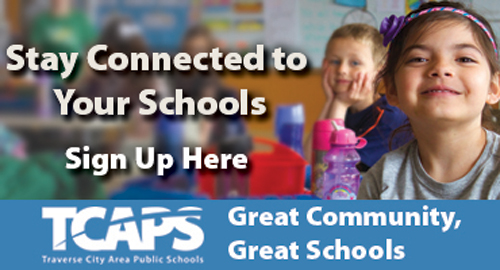 Sign Up to Receive TCAPS News
Want to know more about what's happening at TCAPS? Stay connected to your community schools by signing up to receive the Traverse City Area Public Schools monthly electronic newsletter as well as periodic updates from the district. You will receive an email confirmation after your submission request.
Our Community, TCAPS District Newsletters

View Archives
September 18, 2019
September 2019 District Newsletter Released
Read

Our Community, TCAPS' September 2019 newsletter to learn about upcoming events and watch a video of Superintendent Cardon as she speaks with Willow Hill Elementary School students and staff about the start of their school year.
August 29, 2019
TCAPS August 2019 District Newsletter Released
Please enjoy the first 2019-2020 edition of the

district's e-newsletter, Our Community, featuring an introduction video message from our new superintendent Ann Cardon, highlights of summer learning activities, and upcoming events.