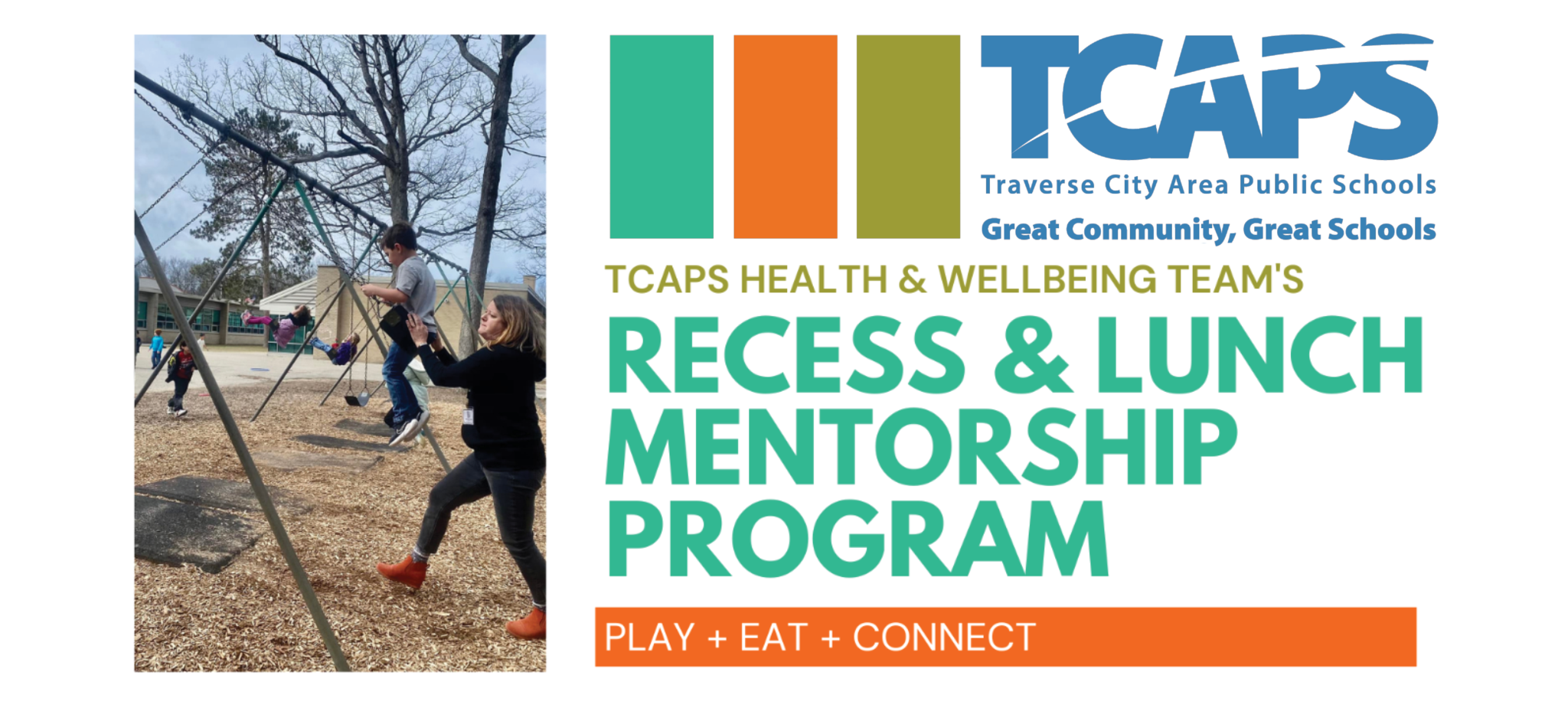 TCAPS Lunch Buddies
Traverse City Area Public Schools is thrilled to announce the expansion of its Lunch Buddies Mentorship Program for the 2023/24 academic year.
Following the resounding success of its pilot run last year at Traverse Heights and Central Grade, TCAPS' Health & Wellbeing Team is excited to expand this innovative mentorship initiative to all district elementary schools.
In collaboration with noon duty staff, the Lunch Buddies program sets out to create an engaging and supportive school environment.
The program's objectives are to:
Ensure that all students experience joy and positivity during recess.

Promote healthy eating habits during lunchtime.

Foster positive relationships and connections between students and community mentors.

Enhance physical activity and movement during recess, contributing to a healthier lifestyle.

Mitigate behavioral challenges in both the cafeteria and the playground.
HOW DO LUNCH BUDDIES WORK?
Play:
Inspired by PlayWorks, the recess play activities encompass a diverse range of options, including traditional sports like soccer, basketball, and football, along with engaging tag games such as band-aid and sharks/minnows. Playground activities like swings, slides, and gaga ball are also incorporated, alongside activities that encourage movement like walking laps and parallel play activities such as scavenger hunts, juggling, and jump rope. Students and mentors have the freedom to choose their preferred activities.
Eat:
Mentors serve as role models for healthy eating habits by consuming cafeteria meals alongside the students. Demonstrating the value of balanced eating, including a protein-rich option and vegetables from the salad bar, has demonstrated effectiveness in improving students' dietary choices. Mentors are responsible for covering their own lunch expenses, which are approximately $5 per meal.
Connect:
Building strong, positive relationships with students is a core goal of Lunch Buddies. These connections are forged through simple gestures such as learning and recalling students' names, engaging in conversations about their days or weeks, actively listening to their stories, sharing personal experiences, and embodying an optimistic, fun, and receptive demeanor.
LUNCH BUDDIES MENTORS NEEDED
Lunch Buddies happen at every elementary building in the district on a specific day of the week. We invite individuals who are passionate about contributing to the growth and success of TCAPS students to join Lunch Buddies as mentors.
By dedicating just one hour per week, you can:



Help

students

thrive academically and emotionally.

Engage in exciting activities and play.

Promote healthy eating habits.

Support a happy and healthy

school

community.
Lunch Buddies

are divided into three seasons:



Fall Season: Start of School Year - Winter Break

Winter Season: Winter Break - Spring Break

Spring Season: Spring Break - End of School Year
Mentors commit to at least one season where they will eat for one (20 minute) lunch and play for two (20 minute) recesses. Most schools have two Lunch Buddies shifts that are approximately one hour long.
2023/24 Lunch Buddies schedule:



Consistency is crucial for success, so we encourage mentors to commit to at least one season, attending most sessions.
To become a mentor, complete the Lunch Buddies application form, pass a background check, and attend a 30-minute training session conducted by TCAPS staff.
Contact Ty Schmidt, TCAPS' District Wellness Coordinator, at schmidtty@tcaps.net with questions.