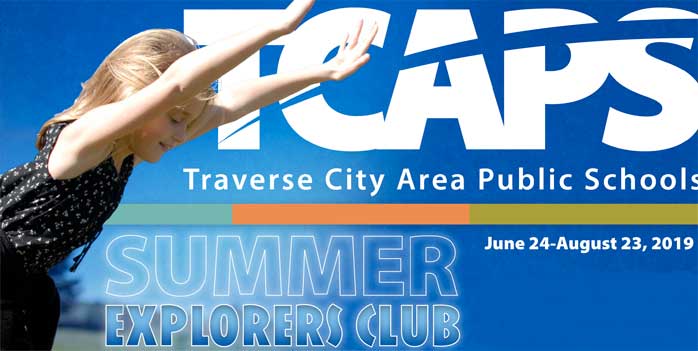 Summer Explorers Club
For Children Ages 3 – 12
Choose your weekly adventure and let the exploring begin!
TCAPS' Summer Explorers Clubs are designed to engage learners, ages 3-12, during the summer months. Each week features different theme-based activities, field trips and/or special guests. Sign up for every week or just a few.
Explorers Clubs are licensed by the State of Michigan to assure safety, health, and quality measures are met. Staff members are certified in CPR/First Aid and have met training and regulation standards. Financial assistance may be available through the Department of Human Services (DHS) for qualifying families.
2019 Club Dates & Fee Information
Club Dates
June 24 - August 23, 2019
Monday – Friday, 7:30 AM – 5:30 PM
No club on Thursday, July 4, 2019
Club Themes
Each week will feature different theme-based activities, field trips and/or special guests. Explorers are invited to sign up for every week or just the weekly adventures of interest. Weekly themes are:
Week 1 (6/24-6/28) - Animals of Northern Michigan
Week 2 (7/1-7/5) - Red, White & Blue
Week 3 (7/8-7/12) - Under the Sea
Week 4 (7/22-7/26) - TC's Got Talent
Week 5 (7/15-7/19) - Ahoy, Mateys!
Week 6 (7/29-8/2) - Lights, Camera, Action!
Week 7 (8/5-8/9) - To Infinity & Beyond!
Week 8 (8/12-8/16) - STEM
Week 9 (8/19-8/23) - Sports
Club Fees
$180 per week ($200 preschool)
$144 ($160 preschool) the week of July 4 due to a shorter week. No club held on Thursday, July 4th.
Fees are set for the full week and are not based on the number of days in attendance.
Club Locations
Cherry Knoll Elementary School
1800 Three Mile Road, N.

Eastern Elementary School
1600 Eastern Avenue

TCAPS Montessori at Glenn Loomis
1009 Oak Street

Westwoods Elementary School
1500 Fisher Road
Lunch & Snack Information for All Clubs
Explorers are to bring their own sack lunch Monday – Thursday.
On Fridays, pizza will be provided for all students.
Two snacks per day will also be provided for all students.
Online Registration Opens March 26th
Summer club registration opens March 26th. Registration instructions will be added to this webpage prior to the 26th.
Early Registration Encouraged
Families are encouraged to register early to ensure space/staffing availability.
Weekly Registration Opportunity
In addition to early registration, families will now be able to register weekly throughout the duration of the summer; however there is no guarantee (based on staffing) of availability. The deadline to register is a minimum of seven days prior to the week of attendance.
Registration Fee
There is a one time $30 non-refundable registration fee per student which will be assessed in June.
For More Information
For additional information, please contact Carrie Sattler at 231.933.1736 or Kelly Gignilliat at 231.933.1759.