TCAPS Board of Education
About the Board of Education
The TCAPS Board of Education is made up of seven members elected to four-year terms. The Board of Education meets twice per month and holds quarterly retreats. School board members also serve on Board of Education committees, attend local and regional meetings and host community dialogues.
Welcome Video for Superintendent Cardon at the August 26, 2019, Board of Education Meeting
Board Resolution for Equitable Funding of Michigan Public Schools
On May 13, 2019, the TCAPS Board of Education signed a resolution in support of equitable funding of Michigan public schools. Visit the Equitable Funding webpage to learn more.
2019 Board Committees & Members
Agenda Review Committee
Members: President, Vice President, 1 rotating board member and Superintendent P. Soma

Communications Committee
Members: J. Klegman (Chair), M. Anderson, E. Moon Mohr, (Alternate: J. Leonhardt)

Curriculum Committee
Members: D. Ellery (Chair), P. Forton, E. Moon Mohr, (Alternate: J. Klegman)

Finance/Operations Committee
Members: M. Anderson (Chair), P. Forton, J. Leonhardt, (Alternate: S. Kelly)

HR/Policy Committee
Members: D. Ellery (Chair), J. Klegman, J. Leonhardt, (Alternate: S. Kelly)

TC – TCAPS Collective Resource Committee
Members: TBD

Round Table
Member: Rotating Board Member

Reinstatement Committee
Members: D. Ellery, S. Kelly, (Alternate: J. Klegman)

District Network
Members: S. Kelly (Alternate: D. Ellery)

Board of Education Members & Committees
Board & Committee Meeting Schedules
Board & Committee Agendas, Minutes, Documents
Click on the links below to view agendas and minutes from the following board committees:
For More Information
Board agendas and minutes will be posted on the TCAPS website for the most recent 12 month period. For agendas or minutes dated beyond 12 months or for more information or questions, please contact Recording Secretary to the Board Stacey Hozak at 231.933.1725 or hozakst@tcaps.net.
Watch Board Meetings Live & On Demand
Board Policies & Guidelines

View Board Policies & Guidelines
Board Vision, Strategic Plan & Capital Plan
Interested in Becoming A Board Member?
The Role of a Board Member
Becoming a board member is a big responsibility that provides an important service to the community and its youth. As a board member, you will be asked to provide input and direction on a wide variety of issues including the district's educational programs, financial priorities and overall policymaking. Another key component of serving on a school board is community relations. School boards help build community understanding of and support for public education.
The Board of Education is responsible for:
Envisioning the school district's educational direction and to set goals/strategies that will guide the district toward that vision.
Hiring a superintendent to implement the board's policies and effectively manage the district to accomplish its goals.
Monitoring/assessing the district's performance and to engage/inform the community.
Advocating for students and public schools within the community, state and nation.
Board Member Training
With such great responsibilities, it's important for board members to recognize that there will be a lot to learn as they begin their new position, not only about the school district itself, but also about their role on the board. To assist individual board members navigate their new role and to help the school board function effectively as a whole, all board members are required to:
Participate in TCAPS' school board orientation process under the guidance of experienced board members and the superintendent.
Attend a workshop for new board members conducted by state and area school board associations (MASB).
Review TCAPS' board policies.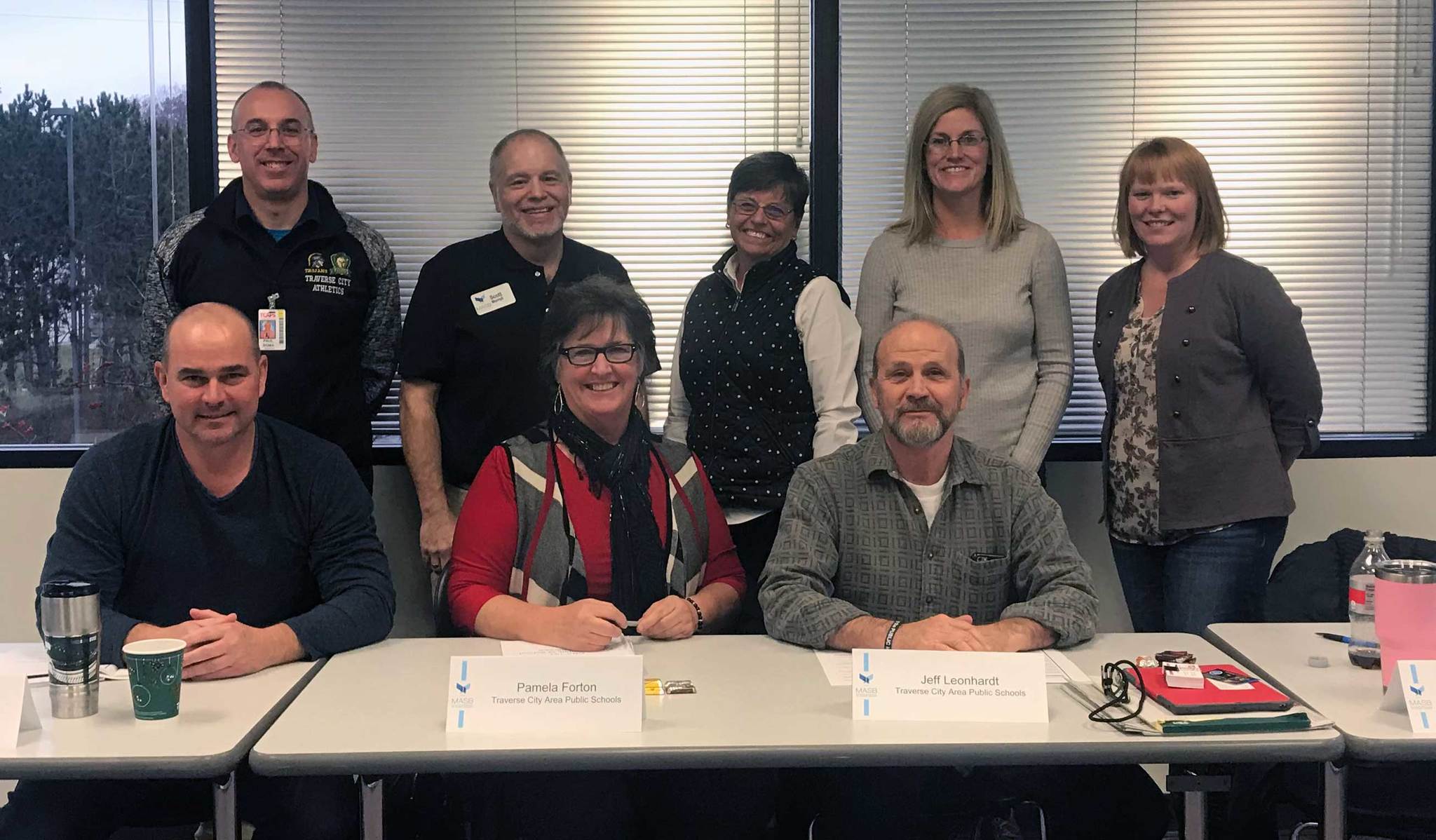 December 2018: Newly elected TCAPS Board of Education members, Superintendent Paul Soma and Board Recording Secretary Stacey Hozak take part in a MASB training session.
Pictured from left to right: Back row - Superintendent Soma, MASB trainer, Pam Forton, Erika Moon Mohr, Stacey Hozak, Front row - Matt Andersone, Sue Kelly, Jeff Leonhardt
Board Member Resources