Parents & Students
Below you will find information, resources and links to the most commonly asked for information.
Attendance Procedures
Attendance Hotline: 231.933.6420 or Email Us
Regular school attendance is important and a major factor in the academic success of each student. Active participation and interaction by students in the classroom is an essential part of the instructional process and is only experienced through regular attendance. The primary responsibility for ensuring regular school attendance rests with the parent(s)/guardian(s) and the student. Through the cooperative efforts of parent(s)/guardian(s), it is hoped each student will develop attendance habits and attitudes which will be helpful to his/her present and future endeavors.
All student absences and lateness (tardies) must be communicated with the school office.
Please be sure to include the following information when communicating with the school office:
Student's full name (with spelling)
Teacher's name
Applicable date and time
Your name and relationship to the student
Reason for the student's absence (If ill: report student's symptoms and diagnosis by doctor if applicable)
Length of time you expect the student to be absent or tardy
Number where you can be reached
Enrollment Information
TCAPS Montessori at Glenn Loomis is a state-funded, public school. Because we are a public school, there is no charge to enroll your Kindergarten - Sixth Grade in our program. State funding is not provided for our toddler program or for our three and four year old primary students, so these programs are fee-based. Fee schedule information and specific age-level programming details are available in the toddler, primary and elementary sections below.
Please contact the Montessori office if you have any questions at 231.933.6420. Our staff will be happy to update you on program availability and email you all the necessary paperwork.
Anti-Bullying Program

Every classroom participates in weekly lessons that combine the following peace education with our anti-bullying program! These specific peace lessons are taught on the first day of the week, first thing in the morning, and then remain our school-wide focus for the week. The following five character traits will be our focus this year:
Perseverance: the steady persistence in a course of action, especially in spite of difficulties, obstacles or discouragement.
Empathy: identifying with the feelings thoughts or attitudes of others.
Attitude: your manner, feeling, position, etc, with regard to a person or thing. Tendency or orientation, especially of the mind.
Courage: the quality of mind or spirit that enables a person to face difficulty, danger, pain, etc., without fear; bravery.
Encouragement: to inspire with courage, spirit or confidence.
In is our hope that by tying our anti-bullying program to a unified daily Peace Pledge and the above Character Education that we will create a positive impact on our school community and the future of children!
A series written by the staff of TCAPS Montessori:
Daily School Schedule
Start of Day Schedule
Morning Carline: 8:00 AM - 8:15 AM
School Begins: 8:15 AM
Dismissal Schedule
Morning Primary Session Dismissal:

11:18 AM

School is Dismissed (Peaceful Goodbyes):

3:07 PM
Half Day Dismissal: 11:18 AM
Morning Carline
Children may be dropped off on Griffin starting at 8:00 AM. Lower and Upper Elementary children will be asked to remain on the playground (in the gym for inclement weather) until the bell rings at 8:10 AM. Primary children will walk into their environments using the Thirteenth Street doors. Please wait for an adult to be present before dropping your child off. Please also keep in mind that all school doors will be locked. Adults must enter through the office doors to sign in as a visitor to our school.
Peaceful Goodbyes
We are thrilled to announce the return of our "Peaceful Goodbyes" dismissal at the end of the day. This year, your child's class will be waiting in a designated spot somewhere around the school. Simply park your car and walk up for your child. Peaceful Goodbye locations will be provided during our beginning of the school year open house. If you have multiple children in our program, all siblings will meet at the youngest child's peaceful goodbye location. The teacher will shake your child's hand, say goodbye and then your child will be dismissed from the group. Peaceful goodbyes provide a relaxed, respectful ending to a busy day of learning. It also aligns with our philosophy of peace and community. Please do adhere to the following safety guidelines. We count on you to be a good role model for safety!
Always use crosswalks to cross the street. Crossing in the middle of the street is strictly prohibited.
Be Respectful of our Peace Patrol. There will be students and volunteers on the sidewalks helping community members to follow safety procedures.
Be a courteous and safe driver as you move through traffic.
Please be on time. Children who have not been picked up by 3:25 will be safely waiting in the office.
Please do enjoy the community gathering that usually takes place on the large playground after dismissal. This is a great time to get to know other families.
If for some reason you are unable to walk up for a peaceful goodbye ending to the day, please contact the main office for alternate plans.
Documents & Resources
Classroom Resources
Documents
Services & Information
Extended Day Child Care
TCAPS extended day child care programs are licensed by the State of Michigan. Extended day programs are available at TCAPS elementary schools for students in grades PreK – 6, with select schools offering extended hours for preschool-age students. The programs offer the opportunity for personal attention from an experienced staff and enrichment activities that develop social skills, teamwork and interpersonal relationships.
Before school hours begin at 7:00 a.m. and continue until the start of the school day. The after school hours begin when the school day ends and continues until 6:00 p.m. each day. The program starts with the first scheduled day of school and ends with the last scheduled day of school. This service is available to parents on a pre-arranged and pre-paid basis. Visit the

TCAPS Extended Day Child Care website for registration information and contact information.
Online Registration & Payment Information
The online extended day registration process is completed through the

PowerSchool (Parent) Public Portal. Before starting the registration process, you will need to have your child's unique PIN number which can be obtained from your child's school office.
PowerSchool Public Portal Information
E-Funds Information
For additional registration information contact the Early Childhood office at 231.933.1759 or gignillike@tcaps.net.
Library Media Center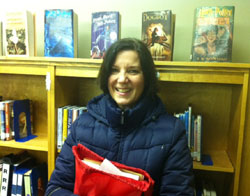 Library Hours
Monday - Tuesday
8:00 AM - 2:00 PM
Wednesday - Friday
8:00 AM - 3:00 PM
Library Contact
Barb Funkhouser
231.933.6447
Volunteering
Volunteers are always welcome in the library. Please contact Barb Funkhouser for more information. Thank you
Lunch Information
Find Out if You Qualify for Free/Discounted Meals
TCAPS is proud to offer healthy meals to our students every school day. Children need healthy meals to fuel their learning and your child(ren) may qualify for free or reduced meal benefits.
Whether or not your child plans to participate in the free and/or reduced meals program, the information is vital for the district. It is used not only to determine meal prices for qualifying families, but it is also used as part of the application process for a number of grants and other opportunities TCAPS participates in. We are pleased to be able to offer qualifying families with free or discounted meal rates, so if you think your family might qualify, please

apply today.
Observing A Classroom
Welcome to the Montessori classroom! During your observation, please be as unobtrusive as possible. Please remain in the observation chair and observe the classroom at large. The children are used to being observed, but if you are asked why you are visiting, give a brief reply explaining that you are here to see the children work.
We have found it helpful to offer a guide to observing and interpreting the dynamics of the Montessori classroom. There is more to the Montessori classroom than the activities of one particular child. Try to observe in a context - alternate between a wide-angled view of the entire classroom and focusing on a particular child. Listen to the activity level as it rises and falls. There will be some individual learning activities, some small group learning activities, or a large group lesson being presented.
Here are some aspects of the classroom to make note of as you observe:
Notice that children learn in different ways. With some types of materials you will see groups of children working cooperatively, and with others you will find an individual child working alone intensely. Still other children are walking through the classroom seemingly not engaged in any direct activity. Very often, this last type of child is engaged in actively absorbing information through observation of the children and the materials in the classroom. It will help if you alternate your focus on these different learning patterns.
Note the ease and joy with which the children work. You will see the intense self-gratification that the learning process affords the child. If your child has experienced a primary Montessori education, you will notice different behavior patterns in the elementary student. While primary students are focused on process, elementary students become aware of finished accomplishment and product as well.
Watch the way teachers interact with children and compare it with the traditional classroom mode by which you were probably educated. Notice the way in which a teacher corrects a child, and look at the instances in which she/he does not. Listen to the teacher's tone of voice with the child.
The directress is a facilitator of the child's autonomous learning process. She guides rather than insists. She prepares the environment, gives the child the tools to utilize the materials and then does whatever else is necessary to help the child interact with the environment without assistance. Sometimes this involves direct encouragement, at other times indirect appreciation, and even a judicious absence. There is a basic respect for each individual child's particular style of learning in the Montessori classroom.
Sociability: Watch the ways in which the children offer assistance to one another - with the materials and with everyday tasks - and the ways that they are directly sociable with on another.
The Montessori classroom contains a wide range of both ages of children and of materials that are appropriate to the different developmental levels. Note how the children go to the materials that are appropriate to their developmental level. Note also how the younger children absorb the older children's work simply by being near them, and how, conversely, the older children will assist the younger ones with work that they have already mastered.
These activities have a strong social component to them - one that incorporates a sense of responsibility for and community with all those in the class. There are always pockets of purely social activity present in any Montessori classroom as the child's natural desire to form friendships and be part of an ongoing community is ever present.
Autonomy: The generation of autonomy is a function of the prepared environment of the Montessori classroom. What this means is that the child will have available all needed materials, in good working order, to complete a task that has usually been self chosen. The structure of Montessori provides the child with as much time as s/he needs to complete the task. Elementary students have assigned work as well as free choice in their academic presentations. It is their responsibility to stay focused and current with their assignments.
Conclusion: We recognize that you will not be able to sort out and see all the dimensions of the classroom that are outlined above during your observation. Please feel free to take this guide home and think over these aspects of your student's environment at your leisure. We know that learning how to read the Montessori classroom is difficult as first, but know that with each successive observation your skills will become increasingly honed. We look forward to your next visit to the classroom, and we are eager to share with you the excitement that we feel in being a part of your child's growing years. Please contact us with any questions that were raised during your visit.
Paying Tuition w/E-Funds
The online extended day registration process is completed through the

PowerSchool (Parent) Public Portal. Before starting the registration process, you will need to have your child's unique PIN number which can be obtained from your child's school office.
PowerSchool Public Portal Information
E-Funds Information
For additional registration information contact the Early Childhood office at 231.933.1759 or gignillike@tcaps.net.
PowerSchool Public Portal
PowerSchool Public Portal can be accessed by both students and parents to view class schedules, keep track of grades and attendance, set up email notifications, and receive comments from teachers.
PTO Information
TCAPS Montessori PTO invites all parents to get involved in school activities and events and/or consider becoming a member of the PTO board. The PTO works throughout the year to bring quality enrichment opportunities to our students as well as raise funds for student programming. PTO meetings are held once a month and are open to the public. All Montessori families are encouraged to attend. Please join us to learn more.
Visit our PTO webpage for meeting dates, times and board contact information.
Visit our PTO Facebook for event photos, updates and more.
Snow Days
There are multiple ways you can find out if school is closed due to inclement weather:
All local radio and televisions stations announce school closings on a regular basis
Call the bus hotline - 231.933.1955
Visit the district website or the school website. A pop up will come on the screen if there is a closing alert (pop up blocker must be turned off)
Want more information? View

Snow Day FAQs
Translation Services
Translation of any documents, or during any meeting, will be provided for any parent who requests translating. The process to request translation is:
Contact your school and make a request. The school will then make the request through the Human Resources Department, and a translator will be provided. A school may use the Tele-Interpreter Service if no translator is available, or if translation services are an immediate need.
Volunteering
Throughout the school year, TCAPS Montessori looks for parent volunteers to help in various positions. If you are interested in volunteering, please contact the main office or speak with your child's teacher. All volunteers will need to complete the district's online volunteer application and a background check before volunteering at the school. To complete the application and for more information on volunteering, please visit the

district's volunteer page. Thank you for your support!