Welcome to TCAPS Montessori
Home of the Mercury!
TCAPS Montessori is located just minutes from vibrant downtown Traverse City. It is one of 11 elementary schools in the Traverse City Area Public Schools (TCAPS) district and is one of only a few public Montessori programs offered in the state of Michigan.
TCAPS Montessori offers four levels of programming: toddler, primary, elementary and middle school. The toddler program is open to children 18-36 months, the primary program is for preschoolers 3-5 and kindergartners, lower elementary is for grades 1st – 3rd, upper elementary is for grades 4th – 6th and adolescent is for grades 7th-8th. A typical Montessori classroom is filled with varying age groups. This allows the children to form communities where the older children share their knowledge with the younger children.
In Montessori, modifications to the program are made to meet the needs of every individual student regardless of their level of ability or learning style. All TCAPS Montessori programs follow the philosophy of Maria Montessori, which emphasizes a child-centered environment that develops character, skills, and independent learning.
Peace Pledge
At TCAPS Montessori, students begin each day by reciting the Peace Pledge.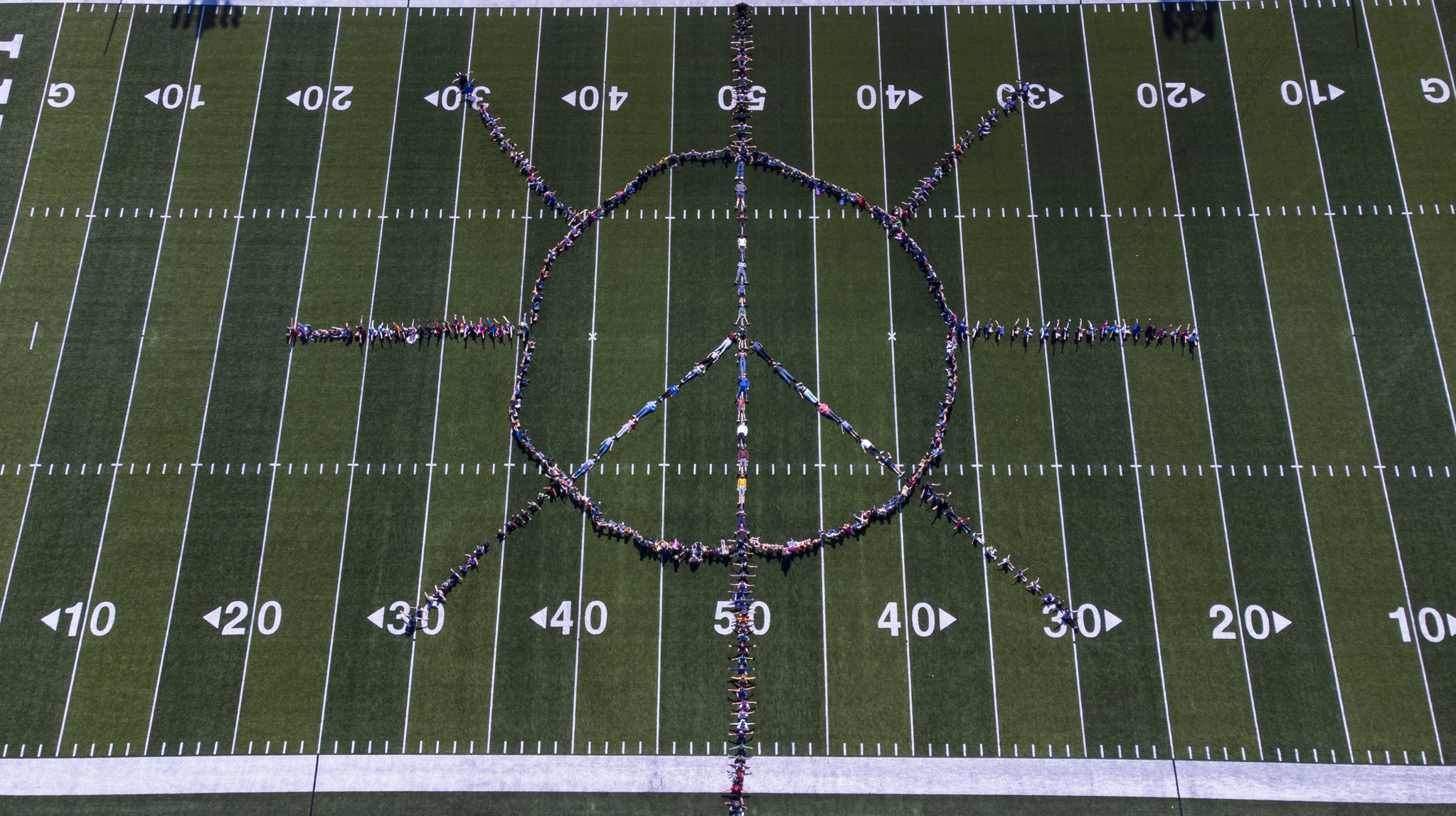 This Pledge is a reminder to all students to embrace the Montessori way of life and strive to be the best they can be.
"I promise to make peace my personal goal every day. I will stand up for what is right, step in with kind words when I see injustice, and help foster peace in others. As a Montessorian, I pledge peacefulness with honor, and I will lead by example." Copyright 2016, TCAPS Montessori
The International Day of Peace has become an annual celebration at TCAPS Montessori at Glenn Loomis.
Points of Pride
TCAPS Montessori is a Michigan Green School, which means that it has achieved environmental goals including protecting the air, land, water, and animals through good ecological practices and teaching of educational stewardship.
Student-led recycling programs along with community gardens.
An active PTO that supports activities such as the annual Book Fair, Art Night, Carnival, as well fundraisers throughout the year.
School Supply Lists for Fall 2022
2022-23 Kindergarten through 4th Grade Registration will open up at the end of the first semester. The date that we will begin receiving registration forms is January 24, 2022. Any registration forms for incoming 4th through 8th grade students must be transferring directly from another Montessori.
Montessori Toddler & Primary Preschool Programs
2022-2023 Registration Information
Returning Montessori Primary-Preschool and Toddler families can log directly into the PowerSchool Parent Portal and use their child's current access ID information.
Families new to TCAPS:
Toddler Program
Families interested in enrolling in the 2022-2023Toddler Montessori program will register here

Primary Preschool Program
Families interested in enrolling in the 2022-2023 Primary Montessori program will register here

The Montessori philosophy emphasizes a child-centered environment that develops character, skills, and independent learning. Children can freely choose from a number of developmentally appropriate activities taught by certified Montessori instructors to meet curricular goals.
The educational focus of TCAPS' Montessori is based on the philosophies of Dr. Maria Montessori, an Italian physician who developed this unique method of education based on her observations that children almost effortlessly absorb knowledge from their surroundings. Dr. Montessori's pioneering work created a blueprint for nurturing all children to become self-motivated, independent, and life-long learners.
"Our philosophy is not merely to make the child understand, and still less to force him to memorize, but so to touch his imagination as to enthuse him to his innermost core." --Maria Montessori
Programs offered through TCAPS Montessori
Toddler Program: Ages 18 - 36 months
Primary Classes: Ages 3 - 6, including kindergarten
Elementary Classes: Ages 6 - 12
Adolescent Program: Ages 12-14
The Montessori Approach to Education
The Montessori approach envisions education as "an aid to life." Montessori is both a philosophy of child development and an educational approach, which respects each child's unique personality. The core principles are drawn from the natural development of the child and designed to help each child with their task of inner construction. The method allows for modification to the needs of the individual, regardless of the level of ability, learning style, or social maturity. The focus of Montessori education continually changes in scope and manner to meet the child's changing needs and interests.
Activities in our Montessori program are designed to be flexible enough to address each child's individual developmental needs. The program promotes the development of social skills, emotional growth, and physical coordination as well as cognitive preparation. The holistic curriculum allows the child to experience the joy of learning.
Program Goals and Objectives
An emphasis on cognitive structures and social development.
Teacher's role is unobtrusive; child actively participates in learning.
Environment and methods encourage internal self-discipline.
Individual and group instruction adapts to each student's learning style.
Mixed age grouping
Children are encouraged to teach, collaborate with, and help each other.
Child chooses own work from interests and abilities.
Child formulates concepts from self-teaching materials.
Child works as long as she/he wants on chosen projects.
Child sets own learning pace to internalize information.
Child corrects own errors through feedback from material.
Learning is reinforced internally through child's own repetition of activity, and feelings of success.
Multi-sensory materials for physical exploration and development.
Organized program for learning care of self and environment.
Child can work where she/he is comfortable, moves and talks at will (yet does not disturb others); group work is voluntary and negotiable.
Organized program to help parents to understand the Montessori philosophy and participate in the learning process.
Toddler Montessori Program (Ages 18-36 Months)
Our Toddler Montessori program is available for children age 18 - 36 months. The Montessori methods of education are used with the goal of helping children to develop character, skills, and education. Our Toddler program is offered in half or full-days with your choice of a Monday/Wednesday/Friday or Tuesday/Thursday schedule.
Activities in the Toddler program are designed to nurture and empower each individual child. Our program promotes development of social skills, emotional growth, and physical coordination as well as cognitive preparation. The holistic curriculum allows the child to experience the joy of learning from a very young age.
We offer a safe and nurturing environment in an inviting school setting with trained Montessori staff focused on meeting the individual needs of each learner. Children in the program are exposed to age appropriate, stimulating, and meaningful activities.
Toddler Drop Off and Pick Up Times
Morning Drop Off 7:55 AM
Afternoon Drop Off 12:00 PM
Afternoon Pick Up 3:00 PM
Half Day Pick Up 11:00 AM
Toddler Registration & Tuition Fees

2020-2021 Toddler Registration Fees

2021-2022 Toddler Montessori Participant Handbook

Health Appraisal Form
For more information, please call the school office at 231.933.6420.
Primary Montessori Program (Ages 3-5)
Our Primary Montessori program, designed for children 3 - 5 years of age, is an exciting preschool/kindergarten program that provides children with an integrated Montessori curriculum.
The major areas of learning in the Primary Montessori classroom are: Practical Life, Sensorial, Language, Math, and Cultural Studies which encompasses science, art and geography.
Practical Life is the foundation of the classroom. In this critical area children experience lessons in everything from properly opening the door, to preparing snacks and washing dishes. They practice these exercises willingly because the activities are connected to everything people do in everyday life.
The Sensorial area invites children to use their senses to master their learning. There are activities where the children develop and refine the five senses.
The Language area consists of activities based around early language (for example, matching pictures to objects, categorizing, and rhyming) to advance activities of reading, writing, and early grammar.
In the Math area, children explore numbers in a very hands-on method. Montessori math materials allow the children to learn about numbers and their quantities. The children use manipulatives long before they see the number in a written form, to do everything from counting to adding complex numbers.
The Geography area allows the children to learn about landforms, continents, countries, and states.
The Science area includes first experiments in such topics as light, water, and friction. We also study science units such as living versus non-living, seasons, and weather.
The Art area explores the many different medias of art. We begin with simple activities on using crayons to create different types of lines and move towards more elaborate activities such as stamping and rubbing.
TCAPS Primary Montessori Hours & Fees
Kindergarten
Kindergarten is an all day/every day program
There is no fee for kindergarten students, costs are covered by Michigan Department of Education as a regular school program.
Hours: 8:15 AM - 3:11 PM
Preschool Options

2020-2021 Primary Fees

2021-2022 Montessori Toddler and Primary Preschool Tuition Fees

Primary Montessori Early Childhood Handbook

Health Appraisal Form
For more information, please call the school office at 231.933.6420.
Elementary Montessori Program (Ages 6-12)
The elementary Montessori program is broken into two planes of development: Lower Elementary for children 6 - 9 years of age, and Upper Elementary for children 9 - 12 years of age. Within the walls of each elementary classroom, each subject area is carefully designed to promote optimum learning for all students. This is called "Spiral Curriculum."
Everything is interrelated. One lesson leads to many others.
The student moves from concrete towards abstract understanding.
We always work from the big picture to increasing detail.
Every three years major themes in the curriculum are studied again in greater depth and abstraction.
Each subject area in the elementary Montessori program curriculum has a purpose. The curriculum guidelines exceed the State benchmarks and are aligned with Traverse City Area Public Schools' District benchmarks.
Language
The elementary Montessori language arts program places stress on the development of strong skills in composition and creative writing. Reading and spelling instruction are firmly rooted in the study of phonetic spelling and of words as they appear in standard written English. Students are encouraged to research, compose, and write beginning in the first year. The students will be able to experience speech, reading, phonograms, puzzle words, grammar, punctuation, homonyms, contractions, and other aspects of language when they show readiness.
Mathematics
Mathematics is studied with the use of manipulative materials. As students progress in there abilities, they are guided toward more abstract thinking. Once the student moves to the abstract, the manipulative is no longer necessary. In our classrooms, all students are given the opportunity to work with addition, multiplication, division, subtraction, fractions, word problems, geometry, measurement, rounding, and factoring when they show readiness.
Cultural Subjects (Science, History, and Geography)
Following Dr. Montessori's belief that the heart of the child from ages 6 - 12 was most moved by a desire to learn about their surrounding world, the curriculum includes the study of zoology, botany, and functional geography (physical science, geography, ecology and the history of past civilizations). Our science curriculum is closely designed to meet or exceed the newly established state benchmarks, and is integrated throughout other areas of the curriculum. This program will teach the students to process science; how to ask questions, observe, collect, analyze data, and conduct experiments.
Lower Elementary Program
Upper Elementary Program
Adolescent Montessori (Ages 12-15)
The TCAPS Montessori secondary program is for students ages 12–15. The curriculum integrates rigorous academic studies with purposeful work. While preparing students to be independent learners who are ready for high school and beyond, it is also designed to encourage our students to be confident, compassionate, and socially aware young adults.
Our classroom environment combines 7th and 8th grade students, allowing for collaborative work activities and opportunities for student leadership, both in and outside of the classroom. This includes weekly "council meetings" where students lead a conversation about concerns and needs of the classroom environment and beyond. Seminar meetings are held in math, current events, and literature. In these meetings students learn to be respectful contributors within a group discussion. Students learn to appreciate differing perspectives, thoughts, and learning styles. Time is also spent working on real life needs of the greater Traverse City community outside of the classroom.
The adolescent is at a critical developmental stage of emotional/social self awareness, as well as physical and cognitive development. The TCAPS Montessori secondary program is built to empower the needs of our students to be independent, creative, problem solving, and responsible contributors to society.
For more information about Montessori adolescent programs, visit the

American Montessori Society website.