Parents & Students
Below you will find information, resources and links to the most commonly asked for information.
TCAPS 2022-23 K-12 Courses
TCAPS offers both in-person and 100% virtual learning options for students in grades K-12. Below you'll find resources to assist with your class selections:
2023-2024 Registration Information
5th into 6th Grade Parent Registration Nights
February 27, 2023 EMS | Cafe

4:45- 6 | Cherry Knoll
6:30-7:45 | Eastern and Old Mission Peninsula Schools

March 1, 2023 EMS | Cafe

4:45- 6 | Blair, Central Grade & TCAPS Montessori
6:30-7:45 | Courtade, Traverse Heights & Virtual Students
TCAPS partners with Timeless Image, Inc. for school pictures. You can order pictures online at

Timeless-Image.com. Click on "Order Pictures" and use the EMS school code of 8221.
Advance Notice Pesticide Treatment for October 1, 2022
Please be advised of pest control treatment for weeds at the East Middle School lawns, fence lines, and around the building on Saturday, October 1, 2022.

Read the full notification here.
How to Report Bullying
Traverse City Area Public Schools takes bullying very seriously and will investigate all reported incidents. Reports can be made by contacting your school office or by filling out the

TCAPS Bullying Preventions & Intervention Incident Reporting Form.
All reported incidents reported will follow the

bullying/cyberbullying investigative process.
Breakfast & Lunch Information
Find Out if You Qualify for Free/Discounted Meals
TCAPS is proud to offer healthy meals to our students every school day. Children need healthy meals to fuel their learning and your child(ren) may qualify for free or reduced meal benefits.
Whether or not your child plans to participate in the free and/or reduced meals program, the information is vital for the district. It is used not only to determine meal prices for qualifying families, but it is also used as part of the application process for a number of grants and other opportunities TCAPS participates in. We are pleased to be able to offer qualifying families with free or discounted meal rates, so if you think your family might qualify, please

apply today.
PowerSchool Public Portal
PowerSchool Public Portal can be accessed by both students and parents to view class schedules, keep track of grades and attendance, set up email notifications, and receive comments from teachers.
There are multiple ways you can find out if school is closed due to inclement weather:
All local radio and televisions stations announce school closings on a regular basis
Call the bus hotline - 231.933.1955
Visit the district website or the school website. A pop up will come on the screen if there is a closing alert (pop up blocker must be turned off)
Want more information? View

Snow Day FAQs
For Students
Forms
Documents & Resources
Services & Information
Helpful Research Websites
Today's News
Local Weather and Information
Check an Encyclopedia
Citations
Quick Access to Reference & Research
Career Education
Links for Teachers
More databases and resources can be found under the Library Media Center section on the Parents & Students webpage.
One of the biggest challenges to new students is the school locker. Here are a few helpful tips:
Step 1: Get your locker assignment. East Middle School gives out locker assignments at registration when you get your books and schedule of classes. The locker assignment will tell you your locker number and the combination that you will need to open the locker.
Step 2: Write down your combination in several places. It is easy to forget your locker combination at first. Be sure you have it written down on something in your backpack, at home and a copy with your parents if all else fails. If you really forget your locker combination and don't have a backup written somewhere, the office can usually look it up for you.
Step 3: Do a test run. If you get your locker combination in advance, ask your parents to take you over to the school so you can find your locker and practice opening it.
Step 4: Locate the locker. While lockers have numbers on them you might also want to find a memorable landmark to help you find it quickly such as a heating vent, classroom door, or bulletin board that is close to your locker. The faster you find your locker when you are in school, the more time you will have to get what you need and get to class on time.
Step 5: Practice the locker combination several times. All locker combinations have three numbers. The standard combination lock has you turn right to the first number, left past the next number and then to it again, then right to the last number. Practice opening your locker until you can do it with ease. Don't worry, you won't be the only one who is doing it for the first time.
Store Hours
Monday - Friday
7:15 AM - 7:35 AM
Items for Sale
Trojan swag (pens, pencils, key chains, gym bags, clothing)
Gum, mentos, etc.
Store Managers
The store is run by students in the middle school and is supervised by Advisor Erin Ryan. Students interested in applying for the school store must complete an application and participate in an interview with Mrs. Ryan, and the current store managers, Grant Manker and Gabe Glidden.
More Information
Erin Ryan, Advisor
231.933.7362
Student Work Permits
Following is the school district's process for student work permits:
Student obtains a copy of the appropriate blank work permit form from his/her employer or by using the appropriate link below (based on student age).

Link to Work Permit for students ages 16 or 17

Link to Work Permit for students under 16 years of age
Student completes Section 1.

Student takes the form to his/her Employer.

Employer completes Section 2.

Student goes to his/her school or the administration office with completed form and school ID or state ID card/driver's license.

School or administration office reviews the work permit, confirms information with the student's PowerSchool record and ID that is presented, and completes Section 3 of the work permit. School makes a copy of the work permit for the student's file.

Student takes his/her completed work permit to his/her employer.
If you have questions about this process or need further assistance, please speak with your school's main office or call TCAPS' Human Resources office at 231.933.1710.
For Parents
Award Winning Journalism Programs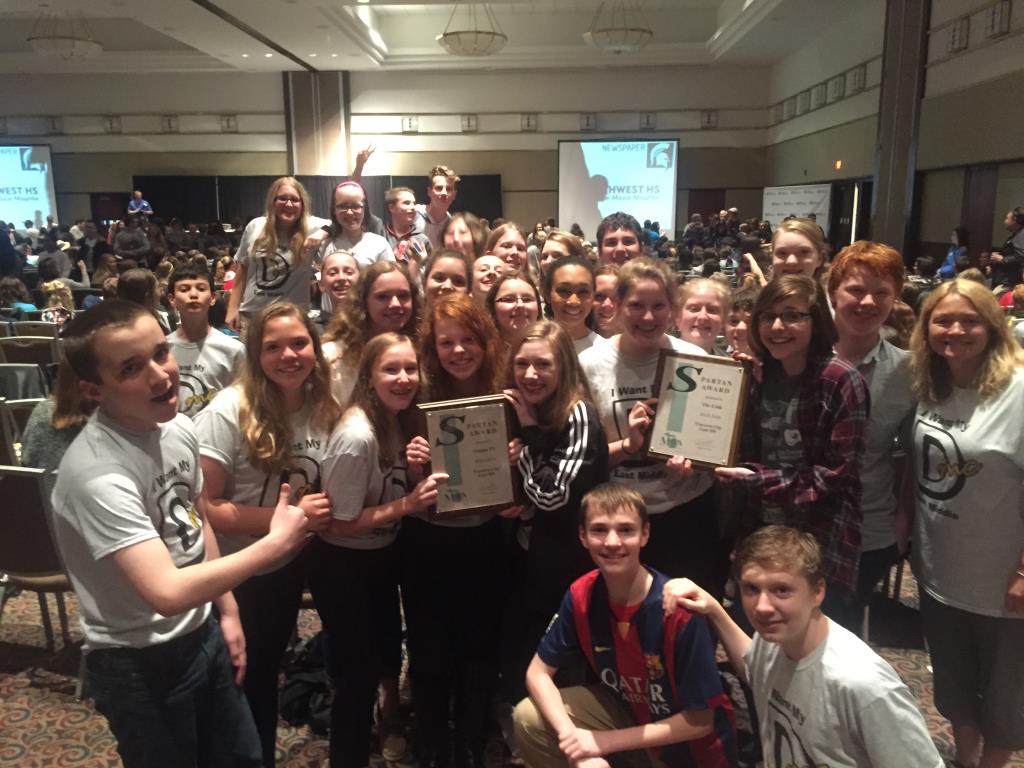 East Middle School is proud to have award winning scholastic journalism programs, with our Digital Media & Communications and Newspaper classes. Students in DMC create the school yearbook and produce Trojan TV, a weekly newscast that highlights school news through interviews, taping, and editing video. In Newspaper, students write for Trojan News covering student life, TCAPS news, and more. Together, the two programs also produce The Link, an online multi-media website that showcases all things Trojan News.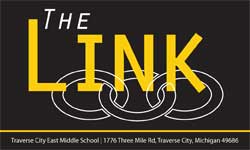 Seventh and eighth grade students interested in joining DMC or Newspaper should be responsible team players, and have a desire to learn and be active in the production of the publications.

Visit The Link website for up-to-date information on yearbook, newspaper, Trojan TV and all things EMS.
Bike2East / Recycle-A-Bike
Building A Learning Community Through Biking
East Middle School is interested in making walking/biking to school a feasible option for staff and students living in the East Middle School area. With that in mind, we are collaborating with community organizations that share these common goals.

Learn More About the Bike2East Initiative
Recycle-E(A)st-Bike Program
Students interested in biking have a unique new learning opportunity at East Middle School. Students may sign up to participate in the Recycle-E(A)st-Bike program taking place during resource period. Students learn to repair and maintain bicycles, either their own or a bike being readied for donation to a student in need. Learn more
The goal of the Recycle-E(A)st-Bike program is to provide students an opportunity to work with their hands to further their minds. Interested students will sign a contract and make a personal commitment to learn how to repair, maintain and rebuild bicycles. Once repaired, the bikes may be given to TCAPS students in need of a bicycle.

Learn More About the Recycle-E(A)st-Bike Program
Book Club: Join in book talks in the school library with the Library Media Assistants.
Math Counts Club: This club meets during lunch and after school to work on math concepts and to prepare for math competitions. Advisor: Bob Sagan
National Junior Honor Society: a community-minded group of students who have qualified with GPAs of 3.5 or better working together to promote community support within the greater TC area and EMS to support those in need.
Robotics Teams: Each team works to solve problems and compete with other schools.
The EMS Peer-to-Peer program focuses on developing positive role models and peer relationships for students with Autism Spectrum Disorder. Our mentors have been trained throughout the school year and have participated in weekly P2P meetings to take part in interactive social and extracurricular activities with our peers from TBAISD programs.
The benefits of having a peer-to-peer program at East Middle School are that it develops disability awareness across the building, it builds friendships, teaches patience, tolerance and acceptance and helps to develop leadership qualities. Both mentors and peers alike enhance communication skills and help to make a difference in another person's life.
P2P would not be successful without our dedicated peer mentors. A P2P rally is held at the end of the school year. Students have the opportunity to complete applications to participate for the following school year. In the fall, applicants are interviewed and matched with peers from our TBAISD and TCAPS programs.
More Information
Erin Ryan, Advisor
231.933.7362
Deposit Days
Tuesday, October 18, 2016
Tuesday, November 1, 2016
Tuesday, November 15, 2016
Tuesday, November 29, 2016
Tuesday, December 13, 2016
Tuesday, January 3, 2017
Tuesday, January 17, 2017
Tuesday, February 7, 2017
Tuesday, February 21, 2017
Tuesday, March 7, 2017
Tuesday, March 21, 2017
Tuesday, April 4, 2017
Tuesday, April 18, 2017
Tuesday, May 2, 2017
Hours of Operation
Member Application