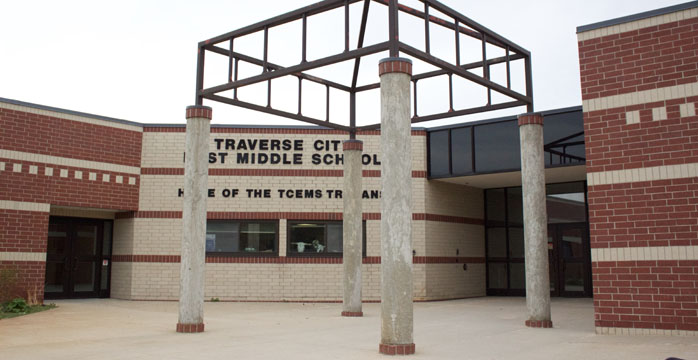 Welcome to East Middle School
Home of the Trojans
Traverse City East Middle School is one of two middle schools in the Traverse City Area Public Schools (TCAPS) district and serves students in sixth through eighth grade.
TC East's wide range of academic, arts, and athletic programs provide each and every student an opportunity to discover their passion. From award-winning journalism programs to academically talented classes students are challenged to reach their potential in an engaging learning environment.
TC East Middle School's staff is committed to learning, teaching, and expanding young minds. By creating a positive learning environment, every student can learn, grow, and achieve. Students are assigned to one of two houses during their learning journey at East Middle School. Alpha House serves all students whose last name begins with A-L. Omega House serves students with last names beginning with M-Z. This model was adopted to allow principals and staff an opportunity to build stronger relationships and provide better service to students and their families.
Learning Through Service
Programs like Recycle E(A)st Bike and the Peer-to-Peer program offer EMS students a unique opportunity to learn new skills while helping others. Students involved in the Recycle E(A)st Bike program learn how to repair, maintain, and rebuild bicycles. Once repaired, the bikes may be given to TCAPS students in need of bikes. The Peer-to-Peer program focuses on developing positive role models and peer relationships for students with Autism Spectrum Disorder. Students mentors are trained throughout the school year and participate in weekly P2P meetings to take part in interactive social and extracurricular activities with their peers from TBAISD programs.
Our Mission
The mission of Traverse City East Middle School is to support life-long learning through personal connections, meaningful interactions, and innovative learning experiences driven by individual learners as reflected in achievement growth and accomplishments.