Library Media Center
Willow Hill LMC Quote Wall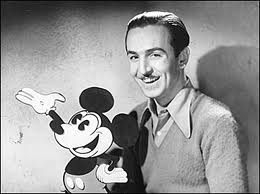 "There is more treasure in books than in all the loot on Treasure Island." ~Walt Disney (pictured on the right with his most famous creation, Mickey Mouse.)
Have you been in the library lately? Have you seen our quote wall? Students now have an opportunity to submit quotes to be displayed in the library. Some of the quotes we have displayed on the quote wall are displayed below.
Submitting a Quote
At any time during the year, students may submit a quote. It could be from something they've read, something they've heard, or simply something they've thought about and made up themselves. To submit a quote, print the Quote Submission Form, fill it out and bring it to the library.
It is important for students to cite their work. Whether it's the title of a book or a quote from grandpa, we all want to know where your quote is from. Want to get really official? View this handy guide to preparing a works cited to remind you of "the rules".
Library Resources
Library Hours
Monday - Friday
8:10 AM - 3:40 PM
Library Contact
Martha Topol
231.933.8551
Volunteering
Volunteers are always welcome in the library. Please contact Martha Topol for more information. Thank you