Youth Learn to Sail
About the Program
For students age 8–17 years
Youth Learn to Sail
Participants, ages 8-17, can learn the art and fun of sailing! Designed to teach sailing basics and beyond. When registering, please indicate experience level. Instruction is customized to the student!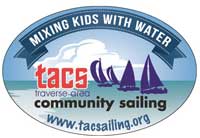 Beginning students each have their own Optimist Dinghy, sized just for young sailors: 8 foot long wooden sailing prams that are lightweight, safe and stable. These craft are so easy to operate that they are the world-wide choice of junior sailing programs. More advanced sailors will sail in the new Open Bics, Club 420s or Lasers.

In a fun-filled stimulating environment, this program builds:
self-esteem
personal confidence
responsibility
teamwork skills
Additionally- it gets our kids looking up from their devices!​
Youth Learn to Sail classes are available:
AM Half Day (9:00 AM - Noon)
PM Half Day (1:00 PM - 4:00 PM)
Full Day (9:00 AM - 4:00 PM)
Reachers Youth Program
This four full day long sailing session has a different goal and flavor than any of our other sessions this summer. For attendees at this session it's not so much about learning to sail, but rather it's about destinations and having fun in sailboats and while learning about the science and technology that propels and supports the very act of sailing. The course will feature:
High performance excitement: catamarans, hiking, harnesses, windsurfing
Fun with Spinnakers!
Sail our new Melges 24 (high performance sport boat)
Sail our catamarans!
An adventure cruise in our 420's West Grand Traverse Bay
Lessons about the science behind sail trim, navigation and the ecology of the lakes we sail on (as well as the importance of preserving that precious environment).
Students in this class should have attended a previous learn to sail class as we will assume the student has some (at least rudimentary) sailing skills. This class will be separated into two groups: 8-10 and 11 & up for age appropriate lessons and experiences.
The Reachers program runs:
Water Safety
Students will be asked to demonstrate that they can swim with the aid of their life jackets (this is really to demonstrate that they are comfortable in the water while wearing life jackets). While Traverse Area Community Sailing has a limited number of life jackets for use, students are encouraged to provide their own for better fit and regular use after the class. We will sail in the rain so clothing appropriate to the weather should be provided. We require closed toe shoes (tennis shoes, boat shoes, crocs, anything that encloses and protect the student feet). Towels, a water bottle, a change of dry clothes and snacks are often appropriate.
Costs are $535 for the two week full day or $295 for the two week half day sessions and the one week full day session.
Half day sessions are recommended for children under the age of 12. Full day classes are hard for the younger students.
Program Location
650 Hannah Ave, Traverse City
2018 Schedule
Youth Learn to Sail & Reachers - Register Now
Youth Sailing Session 1

(AM, PM or Full Day)
June 18-29, 2018


Youth Sailing Session 2

(AM, PM or Full Day)
July 9-20, 2018


Reachers

July 2-3, July 5-6
9:00 AM - 4:00 PM


Youth Sailing Session 3

(AM, PM or Full Day)
July 23-August 3, 2018


Youth Sailing Session 4

(AM, PM or Full Day)
August 6-17, 2018
Participation Fee
$295 for half day sessions: 9:00 AM – 12:00 PM or 1:00 PM – 4:00 PM
$535 for full day sessions: 9:00 AM – 4:00 PM
Reduced rates are not available for this program.
Scholarships available by letter of recommendation.
To be considered for a scholarship, a student must be referred and recommended by an adult (other than his/her parents) such as a teacher, principal, counselor or other professional who knows the child and his/her circumstances.
To request a scholarship, the person writing the letter of recommendation should send an email to scholarships@tacsailing.org with the name of the student, parent's name and contact info, and the reasons they are recommending the student.