LEAP College Financial Aid Information Workshop
Come find out why you should never pay sticker price for college!
All Grades are Welcome
About the Workshop
What if we told you that, instead of giving all your hard-earned money to these colleges, you only had to give them some of it? Swing by and find out how! Each workshop is a one-hour educational presentation where we cover the basics of financial aid and proper college planning – with an emphasis on how to lower the cost of attendance, increase financial aid eligibility, and lower out-of-pocket expenses. It's never too early or too late to start finding ways to save.
The workshop will:
Provide a brief history of the cost of college
Show how to project the actual cost of college
Educate on the methods for saving for college
Outline the process for developing a good plan
Determine the likely total cost of college
Find methods to reduce that cost
Determine if financial, athletic or merit-based aid is likely
Educate on the steps to take now to be better prepared
Explain why it's important to start early
Review the college process – tips on how to become what colleges want
Discuss AP, Early College, and Dual Enrollment, and the impact they have
Prioritize sources for college expenses to protect your life savings
Workshop Dates/Locations
This workshop is being offered at the following schools on the following dates (all events begin at 6:30 PM and run until 7:30 PM):
Tuesday, February 26, 2019
West Middle School Library

Tuesday, March 12, 2019
West Senior High Library

Tuesday, April 16, 2019
Central High School Cafeteria

Tuesday, April 23, 2019
East Middle School Library
By registering for this no-cost workshop, you'll automatically be entered in a drawing to win a Red Ginger Gift Card. Must be present to win.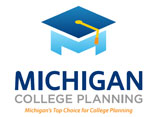 The workshop is presented by Michigan College Planning, a local organization that provides families with personalized service for their individual college and career goals.