Superintendent Search
Search Updates

Feedback Survey Results
As part of the search process for the new Traverse City Area Public Schools Superintendent, the Board of Education asked staff, students, families and community members to share their input about what qualities matter most in our next district leader. Participation was completely anonymous. Superintendent Search Feedback Survey Results
Search Information
The Traverse City Area Public Schools Board of Education has begun its search for its next superintendent. We will use this page on the TCAPS website to update our community stakeholders as we work through this process of selecting the district's next leader.
The TCAPS Board of Education is committed to the Blueprint for Systemic Reconfiguration as its framework and guide for both its strategic plan and for continuous improvement. This plan was unanimously adopted by the board on February 4, 2019. We are not only fully committed to this work, but excited to put the systems in place that will better position this district to meet the academic and non-academic needs of each student for whom we are privileged to serve.
As the district is using the Blueprint as its strategic vision and plan, the board of education will utilize the Blueprint's many tools and resources within the Talent Management Infrastructure in designing its own research-based, data-driven search process for the next superintendent.
Position Announcement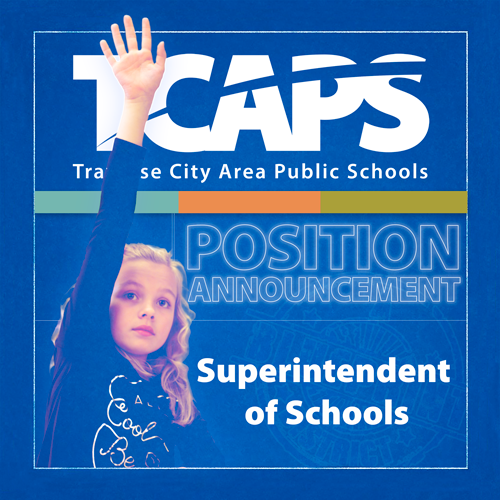 Superintendent of Schools Position Announcement
Search Timeline
Task

Date

Notes

Present Search Timeline

February 25

Regularly Scheduled Board Meeting

Approve Job Description &
Selection Criteria

March 11

Regularly Scheduled Board Meeting

Position Posted

March 12

Non-Blueprint candidates should be encouraged to take the Diving Deeper Series and should be referred to the Resource Center for information.

Application Deadline

April 30

Selection of Candidates (virtual screening completed as part of application process)

May 6

Special Board Meeting

Conduct Technical Interviews

May 18

Special Board Meeting

Selection of Final Candidates

May 20

Regularly Scheduled Board Meeting

Conduct Fit to District
(district tour & staff interaction)

May 29 & 30

Special Board Meetings

Selection of Superintendent

May 30

Job Offer/Negotiations

May 31 and beyond

Start Date

August 1
Blueprint Leadership Profile

Superintendent/Central Office Leadership Profile
Additional Information

Employee Recruitment Brochure
All questions regarding the superintendent selection process should be directed to TCAPS Board of Education President Sue Kelly.
updated 5-7-19