LEAP Junior Roller Derby
LEAP Junior Roller Derby
For Ages 8-17
The mission of Junior Roller Derby is to promote athleticism, camaraderie, and positive self-esteem.
About the Program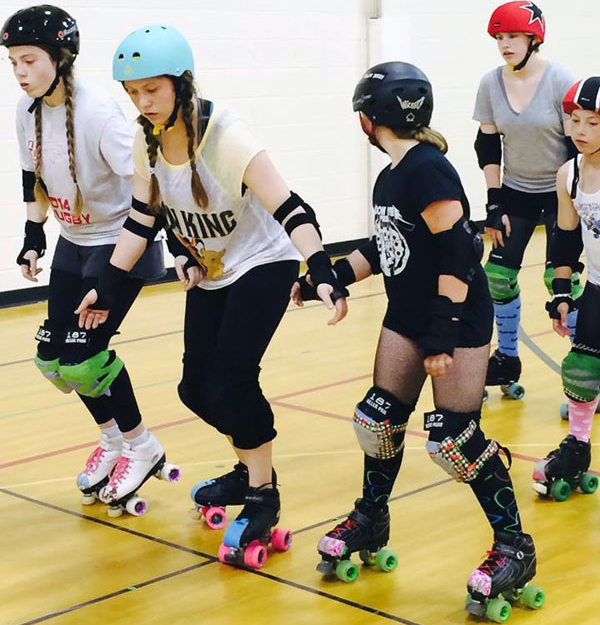 Roller Derby classes are open to both beginners as well as those who have derby experience. Classes will take place at TCAPS Montessori at Glenn Loomis, 1009 Oak St., Traverse City. Our young skaters learn the value of teamwork, athleticism and fair play through participation in junior roller derby.
Program Structure
Skaters will be divided and instructed by skill level. Roller Derby is open to any student between the ages of 8 and 17 years. Beginners will cover basic skating form and awareness; safe falls, stops and starts, and avoiding obstacles. Skaters will progress to learning to skate safely in partnerships and in groups. The more advanced skaters will begin working on light contact derby skills including hopping, weaving, positional blocking, lean-outs, giving and receiving pushes, and hitting form. While working on skills, all skaters will focus on personal growth and teamwork.
6-week session- Sundays from 11:00 AM - 1:00 PM
Registration Deadline
Coaches
Coaches are TCAPS teachers and veteran TCRD (Traverse City Roller Derby) skaters. They have coaching experience as well as experience working with children and adolescents and have undergone TCAPS background checks. At least one CPR certified coach or league member is available at each class.
New Skater Info Meeting
Necessary Gear
All participants are required to wear the following protective gear:
Helmet
Wrist guards
Elbow pads
Knee pads
Mouth guard
4 wheel (quad) roller skates (not rollerblades)
All equipment, EXCEPT roller skates, is available at local retailers including MC Sports, Zumiez, Dunham's, and Target as well as online. However, appropriate junior roller derby skates really need to be purchased online. Many of our junior skaters have Reidell Darts or R3, but if you have wider feet you may prefer Rock GT-50. Both skates are excellent choices for an entry level skate. **The most important feature to consider when purchasing skates is the toe stop. For junior derby, a threaded, adjustable toe stop is necessary for skills.

Please note: Most locally available roller skates are not structurally sound enough for the drills required in junior roller derby and/or worn parts cannot be easily replaced or upgraded. Chicago Skates found at Wal-Mart are NOT recommended. The Plastic toe stop styled roller derby skates and wheels have very limited durability and require replacing the entire skate instead of just wheels or toe stops as equipment wears down from use.
Please contact Coach Angela Stricker or Coach Brandy Gallagher with any questions before ordering. angela.stricker@mail0.tcrollerderby.com
Class Location
Class will be held at TCAPS Montessori at Glenn Loomis (1009 Oak St., TC)
LEAP Derby is a part of the

Junior Roller Derby Association, a public non-profit educational and amateur sports organization that is dedicated to advancing the growth of roller derby through the standardization of rules and goals for existing and new leagues.
Sports Physical Requirement
All 6th-12th grade students must have a physical dated on or after April 15, 2017, on file prior to the start of their sports season. The physical form gives TCAPS representatives the ability to authorize treatment in case of a medical emergency. Once on file, sports physicals are good for one school year. Physical forms can be turned into main office at East Middle School, the North Wing Office at West Middle School or high school athletic offices.


Download sports physical form
Participation Fee
$75 for the six-week session
Reduced fees/scholarships are not available for this program.
Registration Currently Closed