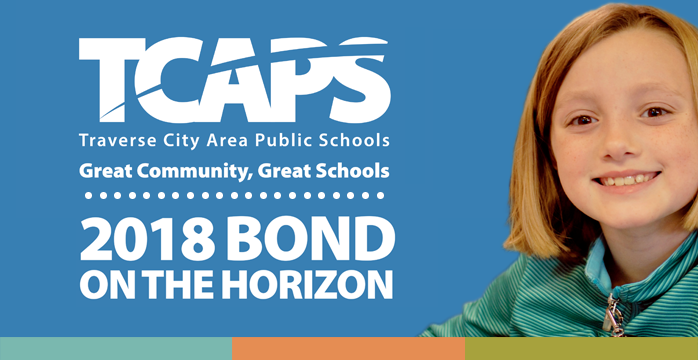 Election August 7, 2018
District Overview
Traverse City Area Public Schools (TCAPS) is proud to be one of the top school districts in the state, according to The Washington Post. Our long-standing tradition of academic excellence and accomplishments in a wide variety of extracurricular and co-curricular activities is made possible due to the talent and dedication of our caring team of teachers and staff, along with the supportive families, volunteers, and community members who help our students learn, grow, and achieve.
TCAPS Basics
Mission
We exist to educate. Education improves the quality of life for all.
Priorities
✓ Curriculum and Instruction
✓ Finance and Operations
✓ Communication
Focus Areas
✓ Safety
✓ Respect
✓ Improvement
✓ Collective Responsibility
Bond Facts
On August 7, 2018, voters in Grand Traverse, Leelanau and Benzie Counties will consider a bond proposal that would provide funds for Traverse City Area Public Schools' capital bond plan, a multi-year infrastructure, technology and transportation plan. The plan is part of TCAPS' ongoing efforts to ensure that our local school system provides every child an opportunity to attend school in a safe and supportive learning environment.
Millage Rate
3.1 Mills - No Increase
The proposal would provide $107 million over 10 years at an estimated tax rate of 3.1 mills. If this proposal is approved, it is expected that there would be no increase to the current tax rate. TCAPS' debt millage rate has been the same for the last 20 years and is 40% lower than the state average of 5.4 mills. At that millage rate, the cost to taxpayers is $310.00 per $100,000 of taxable value on a home.
Major Projects
Safety and Security Improvements
Reconstruct the main entrance at Central High School, West Middle School, and several elementary buildings to improve security infrastructure and facilitate improvements to visitor check-in procedures.
Elementary Reconstruction
Reconstruct one elementary school building. The TCAPS Montessori at Glenn Loomis building is currently the highest priority building in the district due to its condition, age, and lack of physical design to support Montessori instruction.
High School STEM/Robotics Rooms
Create dedicated science, technology, engineering and math (STEM) and robotics laboratories at Central High School and West Senior High School. K-12 STEM instruction is a key educational initiative for TCAPS, which is designed to give students the tools and knowledge they need for the future.
Facility Improvements at All Schools
Projects vary by building based on need and include projects to upgrade or replace roofs plumbing, heating and cooling systems, flooring, parking lot/walkways, restrooms, classrooms, physical education spaces, and playgrounds.
Bus Replacement
Continue the district's bus replacement program, which allows the district to offer safe and reliable transportation for TCAPS students as well as area private and parochial school students. TCAPS continually receives 100% passing ratings on school bus inspections by the Michigan State Police.
Technology
Continue technology program, which allows students and schools to access technology that supports learning and student achievement.
Proposed Safety & Security Enhancements
Remodeling of school entry ways/office layout for improved line of sight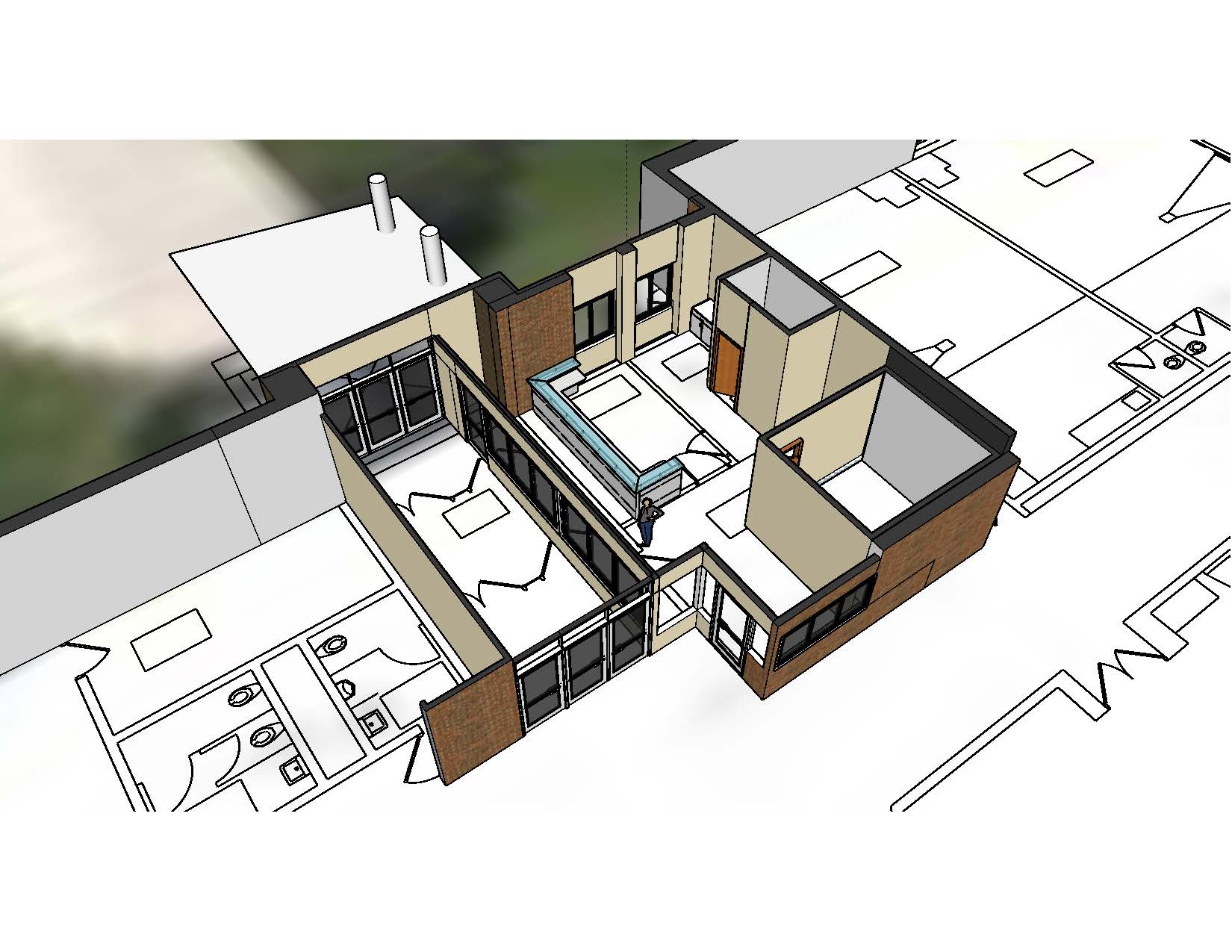 Transportation / Site Improvements
Proposed Silver Lake Elementary School Bus Loop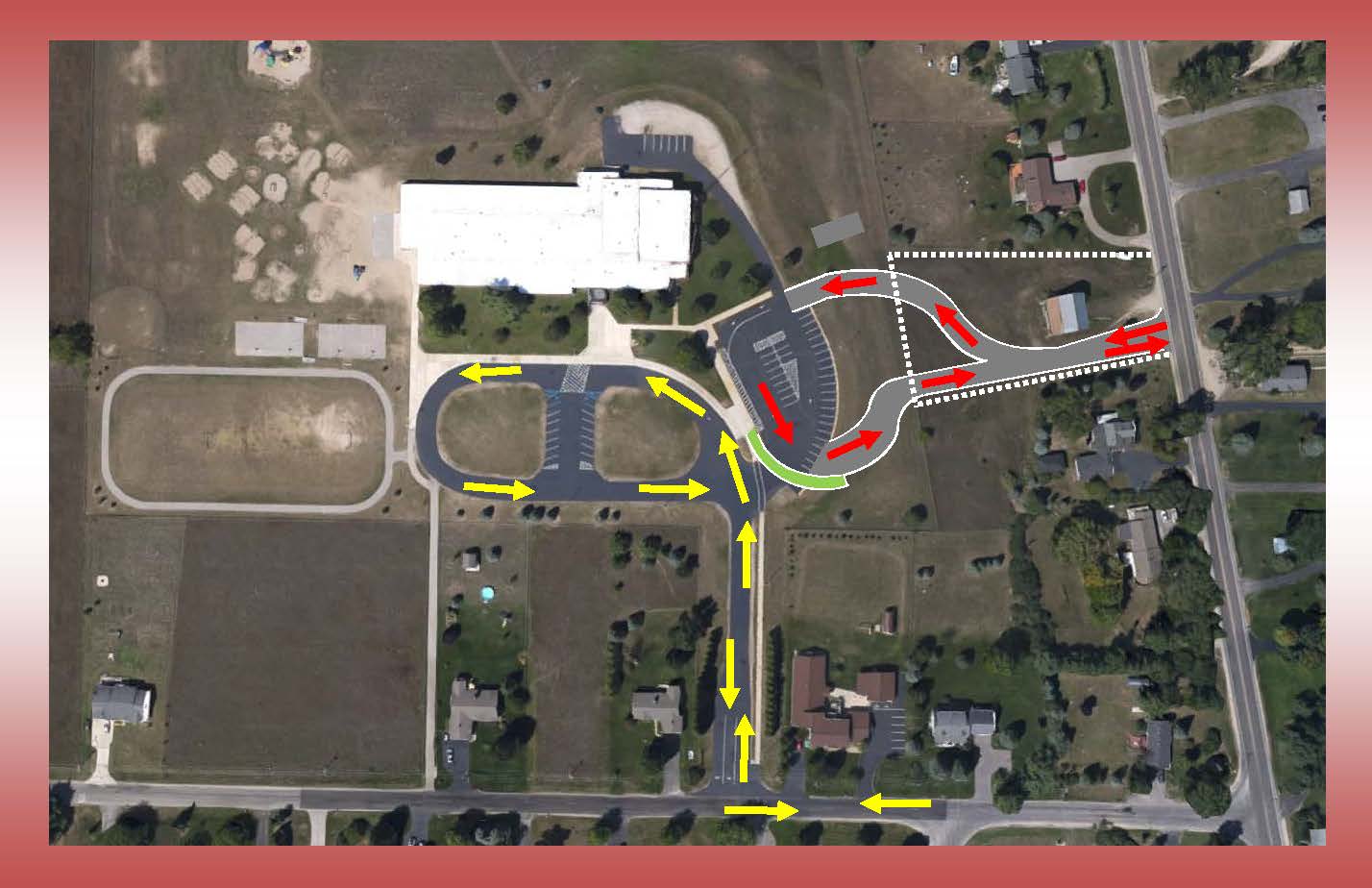 Athletic Facility Improvements
Coast Guard Proposed Site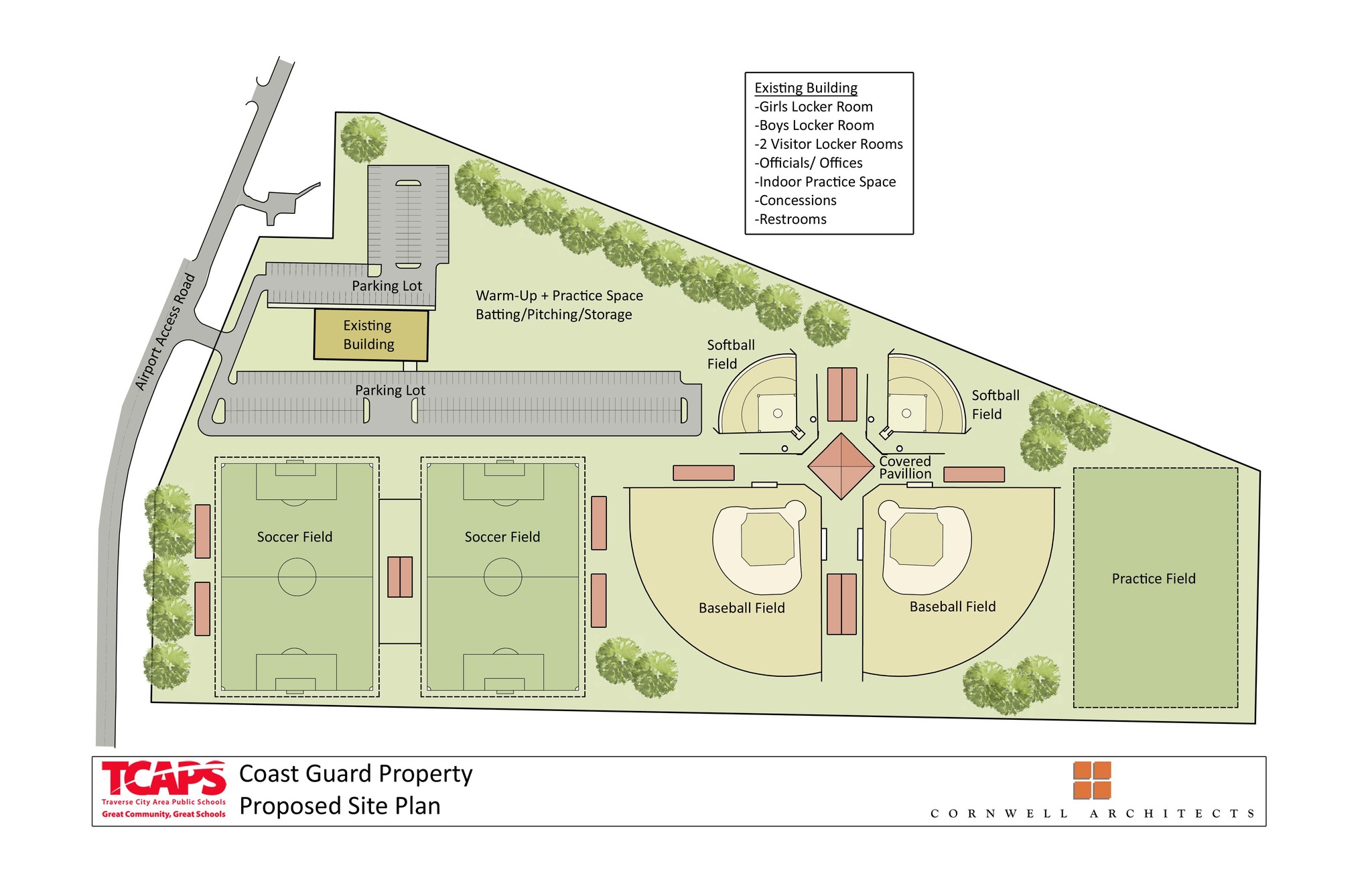 High School STEM / Robotics Rooms
Preliminary Concepts
West Senior High School STEM Layout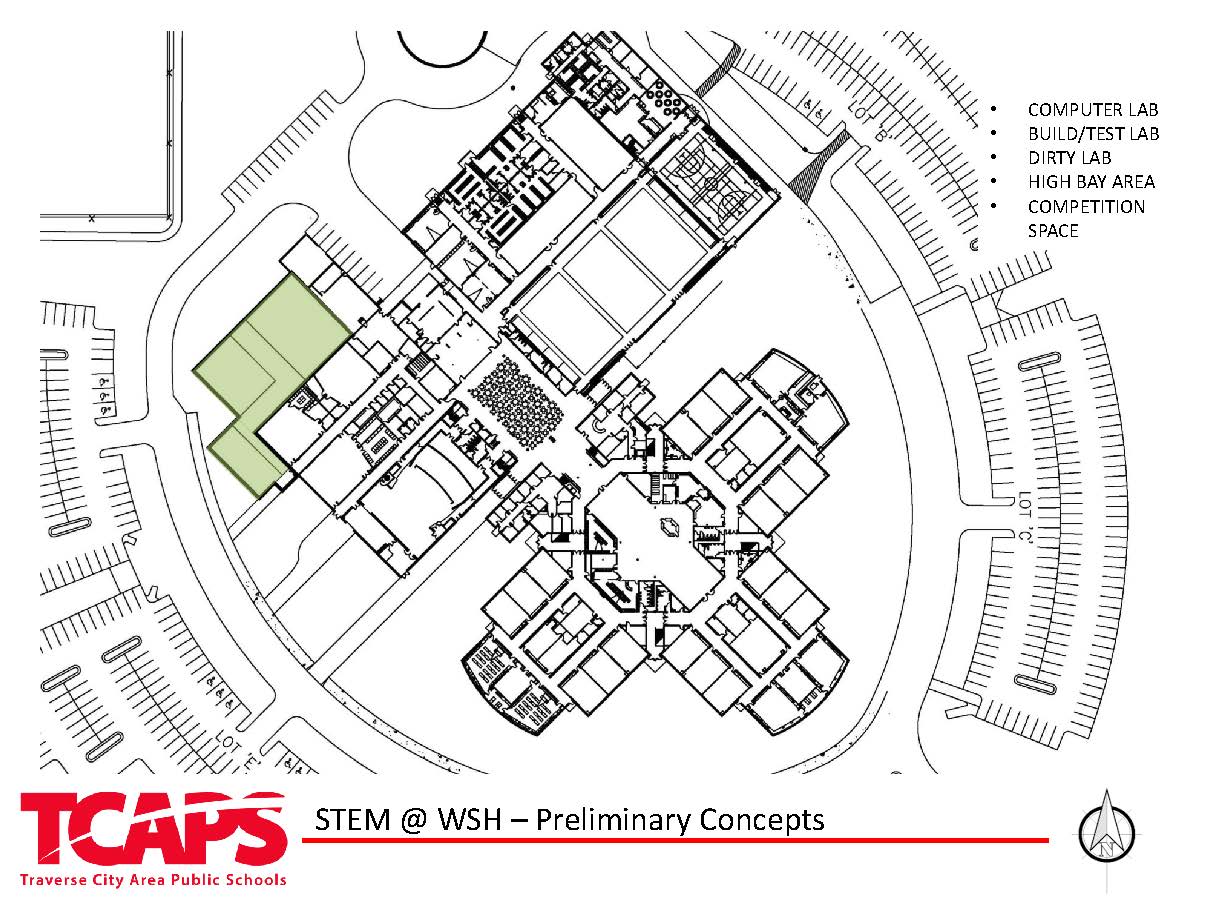 Central High School STEM Layout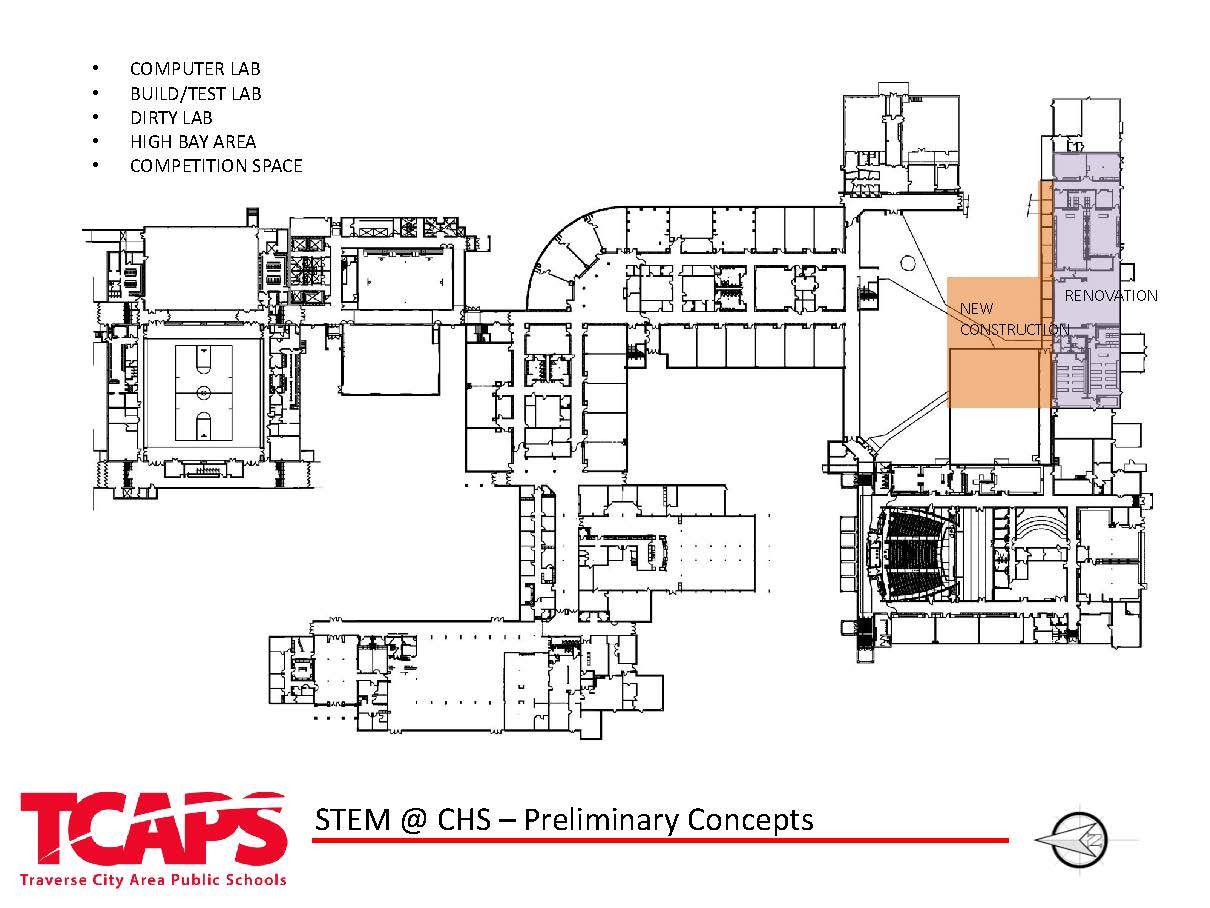 STEM Space/Layout Concept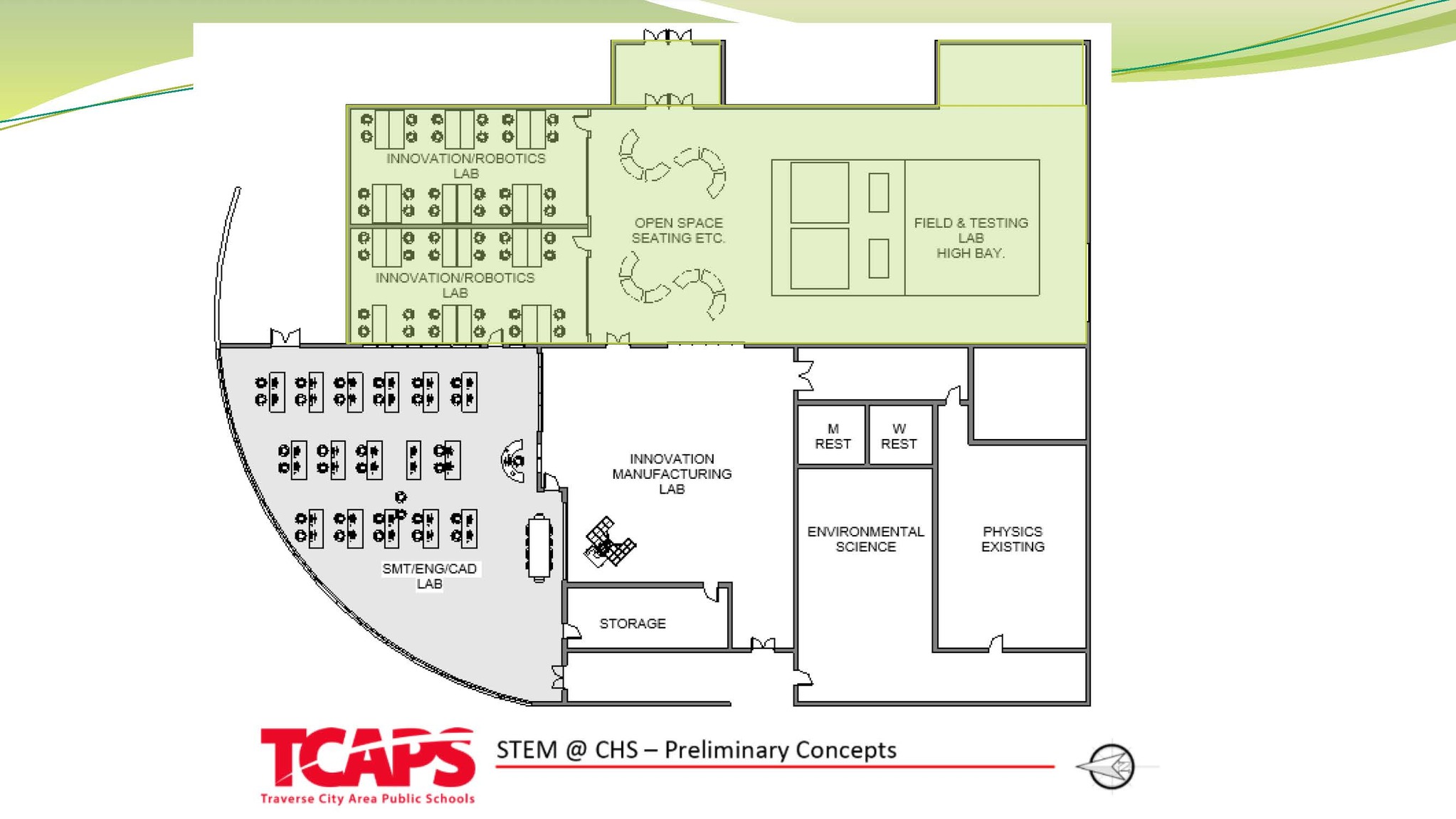 Innovation Manufacturing Lab Concept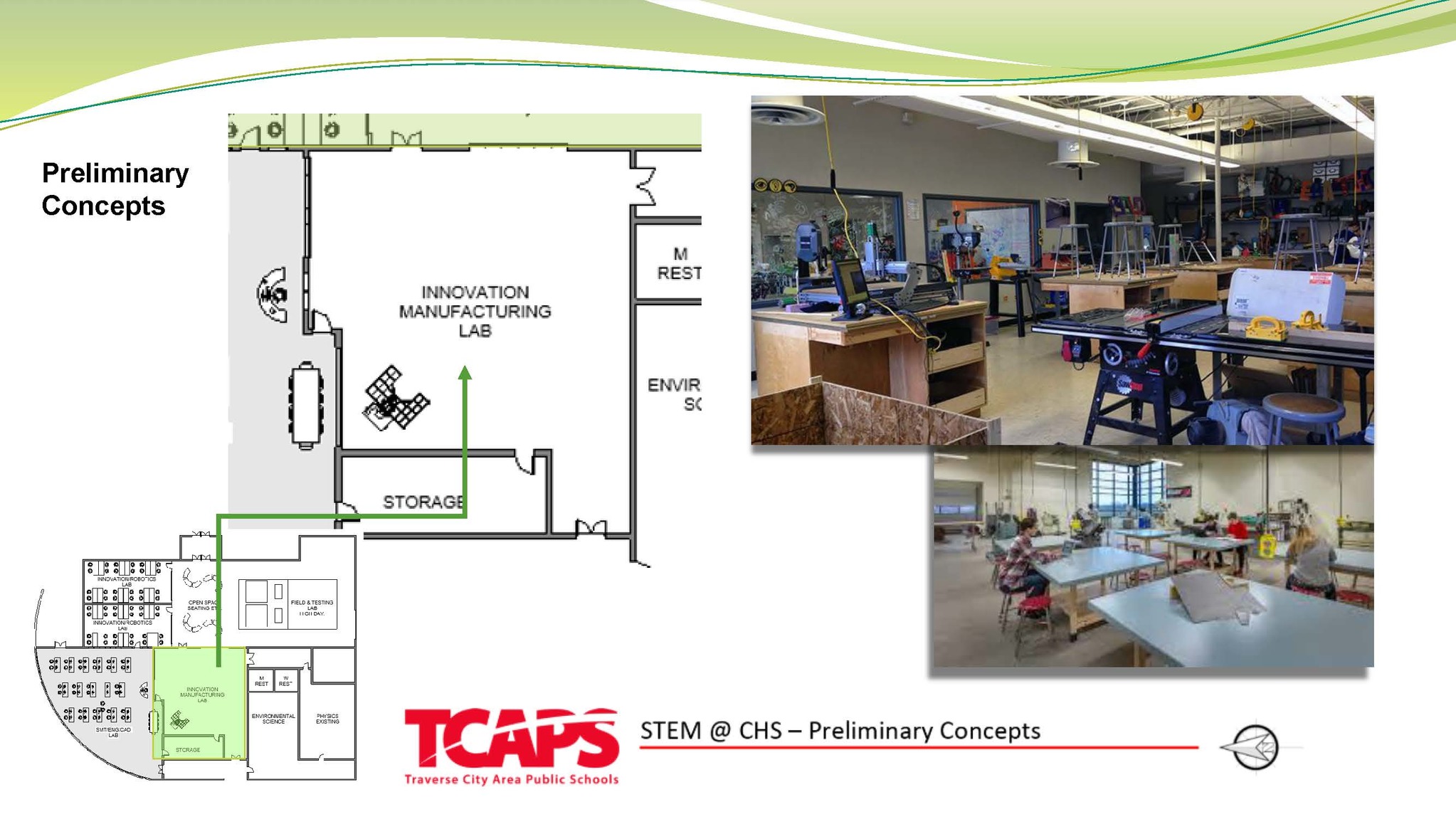 Voting Information
Voting Information
Voter Registration Deadline: July 9, 2018
Election Date: August 7, 2018
Absentee Voting: Contact your city/township, ballots available June 23rd
Find Your Polling Location, Sample Ballot and Voter Registration Information:

michigan.gov/vote
Ballot Language
The TCAPS capital bond proposal will appear on the ballot as follows:
TRAVERSE CITY AREA PUBLIC SCHOOLS BONDING PROPOSAL
Shall Traverse City Area Public Schools, Grand Traverse, Leelanau and Benzie Counties, Michigan, borrow the sum of not to exceed One Hundred Seven Million Dollars ($107,000,000) and issue its general obligation unlimited tax bonds therefor, in one or more series, for the purpose of:
erecting, furnishing and equipping additions to and/or remodeling, furnishing and refurnishing, and equipping and re-equipping existing school facilities; erecting, furnishing and equipping new school facilities; constructing, equipping, developing and improving playgrounds and outdoor physical education, athletic and storage facilities; acquiring, installing, and equipping and re-equipping school facilities for educational technology; purchasing buses; and acquiring, developing and improving play fields, athletic fields and sites?
The following is for informational purposes only:
If this proposal is approved, it is estimated that the debt millage for the new and existing bond authorization shall be 3.10 mills for a -0- mill increase of debt millage. The estimated millage that will be levied for the proposed bonds in 2019 is 0.31 mill ($0.31 on each $1,000 of taxable valuation). It is anticipated that the bonds will be issued in series. The maximum number of years the bonds of any series may be outstanding, exclusive of any refunding, is (20) years. The estimated simple average annual millage anticipated to be required to retire this bond debt is 1.30 mills ($1.30 on each $1,000 of taxable valuation).
(Pursuant to State law, expenditure of bond proceeds must be audited, and the proceeds cannot be used for repair or maintenance costs, teacher, administrator or employee salaries, or other operating expenses.)
Election and Voter Information
Frequently Asked Questions
Frequently Asked Questions
What are bonds?
To finance construction projects, the district sells bonds to investors who pay the value of the bond to the district. The district uses those monies to pay for the bond improvements. The investors are repaid principal and interest from debt millage taxes collected from property owners.
How do bonds work?
When a community votes on a school capital bond proposal it is authorizing the district to sell a specific dollar amount of bonds when funds are needed for capital projects. Bids are taken from interested buyers, usually, in significant part, large institutional investors – and are sold at the lowest interest rate offered. The rate is based on the district's bond rating – the higher the bond rating, the lower the interest rate to sell the bonds. TCAPS has a AA- bond rating from Standard & Poor's, which means the district receives a lower interest rate when the bonds are sold. Principal and interest on the bonds are repaid over an extended period of time with funds from property taxes.
How can bond money be used?
Proceeds from capital bonds can be used for the construction or renovation of facilities and sites and the purchase of furnishings, equipment, technology and buses.
What cannot be funded with bond proceeds?
Bond funds cannot be used for day to day operations, staff salaries, or general maintenance.
What would TCAPS fund with this capital bond proposal?
TCAPS maintains 2,000,000 square feet and $370 million in community assets. Over time, these assets degrade, requiring capital funds for necessary improvements. If this proposal is approved, the major projects that would be completed over the next 10 years fall into three main categories: infrastructure, technology and transportation.

View the 2018-2028 Bond / Capital Needs Plan.
What is the difference between this year's proposal and the proposals in 2012 and 2013?
This proposal does not include an increase to the current tax rate. Both the 2012 (failed) and 2013 (failed) bond proposals requested an increase above 3.1 mills. The TCAPS capital bond proposal in 2007 (passed) maintained the current rate of 3.1 mills.
How is TCAPS doing at financial management?
The district's fiscal year 2018 budget was structurally balanced and neutral third parties, including the Association of School Business Officials International, have consistently recognized TCAPS' responsible financial reporting and management. TCAPS continues to have a AA- Bond rating, and has received national recognition for excellence in financial reporting for 13 years in a row.
How do TCAPS' administrative costs rank in the state?
Our administrative costs rank in the bottom 30% of districts in the state—including charter schools—based on the most recent data. Source:

MDE Bulletin 1014
Is there a plan for the reconstruction/renovation of Central Grade School?
The district has outlined a number of major projects that the August 7, 2018, TCAPS bond proposal would address. Once those projects are addressed, the district expects to develop a master plan for Central Grade School. Given the historical and community significance of the building, the district's master planning process will include opportunities for community input and involvement, and it will likely be a multi-year process.