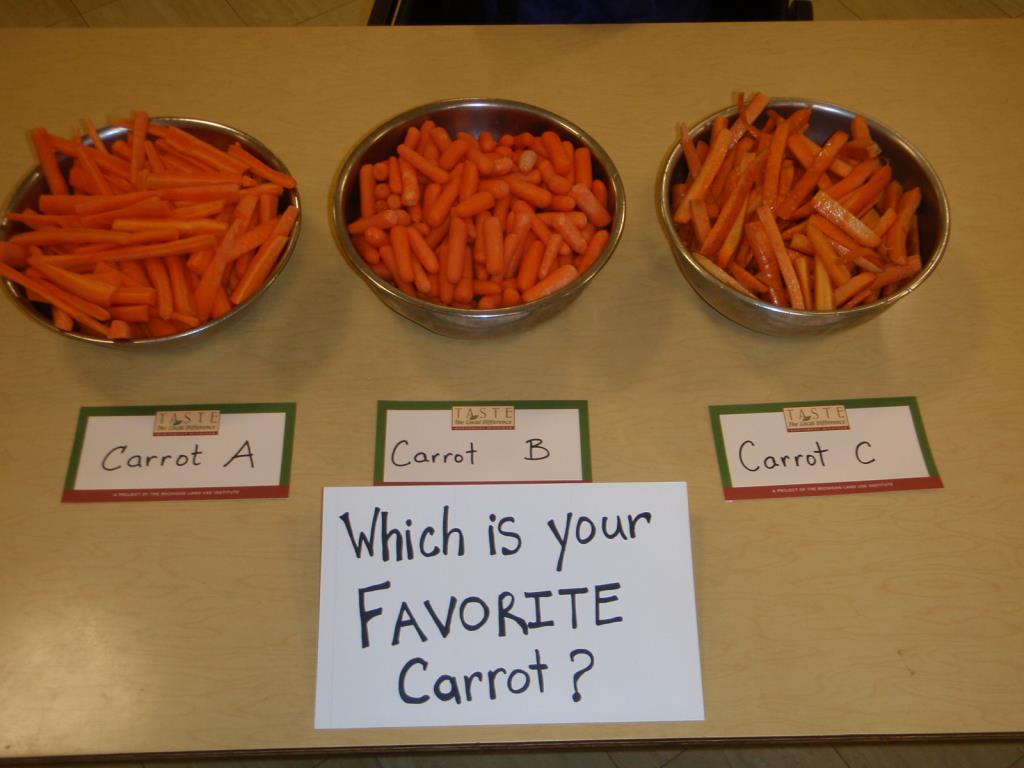 FoodCorps & Farm to School
FoodCorps & Farm to School in Northwest Michigan
In addition to foods served, for the past four years, the

Groundwork Center (formerly the Michigan Land Use Institute) has worked with TCAPS and other area school districts to offer resources for locally-based food fundraisers, classroom-to-cafeteria educational curriculum, and classroom education through

FoodCorps.
On September 1, 2015,

MSU Extension in Grand Traverse County (MSU-E) began hosting one of the Traverse City based FoodCorps service members. Groundwork and MSU-E are developing a team approach to support farm to school programming in the northwestern MI region, with service members bringing nutrition, garden and culinary education to Traverse Heights Elementary School. Together with the Traverse Bay Area Intermediate School District (TBAISD), this team will continue to build community partnerships to strengthen connections between the community, classroom, and cafeteria.
For more information about these efforts,

visit the TBAISD's Farm to School website, or contact Meghan McDermott or Sarah Eichberger.
Lessons at TCAPS Schools
Jan. 2017: Learning About Seeds, Where Food Comes From & Root Veggie Taste Tests
FoodCorps Updates for Janaury:
Cindy Andersen-Schwartz and Jessica Owen's classes learned about the marvels of seeds. Students dissected seeds to look for its parts, explored different types of seeds, and made bean seed necklaces so they could see seeds in action. After the lesson, several students have shown FoodCorps Service Member Julia Paige the seed coat and cotyledon of their chickpeas off the salad bar in the lunchroom!
At January's Enrichment Friday, the 3rd and 4th graders learned where common foods come from and the process that foods go through to get to the plate. Many kids had no idea that chocolate came from beans or that there was sugar in ketchup!
Students also participated in a taste test of roasted root veggies in the cafeteria, which included beets and parsnips from local farms. Many kids had never seen a beet or a parsnip before, and they enjoyed touching and smelling the whole root. Over two hundred kids participated in the taste test, and about 71% said they either liked or loved it.
Oct. 2016: Apple Ginger Delight Taste Test

Traverse Heights students' October 2016 taste test was "Apple Ginger Delight" (a slaw/salad with carrots, apples, and kohlrabi). Of the students that tried it, ninety-eight kids LOVED the Apple Ginger Delight, 27 said they liked it, and 46 tried it. That means over 171 kids tried it and about 73% of them either liked or loved it! In November, the kids will have an opportunity to try out winter squash.
Italian Bean Pasta is a Hit with Students
In April, Interlochen Community School students taste tested an Italian Bean Pasta. Nearly 93% of the students loved or liked the pasta! Out of the 143 students who voted, 96 (67.13%) said they loved it, 36 (25.17% said they liked it, and only 11 (7.69%) tried it but said it wasn't their favorite. View the

Italian Bean Pasta recipe. Traverse Heights Elementary School students tried

pasta salad with navy beans. Nearly 85% of students voted that they liked or loved the bean pasta salad and many were asking when they would be able to eat it again. Next month is pickled radishes!
Roasted Beets & Pink Pasta

February's harvest of the month is beets! Traverse Heights students taste tested roasted beets (from Farm-to-Freezer) seasoned with salt and pepper. Out of the 154 students who cast votes, over 80% said that they liked or loved the beets. Pink pasta (with beets from Second Spring Farm) was tested at Interlochen Community School with over 80% of the 127 students who participated declaring that they liked or loved the beets. Seems like beets are a hit with these TCAPS students!

View fun facts, recipes and crafts using beets.
Parsnip Chips Put to the Test

In February, Interlochen Community School students tried roasted parsnip chips sprinkled with garlic powder and grated Romano cheese. Fifty-four students loved the parsnips (46%), 23 liked them (17%) and 43 tried them, but decided the chips weren't their favorite (36%). One student said, "You should take the parsnip chips and dip them in the tomato soup [from the lunch line] – it's sooo good!" Out of the 136 Traverse Heights Elementary School students who tasted the parsnip chips in January, over 75% said they liked or loved the chips. Check out the

district's January newsletter for a recipe for baked parsnips with rosemary.
Students Taste Test Kohlrabi Roasted, Steamed and Blanched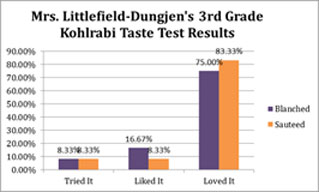 During their January taste test, nearly 70% of Traverse Heights Elementary School students voted that they loved or liked roasted kohlrabi fries. Some of the feedback received from students was that it was "too spicy," causing them to vote "tried it." Thus, we would recommend cooking the kohlrabi fries with little to no pepper in the future. On February 15th, Interlochen students also had the opportunity to taste test the kohlrabi fries (sourced from Farm-to-Freezer) seasoned with salt. Sixty-five percent of the 125 students who participated said they liked or loved the kohlrabi.
In December, Mark Coe taught 24 third graders about the vegetable kohlrabi (pictured below). Students were able to taste test both blanched and sauteed kohlrabi. Seventy-five percent of the students loved the blanched kohlrabi, 16.7% liked it and an additional 8.3% tried it! For the sauteed kohlrabi, 83.3% of students loved it, 8.3% liked it and 8.3% tried it.
The graph on the right shows a great response from Mrs. Littlefield-Dungjen's third grade class with 91% voting that they loved or liked the kohlrabi both sautéed and blanched.

Students Taste Test Winter Squash

In November, 99 students at Interlochen Community School tasted and voted on the "Lean Mean Squash and Bean Quesadillas." With mixed reviews, 38 (38.4%) said they tried it, but it wasn't their favorite; 22 (22.2%) liked it; and 39 (39.4%) loved it. Ninety-five students at Traverse Heights Elementary School tasted and voted on the "Delicata Smiles" as a part of their delicious thanksgiving lunch. Eighteen (19.0%) said they tried it, but it wasn't their favorite; 25 (26.3%) said they liked it; and 52 (54.7%) loved it. See graphs above displaying these results.
Baked Apples Taste Testing at Interlochen Community School

Eighty-two percent of Interlochen Community School students said they either loved or liked the baked apples they tried during the FoodCorps taste test.
Want your kids to eat more fruit? Try this

baked apple recipe that scored very well with Interlochen Community School students. Eighty-eight percent of the students said they either LOVED or LIKED the baked apples they tried during a recent FoodCorps taste test. In fact, they liked it so much,

several students wrote a letter to TCAPS Food & Nutrition Services Director Tom Freitas asking that the baked apples be added to the lunch menu.
Making Connections
"I have to tell you about a boy who dragged his mother over to our market stand, proclaiming. "Oooooh, PARSNIPS!" He asked his mom if he could buy one, the biggest one, of course! His was pretty insistent. I made the comment that I thought that was really cool…great actually that he a.) Knew what a parsnip was and b.) Wanted his mom to buy him one! She told me that her son's school gets all the credit. That there's a program at school where the kids learn about healthy eating and vegetables." – Andrea Romeyn, Providence Organic Farm

From the mother of a 4th grade student at Old Mission Peninsula School who has gone through great lengths to change her daughter's diet to improve her health. Recently, she decided to make kale chips at home, and was explaining what they were and how they were made. The response, "Yeah mom, I eat these at school all the time." Mom, "about fell out of her chair."